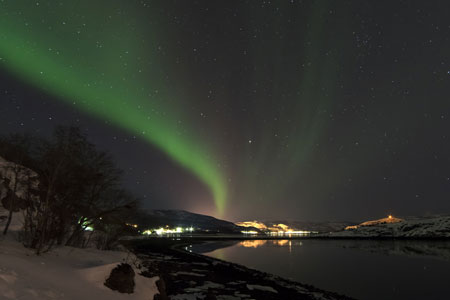 As one of the best places on earth to witness the Northern Lights in winter, and experience the sensation of the Midnight Sun in summer, Alta is a truly magical destination. Originally inhabited by the indigenous Sami people, the area has a fascinating cultural history. Rock carvings in nearby Hjemmeluft are believed to date from around 4,200 to 500 BC. Now a UNESCO World Heritage site, the carvings on display in the Alta Museum are evidence of the existence of human activity in the far north during prehistoric times. [ReadMoreMob]
Alta needed rebuilding after WWII, so the buildings of this northern Norwegian port are relatively new; notable architecture includes the Northern Lights Cathedral. A particular highlight is the Sorrisniva Igloo Hotel. Everything inside and outside the hotel is made of ice, and is open to visitors from January until it melts away in spring.
The head of the Altafjord, where the Altaelva runs through the town, is said to have the best salmon fishing in the world. It's still possible to see the fish leaping up the river, despite the construction of the 100m Altadammen in the 1970s.
Destination Highlights
Aurora Borealis
Nicknamed the city of the Northern Lights, Alta is home to the Northern Lights Cathedral. This is one of the architectural icons of the north, with its swirling pyramid structure clad in titanium sheets. Inside, the new interactive centre enables you to explore the phenomenon that is Aurora Borealis. This incredible light show is caused by electrically charged particles from the sun interacting with elements in the Earth's atmosphere. The best chance of seeing this natural phenomenon is to leave the city lights behind and go out into the wilderness.
The Sorrisniva Igloo Hotel
The Sorrisniva Igloo Hotel is situated just outside of Alta and each year is decorated to reflect a special theme. The first ice hotel in Norway and the second in the world, the hotel is made up of 250 tonnes of ice and 7,000 cubic metres of snow. The ice is from a still water lake in the valley, and snow is produced by water from the river