Fred. Olsen is proud to work in partnership with Go Stargazing, a diverse group of amateur and professional astronomers, instrument scientists, dark sky consultants, education providers and tourism experts with a shared passion for enthusing public interest in astronomy. Their team of astronomers deliver practical stargazing sessions across the United Kingdom, showcasing the incredible dark skies throughout the UK, from Northumberland Dark Sky Park to the South Downs Dark Sky Reserve.
Viewing the night sky is a remarkable experience, but doing so away from light pollution on a Fred. Olsen cruise takes it to a whole new level. The night sky viewed from the middle of the ocean is breathtakingly beautiful, with a vast expanse of stars twinkling brightly in the darkness.
Our Sky at Sea Signature Experience
As part of our Signatures Experiences, seeing the Sky at Sea is an incredible opportunity to learn more about our Universe. Go Stargazing astronomers will deliver unique and memorable experiences for our guests, such as witnessing beautiful starry skies and discovering amazing facts about our Milky Way galaxy and beyond. They will share mind-bending facts and create special moments that guests will remember for years to come.
The stargazing sessions that Go Stargazing astronomers hold on deck will be informal, informative and entertaining. You will enjoy laser-guided tours of the constellations, learn how to identify planets and view deep-sky objects such as galaxies and nebulae using binoculars. You can take home this knowledge and share it with family and friends.
Guests will enjoy stories of legends and mythology using the starry skies as a backdrop, just like our ancestors once did. Exciting topics such as ship navigation using stars and nautical folklore will give you a unique perspective on the relationship between seafaring and the night sky.
There may also be the opportunity to take advantage of astronomical events such as meteor showers, which occur regularly throughout the year, and conjunctions where celestial objects align to create a fantastic view.
Witnessing impressive night-time views and using incredible facts and figures from astronomical distances to the sizes of stars, our on-deck stargazing sessions are designed and delivered in a way that makes them unforgettable.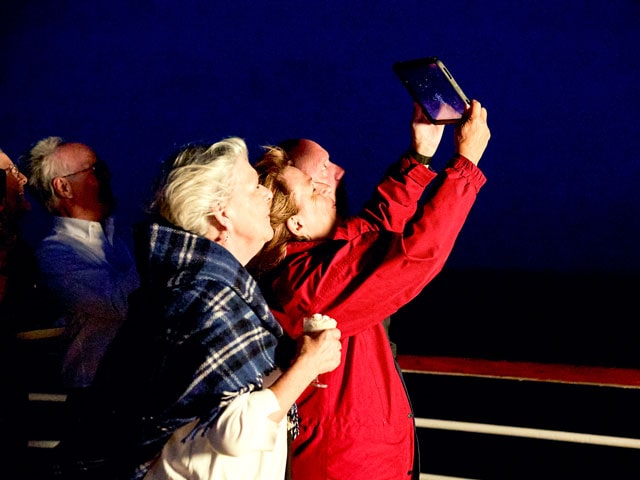 There are no cruises that match your selection. Please clear the filters and try with different or fewer options.
Acting as tour guides of the heavens, the Go Stargazing astronomers will share their knowledge with group sessions learning interesting and amazing facts about our Universe. The friendly and approachable team will be on hand to answer any questions you may have, and to help you spot planets and stars.
Neill Sanders
Neill is a seasoned amateur astronomer and the visionary behind Go Stargazing. With a strong desire to ignite a passion for the night sky in others, Neill organises public stargazing events that offer laser-guided tours of the constellations and breathtaking views of celestial objects through high-quality telescopes.
Not only does Neill actively engage the public in stargazing experiences, but he also fosters participation in practical astronomy. Through the gostargazing.co.uk website, he maintains a comprehensive database of locations and events, providing a valuable resource for individuals interested in exploring the wonders of the night sky.
Neill's commitment extends to supporting grassroots astronomy organisations throughout the UK, recognising the importance of their contributions to the field. With his expertise, passion, and dedication to sharing the beauty of the cosmos, Neill strives to make stargazing accessible and enjoyable for all.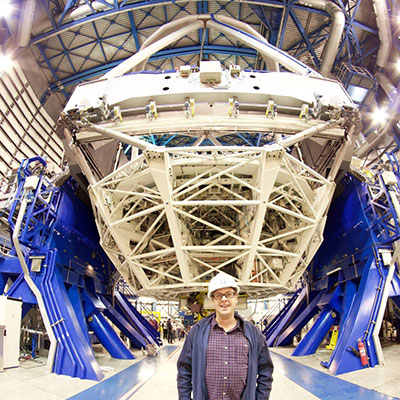 Wil Cheung
Wil is not only a co-founder of Go Stargazing but also the mastermind behind Twice Brewed Stargazing, located at the Twice Brewed Inn Observatory and Planetarium. This venture attracts over 8,000 visitors each year to the Northumberland Dark Sky Park, where Wil guides them through the celestial wonders using telescopes and binoculars. With over a decade of experience, Wil has been actively engaging the public in stargazing, hosting astro-photography workshops, and providing unforgettable experiences.
One of Wil's notable accomplishments is his expertise in leading aurora tours in Iceland. Guiding enthusiasts to witness the mesmerising phenomenon of the aurora borealis, Wil has provided unique and awe-inspiring experiences for those seeking the magical dance of lights in the night sky. His deep knowledge and passion for capturing the beauty of the aurora make him a sought-after guide for those who wish to witness this celestial spectacle firsthand. Wil's aurora tours in Iceland have left a lasting impact on the individuals fortunate enough to join him on these incredible adventures.
Wil has built a significant online following, particularly on Facebook, where many avid stargazers eagerly follow his updates and engage with his content. His dedication to sharing the wonders of the night sky and creating memorable stargazing experiences has established him as a trusted and popular figure in the astronomy community.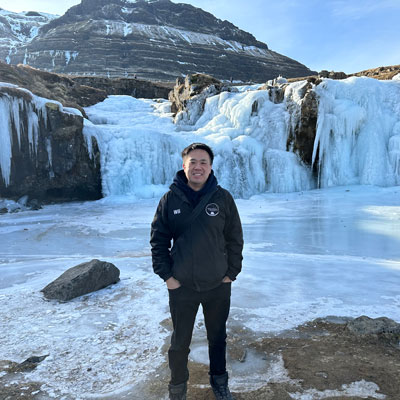 Jo and Pete Richardson

Jo and Pete Richardson are a dynamic husband-and-wife team who have dedicated themselves to space and astronomy education for over a decade. They operate from their home observatory in Somerset, UK, and also manage another observatory in North Devon.
Jo is a full-time professional space outreach education specialist and a respected Fellow of the Royal Astronomical Society. In 2010, she founded Space Detectives, a space education business aimed at bringing the wonders of space and astronomy to people of all backgrounds and abilities. Jo's expertise lies in delivering engaging events to the public, captivating audiences with her enthusiasm, drive, and creative use of props and demonstrations to explain complex astronomical concepts. Her work as an Astronomy Advisor for Exmoor National Park Dark Skies Reserve and other national organisations further highlights her commitment to promoting astronomy.
In 2015, Jo became one of the five current UK Space Ambassadors working on behalf of the European Space Education Office, which receives direct funding from the European Space Agency. Her dedication to outreach was recognised in 2018 when she and her colleagues were awarded the prestigious International Arthur C Clarke Award for Space and Astronomy Outreach.
Pete, on the other hand, is an award-winning astrophotographer who has been recognised as a finalist for the International Astrophotographer of the Year award twice. His remarkable images are captured exclusively from the UK using the observatory he designed and built from scratch. Alongside astrophotography, Pete is a skilled telescope maker and is currently working on constructing a 20-inch Dobsonian telescope, which he plans to use for his astrophotography projects. He also provides technical expertise and supports Space Detectives in their event work.
Together, Jo and Pete offer stargazing experiences complete with informative talks and telescopes. They take pride in representing Go Stargazing and collaborating with Fred Olsen Cruises, showcasing their passion for sharing the wonders of the night sky with others.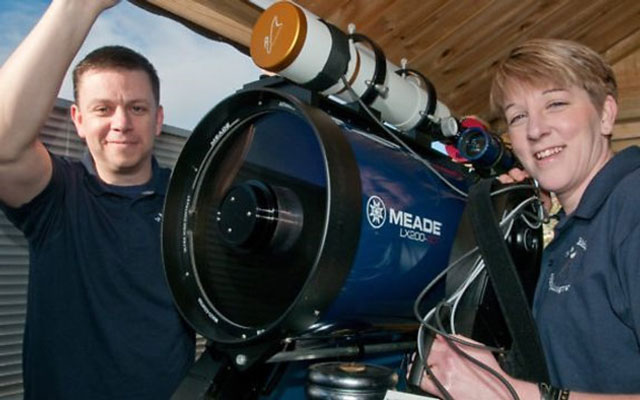 Dr Luke Tyas
Luke is a highly accomplished individual who holds the position of Scientific Operations Principal for Dark Energy at the University of California Berkeley. His primary responsibility is overseeing the operation of the $100M DESI instrument located in Arizona, which is dedicated to creating the largest-ever map of the Universe.
Luke's previous endeavors have been equally impressive. He has contributed to the engineering of instruments used in the discovery of exoplanets, operated the largest telescope in South Africa, and worked on instrumentation projects for the esteemed European Southern Observatory. Additionally, he has managed a renowned public stargazing observatory in the UK, demonstrating his commitment to making astronomy accessible to the wider public.
Luke's dedication to outreach is further evident as he co-chairs the dark energy public outreach committee for Berkeley Lab, highlighting his efforts to engage and educate the public about the fascinating field of dark energy.
Beyond his scientific pursuits, Luke indulges in astrophotography and night-scape photography, showcasing his creative side and capturing the beauty of the cosmos through digital and film formats.
Overall, Luke's extensive experience in instrument engineering, telescope operation, public engagement, and his passion for astrophotography make him a remarkable figure in the world of astronomy.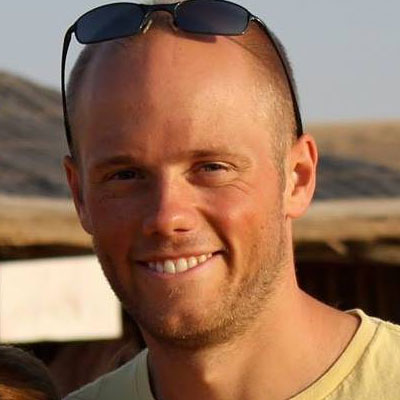 Dr Fred Stevenson
"Dr Fred" is an accomplished individual with a strong background in astrophysics and education. He obtained a degree in Physics with Astrophysics from the University of Leicester in 1980, followed by a PhD in Cosmology from Durham University in 1986.
Over the past twenty-five years, Dr Fred has dedicated himself to teaching adult education classes in astronomy, physics, and mathematics. His classes have been held at various locations in Northumberland, County Durham, and North Yorkshire. Additionally, he has organised weekend courses in Kielder Forest and the North Pennines.
Dr Fred is passionate about sharing his knowledge and love for astronomy with the public. He enjoys engaging with people and discussing topics related to the universe. When he is not teaching, Dr Fred can often be found exploring the moors and fells in the northern region of England. His love for nature and the outdoors complements his deep fascination with astronomy.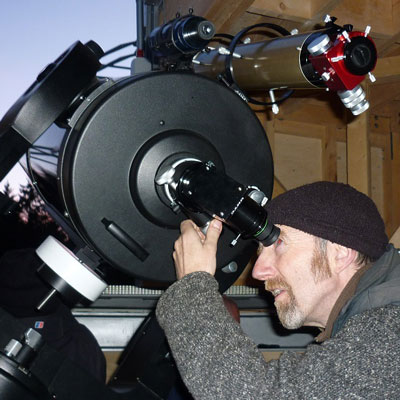 Mark Westmoquette
Mark Westmoquette is a fascinating individual who transitioned from being a professional astronomer with a PhD in 2007 to becoming a yoga and mindfulness teacher. He has combined his expertise in astronomy and cosmology with the principles of mindfulness to develop what he calls 'mindful stargazing.' This unique practice involves blending inner contemplation and mindfulness with a profound understanding of the universe.
Mark is also an accomplished author, having written several books that explore the intersection of mindfulness and astronomy. His works include "Mindful Thoughts for Stargazers" published in 2019, "The Mindful Universe" released in 2020, and "Stars: A Practical Guide to the Key Constellations" also published in 2020. Through his writing, Mark delves into the practical application of mindfulness in the context of stargazing and provides guidance on understanding and appreciating the key constellations.
Mark Westmoquette's multidisciplinary approach brings together astronomy, mindfulness, and contemplative practices, offering a unique perspective on our connection to the universe. His work serves as a bridge between the scientific and spiritual aspects of stargazing, inviting individuals to explore the wonders of the cosmos while cultivating a mindful and introspective approach.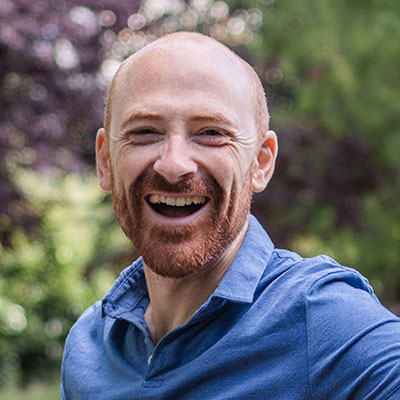 Andrew Gray
Andy is a chemist who, after working in research, found his true passion in teaching. He dedicated over 25 years to educating students in the North East of England and currently teaches new teachers at the University of Newcastle. Alongside his teaching career, Andy has cultivated a deep interest in astronomy, which has spanned over two decades. He is an avid astronomer and astro photographer who loves discussing all things related to life, the universe, and scientific topics.
For the past five years, Andy has organised and hosted popular stargazing events at the Lord Crewe Arms, set in the dark skies of Blanchland in the North Pennines. These events have consistently sold out, highlighting his expertise and ability to engage people in the wonders of the night sky. Whether it's teaching, stargazing, or engaging in scientific discussions, Andy's enthusiasm for science shines through in all aspects of his life.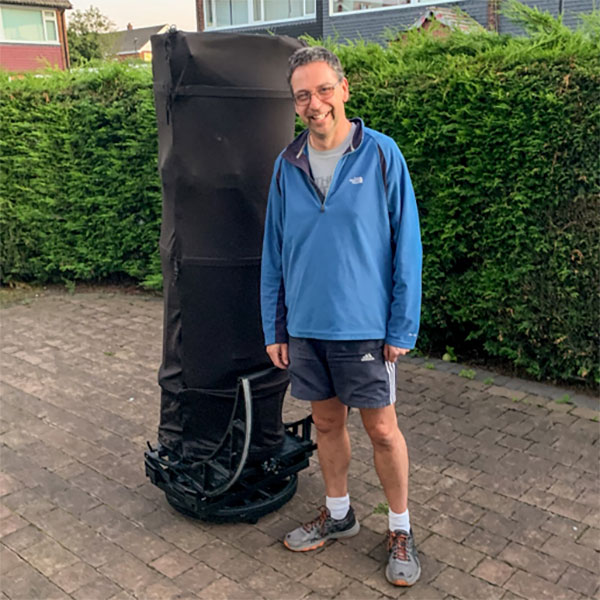 David Hymers
David has been actively involved in amateur astronomy and stargazing for over 5 years. He has organised regular stargazing evenings and is currently dedicating his time to project managing the financing and construction of a new observatory in the North Pennines, specifically in Cumbria. This observatory is expected to be of significant scale and will feature advanced capabilities for remote viewing and photography of the celestial bodies. The project is scheduled for completion in early 2024.
In his previous professional career, David worked in sales, exporting, and marketing, where he gained extensive experience in public speaking. He traveled to various venues around the world to deliver speeches and presentations.
To further enhance his knowledge in astronomy, David undertook astronomy training courses over a period of 12 months. These courses, coupled with his experience in "running and promoting" stargazing events, have deepened his understanding and passion for the subject. David's retirement has allowed him to devote more time to his astronomical pursuits and contribute to the development of the new observatory.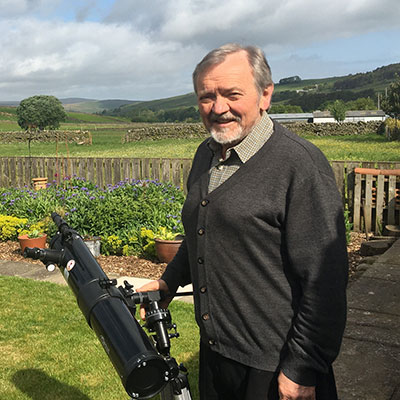 Dr Jenifer Millard
Dr. Jenifer Millard, known as Dr. Jen, developed a fascination with the night sky at a young age. While most children played with toy cars, she saw them as objects to tinker with. As a child, she looked at the Moon through an old telescope and fell in love with the mysteries of the universe. This curiosity led her to pursue a Ph.D. in Astrophysics at Cardiff University, where she studied "The Stuff Between the Stars."
During her doctoral studies, Dr. Jen realised that her true passion lay in sharing her love of space with others. She now holds various roles that allow her to engage with the public and educate them about astronomy. As the Managing Editor of the "Sky Guide" App at Fifth Star Labs, she helps people explore the wonders of the night sky. She is also the writer and host of the popular "Awesome Astronomy" podcast and a science presenter for BBC1 Wales' "Weatherman Walking" series.
In addition to her media work, Dr. Jen actively participates in practical astronomy. She co-organises Astrocamp, a bi-annual star party where amateur astronomers gather to observe the cosmos and participate in various activities. She is the Honorary President of the Barry Astronomical Society and has been recognised as one of Cardiff University's 30ish Award Winners for 2022, acknowledging her contributions to the alumni community.
When she's not immersed in the world of space, Dr. Jen enjoys relaxing with movies, exploring different parts of the UK, and being bossed around by her cat!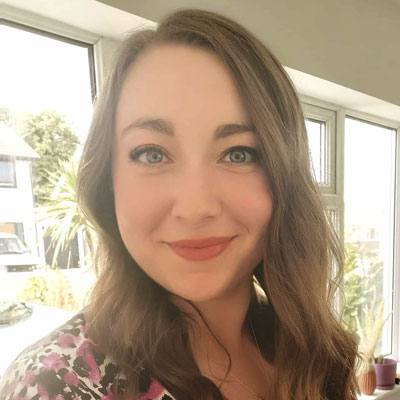 Jenny Shipway
Jenny Shipway is a prominent figure in the field of astronomy education. She has served as the Director of the planetarium at the Winchester Science Centre and currently holds significant roles in various astronomical organisations.
Jenny is the co-chair of the Education Committee for the International Planetarium Society and also acts as the UK's National Outreach Coordinator for the International Astronomical Union. She directs a national project that supports outreach activities conducted by astronomical societies and contributes to the creation of scripts for planetarium films.
Jenny's primary focus in her educational work is to assist beginners in understanding their position in the vastness of space and to provide knowledge about the remarkable celestial objects visible from Earth with the naked eye or binoculars.
Her passion lies in making astronomy accessible and engaging for all individuals, particularly those starting their journey in the subject. Jenny's expertise and dedication have made her a respected and influential figure in the field of astronomy education.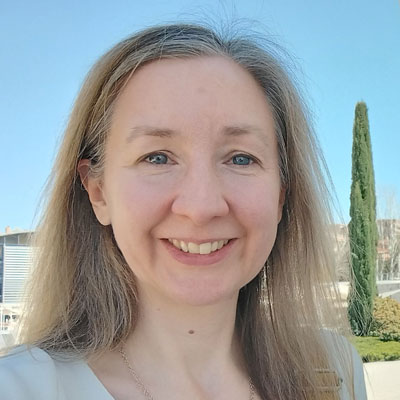 Martin Whipp
Martin Whipp is an amateur astronomer residing in Ripon, North Yorkshire. With a strong affiliation to the astronomical society in York, where he hails from, Martin has actively participated in the society for over three decades. In recognition of his contributions and expertise, he was honored as a Fellow of the Royal Astronomical Society in 2001. Furthermore, Martin's accomplishments have led to two nominations for awards from the Royal Astronomical Society.
A notable project that Martin spearheads is the Lime Tree Observatory located near Ripon. This amateur-run observatory boasts impressive equipment, including large telescopes and a captivating 6.5m immersive planetarium theater that replicates the beauty of the night sky. Martin played a pivotal role in designing and constructing this remarkable facility. During the winter months, he dedicates much of his time to delivering talks and presentations to the general public, utilising the observatory as a magnificent setting for sharing his knowledge and passion for astronomy.
Martin's commitment to amateur astronomy and his leadership at the Lime Tree Observatory underscore his significant contributions to the field. His efforts in designing, building, and educating the public within the immersive environment of the observatory highlight his dedication to promoting astronomical understanding and appreciation.
Matt Robinson
Matt is a highly regarded astrophotographer and science communicator originally from Sunderland, UK. Although he currently resides in Sweden, his passion for astronomy has taken him across the globe. With his talent for capturing awe-inspiring images, Matt has worked in various locations including the Maldives, Norway, Finland, Sweden, Iceland, the UK, and Chile.
Known for his cheerful, down-to-earth, and entertaining presenting style, Matt creates a fun and relaxed atmosphere for learning about astronomy and addressing burning questions. His expertise and enthusiasm for the subject shine through in his engaging presentations.
Like his fellow astronomers at Go Stargazing, Matt shares a deep love for astronomy. Having witnessed the aurora borealis over 100 times, he is well-acquainted with its mesmerising beauty. His extensive experience includes spending multiple winters living within the Arctic Circle, making him an excellent companion for anyone venturing into the aurora zone.
Overall, Matt's impressive astrophotography skills, coupled with his passion for astronomy and entertaining approach to science communication, make him a fantastic resource and guide for those eager to explore the wonders of the night sky and the enchanting auroras.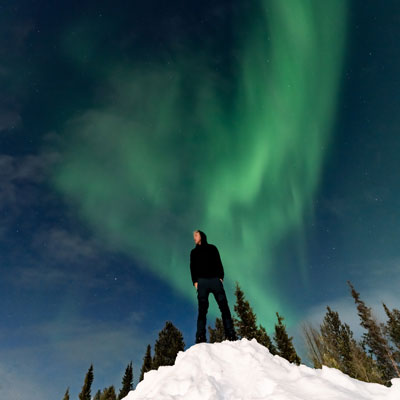 Patrick Poitevin
Patrick Poitevin is a Belgian-born astronomer who now resides in the Peak District of the UK. Having been captivated by the Moon landings in the late 1960s, Patrick has been an avid astronomer since then. He has built his own Newton 150mm telescope and established observatories in both Belgium and the UK.
Over the years, Patrick has acquired various certificates and qualifications, including meteorology, navigation, and solar physics. He has organised numerous events, such as International Solar Eclipse Conferences, exhibitions, lectures, and symposia on astronomy, with a particular focus on solar eclipses. As a worldwide coordinator and traveler, Patrick has observed 51 solar eclipses and more than 5 transits.
Patrick has actively shared his knowledge and passion for astronomy through various platforms. He wrote a weekly column in a local newspaper, regularly tweets, posts, and blogs about astronomical events and observations. He has also founded the UK charity Scopes4SEN, which aims to provide telescopes and educational materials to schools, institutes, and individuals who have educational needs or limited resources. Since its establishment in 2016, Scopes4SEN has donated over 2000 telescopes and educational materials throughout the UK.
Patrick's dedication to astronomy, his extensive experience in organising events, his charitable work, and his commitment to sharing astronomical knowledge make him a valued member of the astronomical community.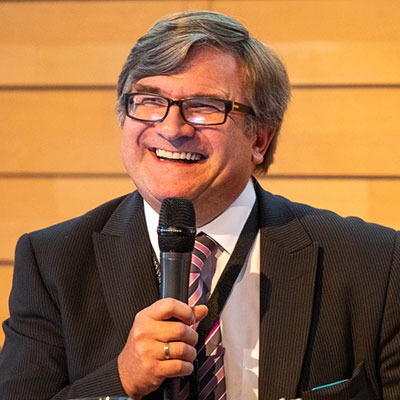 Sophie Carroll
Sophie is an amateur astronomer with the distinguished title of Fellow of the Royal Astronomical Society. With diverse experiences, Sophie has worked at observatories, leads stargazing tours, engages in school education and operates a mobile planetarium.
Alongside running her astronomy outreach business, Sophie works as a laboratory technician for the Science and Technology Facilities Council.
She focuses on providing practical learning opportunities in astronomy for people of all backgrounds, utilising hands-on activities to foster understanding of the subject. Sophie's interest lies in the intriguing realms of dark matter and energy, two mysterious phenomena that captivate her curiosity.
Beyond her astronomical pursuits, Sophie deeply appreciates nature and endeavours to remind and inspire people about our profound connection with the cosmos. Through her work and passion, she seeks to nurture this connection and instil a sense of awe and wonder about the Universe in others.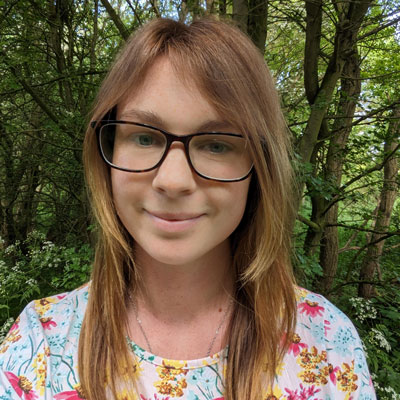 Dr Sheila Kanani MBE
Dr Sheila Kanani MBE is a British planetary scientist, teacher, science communicator, author and self-alleged space comedian with a background in research from UK universities. Sheila has been the Education, Outreach and Diversity Officer at the Royal Astronomical Society since 2014, is a primary school governor and STEM ambassador, and was awarded an MBE in the New Years Honours List 2022 for services to astronomy and diversity in physics.