Activities and Entertainment

Our Signature Experience
We have designed five new signature experiences for 2023, which you will find on every Fred. Olsen sailing.
Each experience has been created to encapsulate what we think is special about the way we cruise and to make sure that those who love to travel get the most out of their journey and the destinations they visit with us.
Details of our five new signature experiences are explained in details below: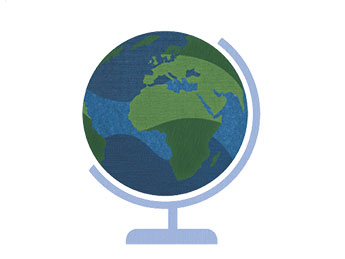 Itinerary Insights
Designed by our Culture Curators and Nature Scouts, our programme of talks and events with enthusiastic speakers and lecturers has been planned to give you a deeper understanding of each destination.
From lively [ReadMore] lectures to smaller, entertaining talks, we will introduce you to the culture, history, architecture and hidden gems of the area, so you are fully prepared to get the most out of your visit.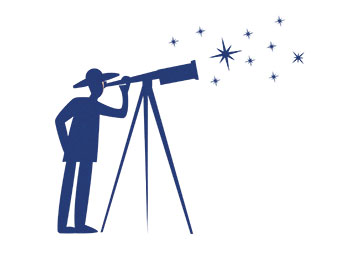 The Sky at Sea
There is nothing quite like a sunrise or sunset at sea. Join our Nature Scout on our wide open decks to enjoy these magical moments.
On clear nights we also host entertaining stargazing events. Sit back on the open deck, snuggled up in [ReadMore] a warm blanket with a hot chocolate or toddy and listen as our Nature Scout or visiting Astronomer brings the night-sky to life.
And on special itineraries we will seek out the beauty of the Northern Lights or witness the Midnight Sun together.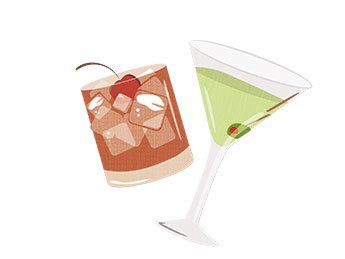 Treats of the Region
We love to bring a taste of the region's food, drink and culinary traditions on board. From tapas in Spain to smorgasbords in
Sweden. Culinary tastes and treats are available at lunchtime and in our main restaurants at dinner where [ReadMore]you will find delicious regional dishes on the menu. Perfect for those who feel 'eating local' is an important part of the travel experience.
On Bolette and Borealis, you can also join us for cookery talks and demonstrations in The Auditorium where our chefs will show you how to prepare local dishes. Everyone attending will be offered a little taste and a recipe to take home to try for themselves.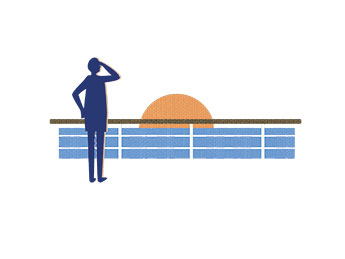 Scenic Discoveries
While other cruise lines prefer to take the fastest route from A to B, we prefer to travel the most fascinating way.
Our Scenic Discovery routes are designed to take in all the islands, ports, waterways, lochs and lakes, fjords [ReadMore] and interesting seascapes that are out there.
Our Nature Scouts host inspiring talks in The Observatory and you'll also find them out on deck, pointing out the geology and wildlife and sharing interesting stories from the places we are sailing past.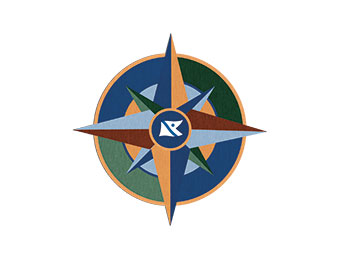 The Ship and the Sea
Maritime is in our DNA, as our history in shipping goes back almost 200 years
Join our Maritime Guide and explore our ship on a small private tour.
If you're curious about what it takes to run a cruise ship, join us [ReadMore]in The Neptune Lounge and The Auditorium for our 'Audience With' programme. This is where you can learn all about the intricate workings from our Captain and key members of our crew.
Daytime Activites
A Fred. Olsen cruise is about making the most of your time away from it all. This is why we provide a variety of experiences, events and classes for our guests, to ensure that every day enjoyed on board our smaller ships is as rewarding, varied and memorable as possible.
Activities vary from cruise to cruise, and are highlighted each day in your copy of The Daily Times. They could include insightful lectures from expert guest speakers; engaging arts and crafts sessions, such as watercolour tutorials; dancing and singing lessons; and much more.
On Bolette and Borealis, cookery demonstrations from our expert chefs showcase their skills and teach you how to make your favourite Fred. Olsen dishes at home.
Find out more below about some the highlights.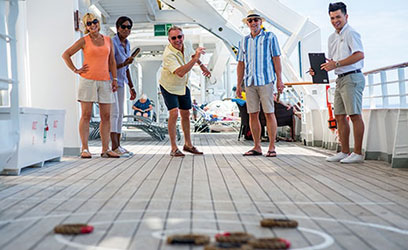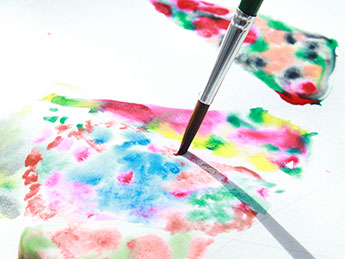 Learn Something New
Lots of our guests like to use their sea days or longer voyages to try their hand at something they haven't done before, so we host sociable activities like learning to play the ukulele or singing in a choir. Or you can refine your craft skills, practice [ReadMore]your watercolours and learn some photography skills in our new Olsen Art Studio.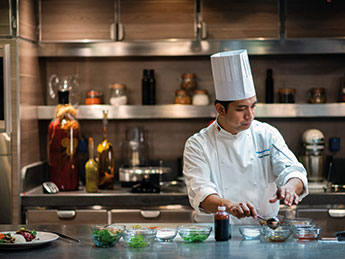 Cookery Demonstrations
On board Bolette and Borealis, our expert chefs and teams from the Galley host cooking demonstrations to showcase their culinary craft and provide a taste of the skill and passion that goes into every meal served at our dining venues.[ReadMore]
Guests can take a seat at the spacious Auditorium to watch, listen and learn how to make some of their favourite Fred. Olsen dishes, as the chefs take them through each step of their creation, from preparation to plate.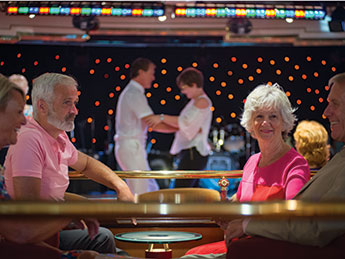 Dance Classes
For many of our guests, the time spent on the dancefloor is one of the highlights of their days on board our smaller ships. So its no wonder that our Dance Classes – hosted by our wonderful Entertainment teams – always prove popular.[ReadMore]
Our instructors teach a variety of dancing styles, from line dancing to ballroom and sequence dancing, helping guests to learn and perfect their steps and moves before they head for their ship's lounges in the evening to dance the night away.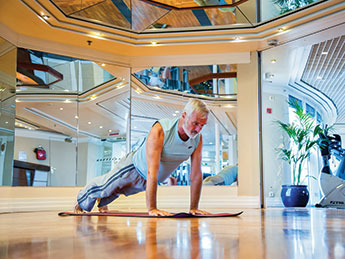 Fitness Classes
Whilst a Fred. Olsen cruise is about relaxing and enjoying some time away from daily life, we understand that many of our guests like to continue their fitness routine even when they're on board our smaller ships.[ReadMore]
This is why our ships feature fully-equipped Fitness Centres, and we offer a wide range of complimentary fitness classes - perfect for beginners and experience gym-goers alike - too. Guests can join our instructors for Pilates, Yoga, Fitball and much more, and all at no extra cost.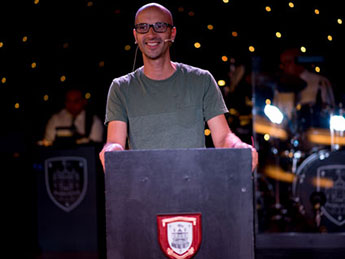 Guest Speakers
We're often joined on board our ships by port experts and guest speakers to talk our guests through a range of subjects and topics, such as history, geography, aviation, wine tasting and foods of the world.[ReadMore]
On all cruises our informative Port Talks will be available for our guests to enjoy in preparation for arrival into each port. Our knowledgable lecturers share information to help guests make the most of their time ashore, while on some sailings, there are lectures that delve deeper into specific destinations on the itinerary too.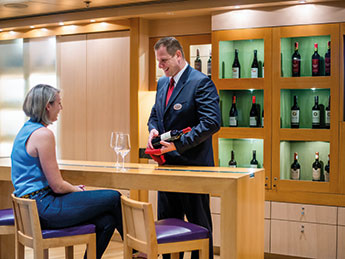 Tasting Events
Hosted by our Sommeliers, Tasting Sessions* on board our smaller ships offer a fascinating insight into the production processes, scents and flavours of some of the world's finest tipples.[ReadMore]
The Tasting Sessions on your cruise could include opportunities to sample everything from delicious wines and Champagne to whiskey and a range of spirits, while occasionally our experts will also teach you the art of pairing food and drink to create combinations that perfectly blend the nuances of their flavour.
*To join our Tasting Sessions, there is an additional charge and this can vary on the type tastings on offer, full details can be found in your Daily Times once on board.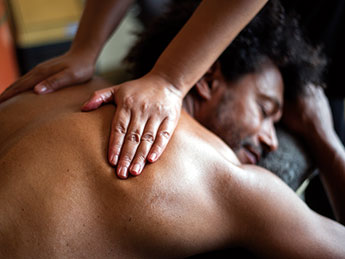 Spa and Beauty Treatments
Each of our ships has a relaxing spa where you can enjoy everything from soothing massages, manicures and pedicures to hair treatments and styling in our salons.
On our new ships, Bolette and Borealis, you can also book our [ReadMore] private Thermal Suite for an extra special treat.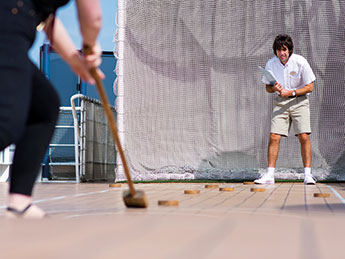 Fun and Games
We know many guests look forward to fun and games on board. Our Entertainment Hosts will organise traditional deck-game tournaments like quoits, skittles, deck tennis and shuffleboard. We love a good quiz and it is a great opportunity to [ReadMore]be sociable and meet fellow guest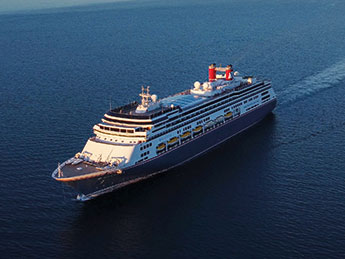 Travels to Come
Unlike other cruise companies who sail the same routes year after year, we are constantly researching and hand-crafting new itineraries. On every cruise we run a programme designed to inspire travel, where you can find out [ReadMore]about the development of our new itineraries. Don't worry, these are not sales talks or "exit through the gift shop" ruses - just an opportunity for travel enthusiasts to daydream about what is yet to come.
Evening entertainment
Night time entertainment is a high point of any Fred. Olsen cruise. When the lights go down, we'll treat you to a selection of live shows ranging from music and cabaret to quick-fire stand-up comedy. Just relax, sit back and enjoy the fabulous acts with your favourite tipple or cocktail.
Following the show, you can stroll under the stars on deck, or dance the night away to tunes performed by your ship's resident band. And with our fabulous Dance Hosts, no-one goes too long without a dance partner.
Find out more about our evening highlights below.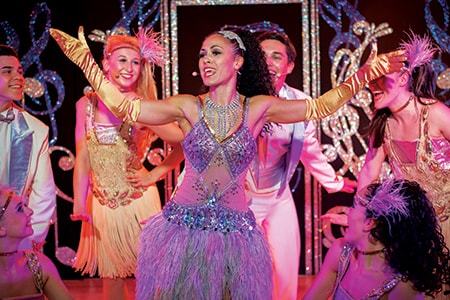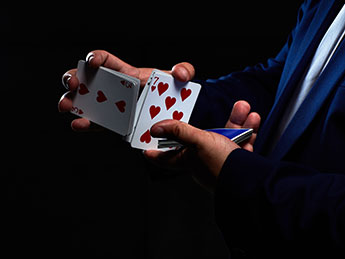 Headline Acts
Alongside our resident show companies, guest performers and headline acts such as vocalists, comedians and magicians are also on hand to showcase their talents and entertain with very special performances in our Neptune Lounges.[ReadMore]
Guests could take a seat and enjoy the sounds of classical piano over a glass of their favourite drink; dance the night away to music provided by a DJ or live singer; and much more, all in the comfort of our stylish and spacious bars and lounges.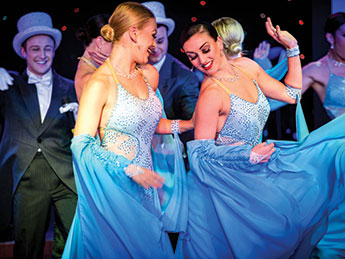 Resident Show Company
Every evening our smaller ships come alive with the bright lights, colourful sights and wonderful sounds of live entertainment provided by the incredible singers, dancers and actors of our multi-talented resident show companies.[ReadMore]
At the main entertainment venue on board their Fred. Olsen ship, guests can take a seat, settle in and simply enjoy extravaganzas of song, dance, music, cabaret and theatre in the company of loved ones, friends and fellow guests.
Dining and Drinks
Dining on board a Fred. Olsen ship is a real pleasure. Enjoy a cocktail in one of our stylish bars, with new found friends; before heading to dinner for a delicious five-course meal crafted by our talented on board chefs, who pay [ReadMore] attention to every detail, and served by your knowledgeable and friendly waiter. With wine pairing suggestions made by our sommelier, your taste buds will be tantalized as you sail serenely to your next exciting destination.