Activities & Entertainment

At Fred. Olsen we know that your on board experience is just as important to you as your time ashore. That's why we are dedicated to ensuring our wonderful entertainment programme features activities and performances that help to create inspirational days and memorable nights. We'll ensure you get the most out of your entire holiday, whether you're on land or at sea, and help you enjoy every moment.
Daytime activities
We provide a wide assortment of activities on all our cruises. You'll be treated to guest speakers and performers, art and craft lessons and fun quizzes, along with yoga, Pilates and other fitness activities to suit your needs and interests. Where possible, we also offer you the chance to really immerse yourself in the destinations on your itinerary with our exciting on board RIBs, which can take you even closer to unmissable sights and highlights found off the regular tourist trail.
On sea days, it's our pleasure to inspire you with the chance to learn new hobbies or skills. You could choose from photography talks, ballroom dancing lessons, singing and language classes, theatre workshops, watercolour tutorials or even join in with our Book Club. Activities vary from cruise to cruise and are highlighted each day in your copy of the Daily Times. What you get involved with is completely up to you.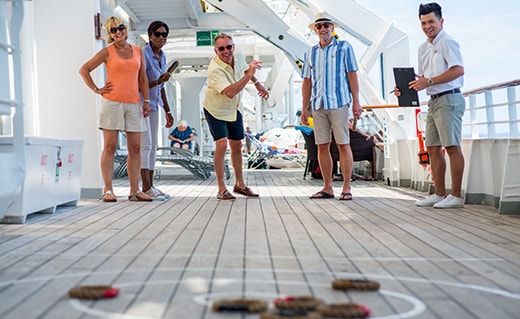 Guest speakers and port talks
Our diverse lectures from leading experts are always popular; subjects and topics discussed range from wine tasting to aviation. On some itineraries, lectures relevant to the specific destinations on your itinerary will be given to highlight a particular area of interest, while on all cruises, in preparation for arrival into each port, our knowledgable port lecturers will share the information you'll need to make the most of your time ashore.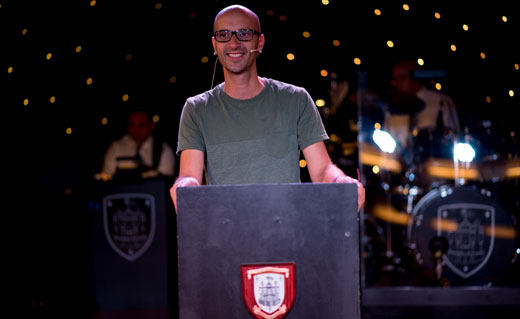 Evening entertainment
Night time entertainment is a high point of any Fred. Olsen cruise. When the lights go down, we'll treat you to a selection of live shows ranging from music and cabaret to quick-fire stand-up comedy. Just relax, sit back and enjoy the fabulous acts with your favourite tipple or cocktail.
Following the show, you can stroll under the stars on deck, or dance the night away to tunes performed by your ship's resident band. And with our fabulous Dance Hosts, no-one goes too long without a dance partner.