Trinidad and Tobago Cruises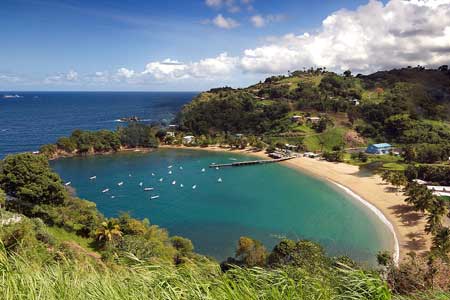 A cruise holiday to Trinidad and Tobago will introduce you to a vibrant mix of cultures. Carnival time in Trinidad brings thousands to Port of Spain. The capital sways to the calypso beat and has numerous high-rise towers, temples, colonial houses, bazaars, markets, mosques and cathedrals to get lost in – a striking reminder of the country's cultural diversity. [ReadMoreMob]
But it's not all bright lights and bustle; in the north beautiful beaches dominate with coconut groves and wetlands stretching to the horizon. Beyond that are the island's northern mountains with forested peaks, which are loved by hikers.
Twenty miles to Trinidad's north-east, lies Tobago. Covering just 116 square miles, this idyllic, palm-fringed island is famed for its tranquillity and calm waters and is regarded as the last unspoilt Caribbean paradise.
A Trinidad and Tobago cruise will tempt your senses and provide instant relaxation, all to the gentle rhythms of the calypso.
Top Experiences
Scarborough, Trinidad and Tobago
Marine Life
Reefs are the forests of the sea and the healthy, flourishing reefs surrounding Scarborough are home to a huge diversity of marine life.
Little Tobago
A small uninhabited island about a mile from Tobago's coast, this island is home to a huge variety of birdlife and considered one of the most important seabird sanctuaries in the West Indies.
Nylon Pool
This natural, sandy-bottomed swimming pool was created by the combination of an offshore sandbar and a still lagoon, an exotic and serene location.
Cruises to Trinidad and Tobago
Departs: Bridgetown • Thu 13 Feb 2020
14 nights • Braemar • M2004
Immerse yourself in vibrant culture and rich history; discover stunning landscapes and astonishing natural wonders; and indulge in pure relaxation in paradise, on this unforgettable 14-night Caribbean adventure.
After meeting Braemar in Barbados, you'll embark on an island-hopping adventure taking in Tobago; two of the beautiful 'ABC' islands, Bonaire and Aruba; Grenada; spectacular St Lucia; Antigua, famed for its breathtaking beaches; St Kitts; St Maarten; and Tortola.
A wealth of attractions await you on this incredible voyage – the native flamingos of Bonaire; St Lucia's soaring Twin Pitons and Diamond Botanical Gardens; the world-famous St Kitts Scenic Railway; and Grenada's Grand Etang National Park are just a few of the highlights.
From £1,699pp
Fares Explained
|
What's Included