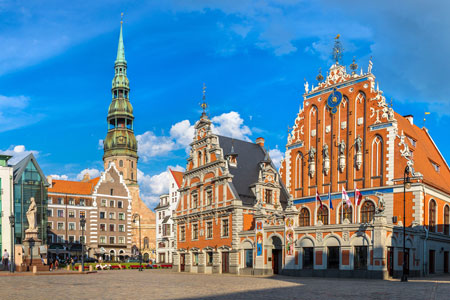 Eight hundred years have shaped the unique appearance and rich traditions of Latvia's capital, Riga. The Gothic spires that dominate its skyline imply a sombre heart, but the rich Art Nouveau spirit of this diverse city, the largest of all three Baltic capitals, is a delight to discover.
Set at the mouth of the River Daugava, the cultural centre of Riga has been an important centre for trade and finance over the centuries, and boasts fine examples of architecture, museums and concert halls.[ReadMoreMob] The city's modern urban structures blend seamlessly with medieval castles, churches and the wooden buildings of its medieval Old Town. The pedestrian-only Old Town – now a UNESCO World Heritage – has many shops and restaurants and is home to the bustling Livu Square.
Top Experiences
Old Town of Riga
The Old Town of Riga is where you will find many of the city's highlights, such as St James Church, the House of the Livonian Noble Corporation (Parliament building), Riga Castle, Riga Dome Cathedral, House of the Blackheads, New Town and the Freedom Monument. You can also discover the remnants of the old city walls which are still visible in some parts. It is a lovely part of the city to just relax with a drink and take in the atmosphere of Riga.
Art Nouveau District
Riga is internationally famous for its beautiful Art Nouveau quarter, which you will find to the north of the city. Home to colourful, late 19th century buildings, this district is large, central and therefore a good place for a peaceful stroll. The heart of the Art Nouveau district is Alberta Street, where every building is of Art Nouveau style, and it is also where the Art Nouveau Museum is situated, which is worth entering just to marvel at the impressive Art Nouveau staircases.
Black Balsam
A visit to Riga is not complete until you have tried the city's traditional drink – Black Balsam – which is a herbal liqueur. This traditional drink is widely found all over the city in restaurants, bars and shops, but be warned that it is very strong! It is said that the best place in Riga to enjoy this drink is in the Old Town.
St Peter's Church
Riga boasts many churches, however if you are wanting to visit one with a view, then St Peter's church offers an unbeatable view of the city from its spire. From the top you can look down over Riga and its red roofs, cobbled streets and of course the Daugava River. Regardless of the weather, it will not disappoint. There is a lift which will take you to the top, however this can sometimes be rather crowded so the option of the stairs may be better.
Cruises to Riga
Departs: Newcastle • Thu 13 May 2021
14 nights • Balmoral • L2114
Combining visits to intoxicating destinations, including five capital cities, with spellbinding scenic cruising, this classic Baltic exploration will have you captivated from the moment you set sail.
Revel in the artistic, historic and cultural attractions of three Scandinavian capitals – Copenhagen, Oslo and Stockholm; and experience unforgettable navigations of the sprawling Stockholm archipelago.
You're sure to be left spellbound by the enchanting old towns of Riga and Tallinn, as well spectacular palaces, grandiose churches, iconic landmarks and quintessential Russian ballet in St Petersburg.
From £1,999pp
Fares Explained
|
What's Included
Departs: Newcastle • Thu 30 Sep 2021
12 nights • Balmoral • L2130
With fewer sightseers around, you can experience an immersive and more relaxing exploration of captivating Baltic cities outside of peak season.
Smaller crowds and queues in St Petersburg allow more time and space to see the city's spectacular sights, and experience the magic of Russian ballet, during an overnight stay.
Explore Tallinn's enchanting Old Town and meet local bell ringers at one of its historic churches; wander charming Riga; and taste authentic Scandinavian culture in Copenhagen and Gothenburg.
From £1,699pp
Fares Explained
|
What's Included
Departs: Dover • Tue 05 Oct 2021
13 nights • Bolette • T2124
Visiting incredible cities when they are less crowded, you've opportunities to experience the best of the Baltic with fewer tourists around and more space to discover iconic attractions.
In St Petersburg, see spectacular sights by day; and enjoy a magical night at the Russian ballet, with a chance to meet the soloist performer too.
Meet bell ringers at one of Tallinn's historic churches; immerse yourself in Helsinki's Finnish culture; plus, visit the charming capital cities of Copenhagen, Oslo and Riga.
From £1,799pp
Fares Explained
|
What's Included