An example of the Caribbean at its most authentic, Pointe-á-Pitre – the largest city of Guadeloupe – blends French tradition and style with Creole culture and the spectacular scenery you have probably come to expect from one of the world's most beautiful regions.
Compact and easily navigable, yet energetic and oozing with the Caribbean's renowned vibrancy, this colourful city makes for the perfect spot for a few rewarding hours of exploration. Taking to the busy streets and squares on foot reveals bustling markets, where exotic fruits, vegetables and traditional Creole cuisine is on offer, as well as impressive colonial monuments and fine examples of European-influenced architecture, such as Église Saint-Pierre et Saint-Paul and Museum Saint John Perse.
In amongst the centuries-old sites, the futuristic Mémorial ACTe Museum – built in 2015 in dedication to the influences of slavery and colonialism – is a must-visit to delve into the fascinating history of Pointe-á-Pitre and Guadeloupe. Meanwhile, the picturesque park and plaza of Place de la Victoire, with its palm trees, historic houses, sidewalk cafés and views of the harbour is an ideal escape from the hustle and bustle of the city centre.
Cruises to Pointe-á-Pitre
Departs: Liverpool • Fri 06 Nov 2020
32 nights • Black Watch • W2031
Hopping between breathtaking destinations, you'll experience the best of the Caribbean, uncovering classic island favourites alongside some lesser-known, idyllic gems on this incredible journey.
Enjoy laidback vibes and authentic rum in Barbados; see St Lucia's soaring Twin Pitons; explore unspoilt, sparsely populated Mayreau; and gain an insight into the life of cocoa farmers in Grenada.
Revel in the postcard-perfect scenes of Bequia; indulge with 'proper' Caribbean flavours of rum and creole cuisine in Martinique and Guadeloupe; ride the famous St Kitts Scenic Railway; and take you pick of Antigua's legendary beaches.
From £3,149pp
Fares Explained
|
What's Included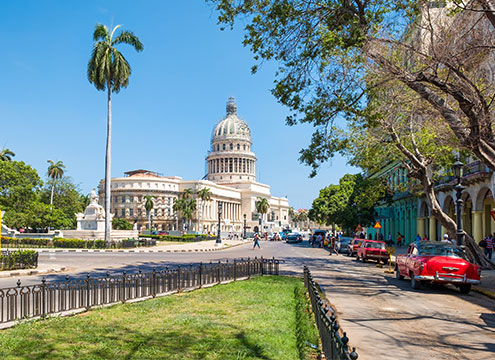 Departs: Bridgetown • Thu 07 Jan 2021
14 nights • Braemar • M2101
An exotic journey of discovery blending immersive history, authentic cultures with blissful indulgence, this cruise takes in seven absorbing island destinations for stunning landscapes, captivating cities, remarkable ancient sites and much more.
You'll get to uncover Tortola's swashbuckling pirate legends; explore Mayan ruins or snorkel coral reefs in Cozumel; and take a rare opportunity to learn of Guadaloupe's fascinating slave history and colonial heritage.
Time in Cuba is sure to be an undoubted highlight: you'll stop overnight in Havana, an opportunity to explore historic districts, sample authentic Cuban rum, and even see the sights from an iconic classic car.
From £2,399pp
Fares Explained
|
What's Included