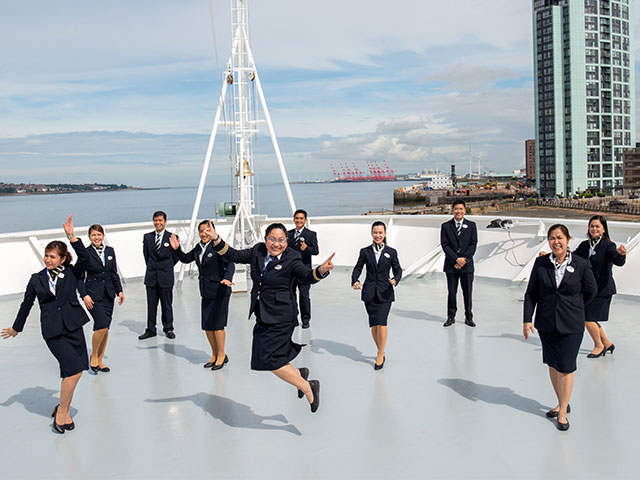 A cruise ship is only as good as the people who work on it and, at Fred. Olsen, we're particularly proud of ours.
We've chosen our on board team members for their personalities and skills in providing a warmer, more personal service. And they've chosen us because smaller ships create a family home-from-home atmosphere.
We run very happy ships and you'll notice it from the moment you step on board. That relaxed, friendly ambience where nothing is too much trouble. The difference between being treated as a "passenger" and treated as a guest.
We are proud of recruiting some very special people who, in turn, are proud to welcome some very special guests on board Bolette, Borealis and Balmoral.
Some of our fantastic crew and their journey so far
Captain Valentin Giuglea
Captain Valentin talks about the warm welcome he received by our guests when he was promoted to Master of the Balmoral.
Captain Steffan Ravneng
Captain Steffan talks about his family, who inspired him to become a Captain, and his journey to get to where he is now.
Jose (Joe) Villalobos - 1st Engineer
Jose has spent a great many years working behind the scenes ensuring the safety of our guests and crew.
Richie Rego - Housekeeping Utility
Richie is part of our team which manages the laundry and deals with all the provisions for our fleet of ships.
Leanora 'Lea' Santos - Guest Services Officer
Lea has worked for Fred. Olsen for 20 years, and loves the family feeling on board Balmoral, her 'home'