Our Executive Chefs
Dining is an undoubted highlight of the Fred. Olsen cruise experience, and our Executive Chefs are at the heart of making sure every meal enjoyed on board is something to remember. Their role is to create and hand-craft the sumptuous dishes served throughout the day, from delicious breakfasts to five-course á la carte dinners and late-night buffets.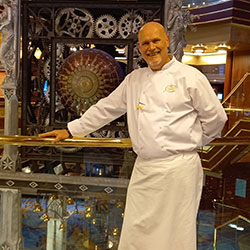 Olivier Rillof
Nationality: Belgian
Joined: 2022
Executive Chef Olivier
Whilst he now calls the Moroccan city of Agadir home, Chef Olivier Rillof was born and grew up in Belgium, and it was during his early years spent in his homeland – which is famed for its beer and chocolates of course – when his love for food and flavours developed.
Having completed his education, and honed his cooking skills and knowledge of global cuisine, Olivier embarked on a career spent in restaurant kitchens where he could indulge his passion for blending flavours and making fine, delicious dishes. Since taking his career out on to the world's waters, Olivier spent time working for Seabourn Cruises before joining Fred. OIsen in March 2022 as an Executive Chef – a position he is very proud and honoured to have.
Olivier loves the family feeling on board our ships, shared between guests and crew, and has felt at home from the moment he joined. He enjoys being able to explore the world whilst doing a job he loves, and hopes to do so for many years to come.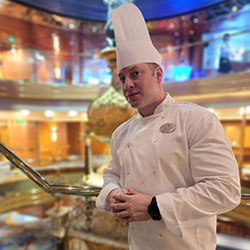 Derek Allen
Nationality: Canadian
Joined: 2022
Executive Chef Derek
Although he is proudly Canadian, having been raised in the beautiful city of Montreal, where he first discovered his love for food and cuisine, and developed his cooking skills, Chef Derek Allen is somewhat a 'man of the world'.
Having embarked on a culinary career at an early age, his food adventures have taken him around to globe to work in some of the world's leading resorts, in countries such as Oman, Thailand and in the Turks and Caicos. Since deciding to take his career on to the high seas, Derek has also worked for Crystal Cruises and Scenic cruises before bringing his talents to Fred. Olsen.
Derek feels honoured to be a part of the Fred. Olsen family, one that he describes as 'truly close knit', and to be able to create fabulous food for our guests. He's enjoyed a long career already, and hopes to spend many more years discovering destinations such as Norway and Fiji whilst being lucky enough to do the job he loves so much.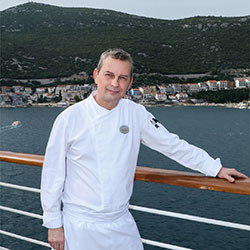 David Buchanan
Nationality: British
Joined: 2020
Executive Chef David
Whilst Chef David Buchanan (or Dave as he likes to be known) is British, he's lived in the lovely Catalan sunshine city of Barcelona for the past 22 years. Joining Fred. Olsen at the end of 2020 from Mein Schiff and Mystic Cruises, Dave has worked on board Bolette, Borealis and Balmoral, but doesn't have a favourite as he believes that they all have their own charm. His particularly memorable moments include the magic of Christmas on board Borealis, and the wonderful Queens Platinum Jubilee festivities where he was aboard Bolette.
Dave certainly loves to travel the world and is really drawn to sunny destinations – the Greek Islands being top of his list, as they offer both beautiful sunshine, beaches and a relaxed atmosphere; although he does yearn to return to Australia on a cruise ship after living there many years ago.
When he's not cooking at home, skiing or hiking with his wife and son, Dave loves the feeling of family on board the Fred. Olsen smaller ships, and interacting with guests. A particular favourite of Dave's is the cooking demonstrations where he's able to cook for the guests while providing entertainment! Please do stop and say hello, if you see him on board.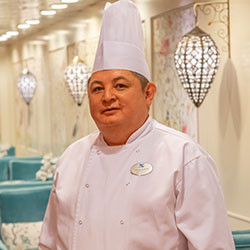 Stelios Barnard
Nationality: South African
Joined 2019
Executive Chef Stelios
South African born Chef Stelios Barnard has been part of the Fred. Olsen family since 2019, having previously worked on board Crystal Cruises and Marella Cruises ships. A well-deserved promotion from Executive Sous Chef to full Executive Chef on board Balmoral means that Stelios can share his love of cooking with all our guests, and interact with them on a daily basis, while also planning and preparing delicious dishes.
Stelios believes that the Fred. Olsen crew are some of the most welcoming he's met, and would love to travel to all the exotic islands of the Philippines; although Norway has a particularly important place in his heart as he met someone special there.
When Stelios has time away from Balmoral, he enjoys swimming, hiking and camping, playing Rugby and baking – including trying new recipes, which may well make their way to being on board our ships in the future.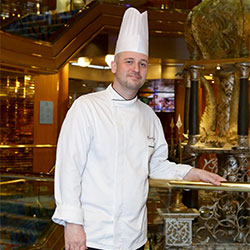 Radim Soucek
Nationality: Czech
Joined: 2022
Executive Chef Radim
Born in the Czech city of Brno, Chef Radim joined Fred. Olsen Cruise Lines this year, with a wealth of experience, having previously worked on board Crystal Cruises and Princess Cruises ships. Radim has been Excecutive Chef on board both Balmoral and Borealis, with the latter being his favourite.
Chef Radim has an impressive portfolio with Michelin star and fine dining experiences under his belt, so enjoys being able to focus on the quality of food he and his team are producing on a daily basis for our guests. He would love to visit the Philippines and as he loves the food, culture and people of Asia, but Radim doesn't have a particular country he'd single out as a favourite as each one you visit offers something new to learn and discover.

Radim loves to meet both regular and new guests on board our ships, and in his spare time enjoys martial arts, travelling and of course catching up with family and friends.