Our Hotel Managers are at the forefront of ensuring that guests on board our four smaller, friendly ships experience a relaxing, hassle-free and rewarding holiday. Their role involves overseeing all Housekeeping and Guest Services, managing hotel staff and operations, and making sure all public areas on board the ship, including bars, restaurants and entertainment venues, operate efficiently at all times.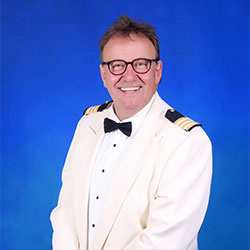 Hermann Stingeder
Nationality: Austrian
Joined: 2017
Hermann Joerg Stingeder
As well as studying at Schloss Klessheim in Salzburg, in his home country of Austria, Hermann Stingeder spent many of his early years in the USA at New York's Cornell University, studying for and gaining qualifications in Hospital Management and Food and Beverage Management. During his time in the states, the American Hotel Association also certified Hermann as a Hotel Administrator.
Since then, Hermann has enjoyed a seafaring career spanning 30 years so far, and has worked on a variety of vessels ranging from 'megaships' with capacity for 4000 guests to intimate, luxury yachts capable of carrying just 200 people. Along the way, he also spent two years as a Managing Director of a five-star hotel in Austria, before the 'call of the seas' became too strong once again.
Having joined Fred. Olsen in September 2017, Hermann has worked on board Black Watch and Braemar so far, with the former his favourite ship of the fleet. Our diverse itineraries and the intimate size of our ships – which are perfect for building relationships with our loyal guests – are his favourite things about working for Fred. Olsen, while the 2017 World Cruise and Amazon River adventures in early 2019 are amongst his best experiences so far.
When at home, Hermann loves to travel with his wife and especially enjoys visiting cities where he can sample the hospitality of small hotels, local cuisine and captivating culture.
Hans van Welzen
Nationality: Dutch
Joined: 2007
Hans van Welzen
Netherlands native Hans van Welzen has enjoyed a long and distinguished seafaring career, having previously worked for Norwegian Cruise Lines, Exploration Cruise Lines, Regency Cruise Lines and Celebrity Cruises before joining Fred. Olsen in July 2007.
During his time with us, Hans has worked on board all four ships in our fleet, predominantly as a Hotel Manager, though he has also spent three months working as a Food & Beverage Manager. What Hans enjoys most about being part of the Fred. Olsen family is being able to work closely with his fellow crew members and interact with our loyal guests, while ensuring they experience the holiday of a lifetime.
Hans' fondest memories so far are of the epic World Cruises he has been lucky enough to be part of, taking in incredible destinations around the globe, and particularly enjoyed the opportunity to revel in the natural beauty and gorgeous climate of islands in the Caribbean and French Polynesia. In the future, Hans hopes to visit his 'bucket list' destinations, which include Cambodia and Vietnam.
Aside from travelling and seeing the world, Hans' hobbies include cooking, reading and water-based activities such as diving and snorkelling – interests he always enjoys taking time to indulge when he is not working aboard our ships.
Peter Reeves
Nationality: Grenadian
Joined: 2008
Peter Reeves
While raised on the beautiful Caribbean island of Grenada, where his family still live today, Peter Reeves actually started his career in hospitality in the UK, as a dishwasher at a carvery restaurant in Westcliffe-on-Sea, Essex. A three-year stay in France followed, which included time working at the Hotel Concorde LaFayette and the Hotel Crillon in Paris, before Peter finally headed for the high seas in 1988.
Peter began his seafaring career with Seabourn Cruise Lines, and in 1995 was promoted to Hotel Manager – a role he held with the company until joining Premier Cruises for a two-and-a-half year stint. In 2007, Peter joined Fred. Olsen Cruise Lines and since then has enjoyed time working on board all four ocean ships in our fleet, including his favourite ship, Boudicca.
The most memorable experience of Peter's time with us so far was the 'stretching' of Balmoral in 2008, while his favourite destinations visited are South East Asia and Australasia, thanks to their diverse cultures. The best thing about working for Fred. Olsen, according to Peter, is being part of a 'family' of friendly crew and being able to form close relationships with loyal guests, something rarely experienced on board larger ships.
In his free time, Peter prefers to stay on or in the water, indulging his passion for scuba diving, swimming and anything related to the sea. For a change, he enjoys trekking in the mountains and – for the ultimate adrenaline rush – skydiving too.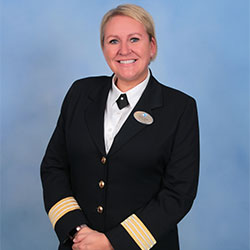 Lyndsey Milne
Nationality: British
Joined: 2004
Lyndsey Milne
A proud Scot, Lyndsey Milne grew up in Dunfermline but actually started her career in Greece, where she spent several years living and working within the hospitality industry at hotels and holiday resorts. When Lyndsey finally decided to take a career to the seas, she joined Saga as a Purser before moving on to Hebridean Island Cruises to become their Food and Beverage Manager.
Since joining Fred. Olsen in March 2004, Lyndsey has spent time working on board Boudicca, Black Watch, Braemar and former favourite Black Prince, travelling the world and getting to know thousands of loyal guests in her role as Hotel Manager. She loves the fact that every day is different on board a Fred. Olsen ship, and that our smaller size of our vessels allow her to build family-like relationships with guests and her fellow crew members alike.
Of the diverse, unforgettable experiences Lyndsey has enjoyed, her most memorable was being part of the 'Four Ships' events in Bergen and Cádiz, which saw the entire Fred. Olsen fleet dock together in the same port, on the same day, while her favourite destination is the Adriatic, due to the variety of ports in the region.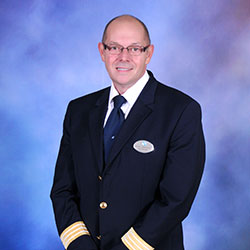 Michael Emmenegger
Nationality: Swiss
Joined: 2009
Michael Emmenegger
Having started his time at sea with four years on board Holland American Line ships; spent a summer on river ships; enjoyed 9 months aboard a private yacht in French Polynesia; and having worked for SAGA Cruises for 5 years, Michael Emmenegger brought a wealth of experience with him when he joined Fred. Olsen in September 2009.
Since beginning his career with us as Food and Beverage Manager, and being promoted to his current role of Hotel Manager, Michael has enjoyed time working on board all four ships in our current ocean fleet. He loves that every day is different, with new destinations, people and challenges to consider and take care of, and is inspired by working in a friendly, multicultural environment.
Michael also feels very lucky that he can combine his passion for travel with his professional life, and that he's been able to visit destinations that many people can only dream of. The Mediterranean is amongst his favourite places to visit on our cruises, and he hopes for an opportunity to explore Japan in the future.
Although Michael was born and raised in Switzerland and is proudly Swiss, he now lives in the Philippines. When he isn't sailing the world's oceans, rivers and waterways on our ships, Michael returns to his adopted home to spend time relaxing with his partner and dogs, or travels to places he doesn't get to visit on board.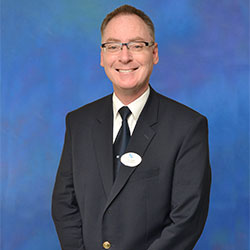 Guy Sharpe
Nationality: New Zealander
Joined: 2018
Guy Sharpe
Having been born and raised in New Zealand, Guy Sharp left the 'Land of the Kiwi' to travel the world in 1984, though he didn't begin his career at sea until 1989. Since then, Guy worked for many cruise lines, including Seabourn, Disney Cruises, Cunard and Windstar Cruises, in various roles on a number of vessels, before joining Fred. Olsen Cruise Lines.
He began his career with Fred. Olsen on board Black Prince as a Hotel Manager and enjoyed a stint working on Boudicca too, before being transferred to Balmoral. In between, Guy also spent time working in a land-based position in Sweden – the country he now calls 'home' – but it wasn't long until his love for life at sea tempted him back on board.
Guy feels proud and honoured to work for what he considers the 'warmest and most welcoming cruise line that he has ever been a part of'. Being able to thrive as part of the Fred. Olsen family, and revel in the friendliness and warmth of the guests and fellow crew members on our ships, is what brings him back to sea time and again. He counts himself fortunate to be living and working on such beautiful vessels, and to be able to visit amazing destinations around the world.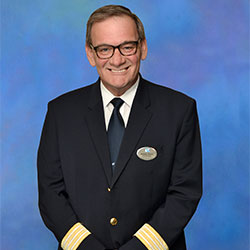 Michael Prantz
Nationality:Austrian
Joined: 2016
Michael Prantz
After growing up in Vienna, Michael Prantz also started his 'hotel education' in his beautiful home city, working at the world-famous Hotel Imperial in 1986. Shortly after, Michael took on his first role at sea, as a Hotel Manager for Cunard, before eventually moving to the Caribbean to work as General Manager for a five-star holiday resort in St Lucia.
Michael then went back to Austria to work as General Manager in Hotel School and University in Vienna, where he spent 21 years. Even though it had been a long time since his stint with Cunard, Michael knew he wanted to restart his career on the seas, so joined Seabourn Cruise Lines in 2014 before moving on to join us at Fred. Olsen Cruise Lines.
Michael feels he has now found his home-away-from home, having felt part of the Fred. Olsen family since the very first moment he stepped on board our smaller, friendly ships. He is proud to play a key part in creating unforgettable holidays for our guests, and to be able to help guests experience destinations around the world and make memories that last a lifetime.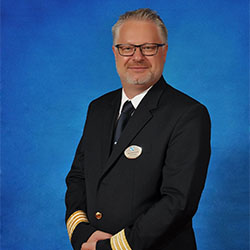 Dietmar Strutz
Nationality: Austrian
Joined: 2019
Dietmar Strutz
Born in Carinthia, Dietmar Strutz was lucky enough to spend his childhood years living in one of Austria's most beautiful regions, situated amongst the mountains and lakes of the Eastern Alps. Despite this, Dietmar was always eager to see the world, so after finishing his education, spending five years at Hotel School and gaining experience in the hotel and hospitality trade, decided to start a career in travel.
In his time with various companies and cruise lines, Dietmar enjoyed working in a number of different roles on board ocean-going ships and river cruise vessels. Having such diverse experience and knowledge held him in good stead when he joined Fred. Olsen Cruise Lines to begin his career with us as a Hotel Manager in June 2019. Since then, Dietmar has relished working and exploring the globe on board our smaller ships, creating friendships and building a family-like relationship with our crews and guests alike.
When at home, Dietmar makes the most of his time spent with family to enjoy sailing and hiking adventures, mountain biking and holidays with his children.