Our Ships' Captains are an integral part of life on board, and you may see them around your cruise ship, and of course at the Captains' Drinks Parties. Featured here are our current Captains, with a brief biography on how they came to work on board Fred. Olsen cruise ships.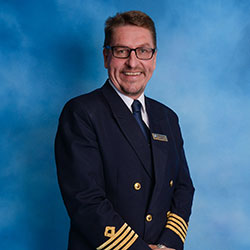 Captain Mikael Degerlund
Nationality: Finnish
Joined: 2012
Captain Mikael Degerlund
Captain Mikael Degerlund started his seafaring career as a Deck Boy in 1981 at the tender age of 16. By 1989 he had gained his Chief Officer's licence and in 1995 earned his Master's licence, enabling him to realise his dreams of becoming a Captain. He worked for cruise lines including Viking Line, Norwegian Cruise Line and P&O Cruises before joining Fred. Olsen in March 2012.
Mikael has seen the world from on board our ships, captaining all kinds of cruises from short breaks to epic circumnavigations of the globe. His favourite destinations include the beautiful Baltic countries and the spectacular French Polynesian island of Moorea where, during an Around the World cruise in early 2016, he stepped ashore to get married in paradise. He always enjoys meeting our guests and making them smile, particularly those who return to their 'home from home at sea' time and time again.
When he's not sailing around the world, Captain Degerlund splits his time between his homes in Finland and Spain, spending his days with his wife, two grown-up children and his friends. His hobbies and interests include sailing, golfing, skiing, hiking, gardening and travelling. We've taken the chance to ask Captain Degerlund a few important questions about life on board.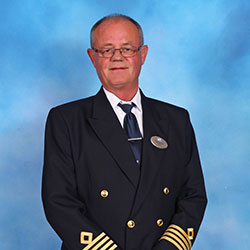 Captain Åge Danielsen
Nationality: Norwegian
Joined: 2002
Captain Age Danielsen
Captain Åge Danielsen started his career at sea when he was 16 years old and sailed in all deck positions before finally becoming a Captain in 1985. Captain Danielsen first took the helm of a passenger ship in 1997 and previously worked for Royal Caribbean and Seabourn Cruise Line. He also spent a few years as Captain on board a sea launch vessel in California, helping to launch rockets and satellites into space.
Åge has been part of the Fred. Olsen 'family' for many years, having captained our ships before for five years between 2002 & 2007. Captain Danielsen has worked on board Black Prince, Black Watch and Braemar but can't choose a favourite, as he loves the unique, friendly atmosphere of every ship in the fleet. Of all the experiences he's enjoyed during his career, Åge lists circumnavigating the globe as Captain on a Fred. Olsen world cruise and cruising along the Orinoco River in Venezuela as the most memorable. Captain Danielsen always loves cruising to Norway – his homeland – and hopes to one day tick Japan of his 'must-visit' list.
When he isn't working Captain Danielsen returns home to his family in the small Norwegian fishing village of Tjotta. Åge makes the most of his spare time to head out on to the lakes and fjords near his home to indulge his passion for fishing; and he also enjoys cooking his latest catch for his wife and children.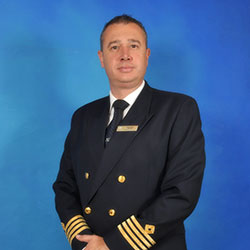 Captain Jozo Glavic
Nationality: Croatian
Joined: 2013
Captain Jozo Glavic
Born and raised in the beautiful Croatian city of Dubrovnik, Captain Jozo Glavic grew up in a large, but very close family of doctors and lawyers. Despite his family's professional history, Jozo decided at a young age that his working life would be spent at sea, and so attended Nautical College before finally completing his education at Dubrovnik Maritime University.
Captain Glavic's seafaring career started back in 1994 when he took a role on board a merchant vessel, and his early experiences served as a strong foundation when he began working on passenger ships in 2003. Starting as a Deck Cadet for Prestige Cruise Holdings (Oceania Cruises & Regent Seven Seas Cruises), Jozo worked his way up to the role of Staff Captain before joining Fred. Olsen Cruise Lines in 2013 as a Chief Officer. He was quickly promoted to Captain however and has took command of Black Watch and Braemar ­– his favourite ship in the fleet – during his time with us.
The spectacular Norwegian fjords are Captain Glavic's favourite destination, as the scenery still gives him goosebumps despite sailing these waterways for over a decade; and the '4 Ships in Bergen' event is the highlight of his Fred. Olsen career so far. He also enjoys visiting Dubrovnik and hopes to explore Alaska on board one of our ships someday too.
At home Jozo loves spending time with his wife and three children and catching up on what he might have missed whilst on board. He's also a keen cook and enjoys dining with friends and family, serving up food that he's discovered when exploring the world.
We've asked Captain Jozo a few questions so you can get to know him better!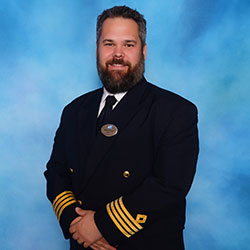 Captain Henrik Mattsson
Nationality: Finnish
Joined: 2012
Captain Henrik Mattsson
Captain Mattsson is from the Åland Islands, a Finnish archipelago situated in the middle of the Baltic Sea. This beautiful collection of islands harbours strong seafaring traditions, so it's no surprise that many of the people born and raised here – including Captain Mattsson and his childhood friends – end up working on the water.
Aged 17, Captain Mattsson began his career as an Ordinary Seaman on board ferries, before transferring to cargo ships. He eventually worked his way up the ranks, spending many years in the roles of Able Bodied Seaman and Bosun before becoming Bridge Officer. Henrik has been with Fred. Olsen Cruise Lines since November 2012, when he joined the company as Chief Officer on board Boudicca. In June 2015 he was promoted to Captain and has since worked on board Balmoral and Black Watch, his favourite ship in the fleet.
The Caribbean and the Norwegian Fjords are Captain Mattsson's favourite cruise destinations; while taking in the spectacular scenery of Greenland aboard Boudicca in 2013 is his most memorable Fred. Olsen experience so far. Henrik also lists exploring the Amazon as one of his cruise highlights too. In the future he hopes to have the opportunity to captain one of our ships through the breathtaking Chilean fjords.
When he is on leave, Captain Mattsson enjoys spending time with his wife and two children back at home in the Åland Islands. In his spare time Henrik likes to go fishing and explore the islands surrounding his home. When he's not down by the water he can be found indulging his interest in cars, motorcycles and gardening.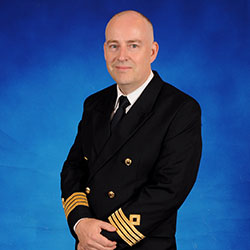 Captain Jens Gulowsen
Nationality: Norwegian
Joined: 2012
Captain Jens Erik Gulowsen
Captain Jens Erik Gulowsen
Captain Jens Erik Gulowsen previously worked for Royal Caribbean, The World and the Norwegian Coastal Express before joining Fred. Olsen Cruise Lines in 2012. During his time with us so far, Captain Gulowsen has enjoyed working aboard Braemar, Balmoral and Boudicca, listing the latter as his favourite ship in the fleet. What he loves most about being one of our Captains is having the chance to sample the friendly atmosphere on board and being able to meet our guests – something he missed when working aboard larger ships.
As a proud Norwegian, Jens Erik particularly enjoys taking in the breathtaking scenery of the fjordland from the bridge and he always looks forward to calling into beautiful Bergen, his hometown. It will come as no surprise that Captain Gulowsen's most memorable experience with Fred. Olsen was being part of the unforgettable '4 Ships in Bergen' event in 2015. He also enjoys Mediterranean cruises, thanks to the fascinating history of the region.
In his spare time Captain Gulowsen likes to go cross-country skiing in the winter, and he always has his kayak at the ready for exploring the stunning coastline of his homeland. He also has a keen interest in classic cars, although he admits he's not quite a mechanic! Most importantly, Jens Erik loves spending time with family and friends.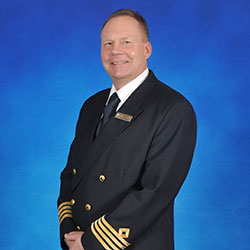 Captain Juha Sartela
Nationality: Finnish
Joined: 2016
Captain Juha Sartela
Captain Sartela's career started at the age of 16. After attending seaman school he served as a Deck Boy, Ordinary Seaman and Able Bodied Seaman aboard cargo ships; before studying for his Deck Officer's license at Navigational College. After gaining his Master's licence in 1991, Juha took a role as Deck Officer on ferries between Finland and Sweden, before moving to the cruise industry.
Having previously worked as a Deck Officer for companies such as Princess Cruises and Disney Cruise Line; and as a Captain for Windstar Cruise Line, Captain Sartela brought a wealth of industry knowledge and seafaring experience with him when he joined Fred. Olsen Cruise Lines in April 2016.
Since joining Fred. Olsen, Juha has been Chief Officer on board Braemar and captained Boudicca; and has been on a number of incredible cruises, including stunning summer explorations of the Mediterranean and an epic South American voyage – his favourite Fred. Olsen experience so far. He is looking forward to sampling the friendly 'F.OCL atmosphere' on board Balmoral and Black Watch in the future too; and is hoping to get the chance to guide one of the line's smaller, more intimate ships to the Far East and Singapore, his favourite destination.
When Captain Sartela returns home to Finland while on leave, he likes to spend his free time with family, friends and his Welsh springer spaniel. He also enjoys taking his sail boat out into the beautiful Finnish Archipelago; perfecting his guitar skills when he has a spare moment or two; and his other hobbies and interests include hiking, cooking and aviation.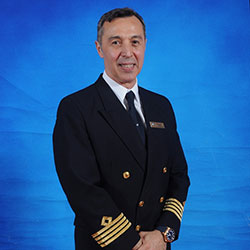 Captain Victor Stoica
Nationality: Romanian
Joined: 2001
Captain Victor Stoica
Captain Stoica was born in Romania in October 1964 and has been a seafarer for over 30 years. After attending a marine academy from 1983 to 1987, he became a 3rd officer on board cargo ships in 1988 and took his first role on board a passenger ship – the 'Tropicana' – in 1999 before joining Fred. Olsen in May 2001.
During his long career with Fred. Olsen, Victor has worked on board Black Prince and captained all four ships in the current Fred. Olsen fleet: Braemar, Black Watch, Balmoral and Boudicca. He enjoys sailing to Norway and presenting guests with the spectacular scenery of the fjordland; visiting the Canary Islands, with their striking landscapes and great climate; and cruising around the UK. Captain Stoica notes the friendly on board atmosphere and the chance to interact with our guests as the things he loves most about being a Captain on board Fred. Olsen's ships; and he enjoys working for the company because of its rich history and family heritage, which is unique in the cruise industry.
In his free time Victor enjoys travelling with his family, especially visiting new places inland that he might not get to explore when sailing the world's waterways.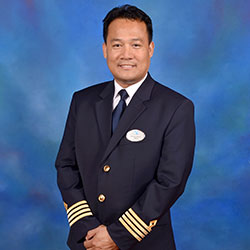 Captain Rommel Pineda
Nationality: Filipino
Joined: 1996
Captain Rommel Pineda
Born and raised in the Philippines, Captain Rommel Pineda has enjoyed several years of sailing the world's oceans with Fred. Olsen so far. After graduating Merchant Maritime College, Rommel joined us in 1996 and worked on board Black Prince for 10 years, before transferring between all four ships in our current fleet. In 2017, Rommel flourished when he was temporarily promoted to Captain, so stepping up to role permanently in 2018 was an easy transition.
Having spent his entire seafaring career with us, Captain Pineda has visited some of the greatest destinations on earth aboard our ships. As a nature lover, Rommel lists Norway, Iceland, Greenland and the stunning South Pacific islands among his best places to visit. In the future, he hopes for a chance to guide guests to the North Pacific region, and take in China, South Korea, Japan and Alaska.
Aside from discovering the world, Captain Pineda relishes building a rapport with his fellow crew members and Fred. Olsen guests alike. He believes what sets working for and cruising with Fred. Olsen apart from the rest of our industry is the welcoming atmosphere of our smaller ships and the friendliness of the people on board; as well as the variety of cruises we offer.
In his spare time, Rommel makes the most of his time at home to catch up with family and friends.