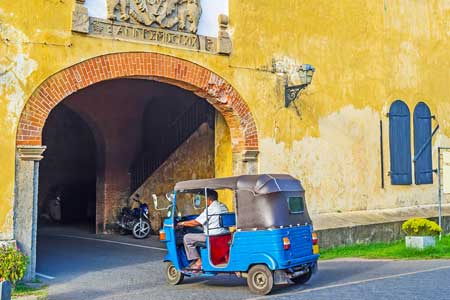 When in Sri Lanka, you're never too far away from a palm-fringed beach. That has to be one of the best reasons to take a cruise to this enchanting country. If you can draw yourself away from its lush mountainous interior and perfect beaches, Sri Lanka has a rich and varied culture to explore. Splatterings of Indian, Dutch, Portuguese and British influences can be spotted in the island's towns and villages. [ReadMoreMob]
To the south, Galle town shows off its Dutch heritage. Its narrow streets are crammed with shops and cool cafés and restaurants where you can sample the local curries. Be careful though, they tend to be on the hot side.
Colombo draws together everything that makes Sri Lanka so great and is best seen by the local tuk-tuk. It's a rich melting pot of cultures, which brings an urban buzz to a very rural island.
After taking in its natural beauty and urban centres, Sri Lanka is sure to become one of your favourite cruise holiday destinations.
Top Experiences
Colombo, Sri Lanka
Ceylon Tea
Ceylon (say-lawn) tea is a popular type of black tea (also known as Sri Lankan tea). Served as an iced tea or nice and warm, it is a favourite drink for many tea drinkers. While Ceylon is known for its bold flavour, you might be surprised to know that it can vary greatly in taste, depending on where it's grown in the country. This difference in flavour is influenced by climate, soil, precipitation, sun, and plant varietals, and it is known as terroir.
Kelaniya Temple (Kelaniya Raja Maha Vihara)
One of the most sacred sites in Sri Lanka, the Kelaniya Temple is located approximately 11 kilometres (seven miles) from Colombo. Buddha himself is said to have visited the temple more than 2,000 years ago during his third visit to the country. Located on the banks of the River Kelani, Kelaniya is renowned for its frescoes, which depict historical events that have taken place in Sri Lanka. The temple has an intimate symbolic association with the political dynamics of the country.
Cinnamon
Indigenous to Sri Lanka, Cinnamon is the pride among world's spices. Sri Lanka is the world's largest Ceylon cinnamon producer, which is considered to be of better quality than the cheaper Cassia cinnamon. The Ceylon cinnamon tree is indigenous to Sri Lanka, so it's no surprise that the country accounts for most of the world's supply.