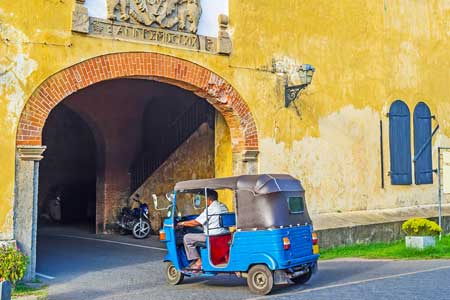 Why Cruise to Sri Lanka?
When in Sri Lanka, you're never too far away from a palm-fringed beach. That has to be one of the best reasons to take a cruise to this enchanting country. If you can draw yourself away from its lush mountainous interior and perfect beaches, Sri Lanka has a rich and varied culture to explore. Splatterings of Indian, Dutch, Portuguese and British influences can be spotted in the island's towns and villages. [ReadMoreMob] [ReadMoreDesk]
Learn about the History and Heritage
To the south, Galle town shows off its Dutch heritage. Its narrow streets are crammed with shops and cool cafés and restaurants where you can sample the local curries. Be careful though, they tend to be on the hot side.
Colombo draws together everything that makes Sri Lanka so great and is best seen by the local tuk-tuk. It's a rich melting pot of cultures, which brings an urban buzz to a very rural island.
After taking in its natural beauty and urban centres, Sri Lanka is sure to become one of your favourite cruise holiday destinations.
Top Experiences
Colombo, Sri Lanka
Ceylon Tea
Sri Lanka is famed for its tea production, with Ceylon a popular variety of black tea. Taste can vary, depending on the area of growth, although the classic flavour is bold and full. Served either warm or iced, it is a firm favourite of many tea drinkers.
Kelaniya Temple (Kelaniya Raja Maha Vihara)
Buddhists believe this temple, which has been destroyed and restored on multiple occasions, to have been hallowed during Buddha's final visit to Sri Lanka. The temple has an intimate symbolic association with the political dynamics of the country.
Cinnamon
Sri Lanka is the largest producer of Ceylon cinnamon, which is considered better quality than the cheaper Cassia cinnamon. The Ceylon cinnamon tree is indigenous to Sri Lanka, so it's no surprise that the country accounts for most of the world's supply.