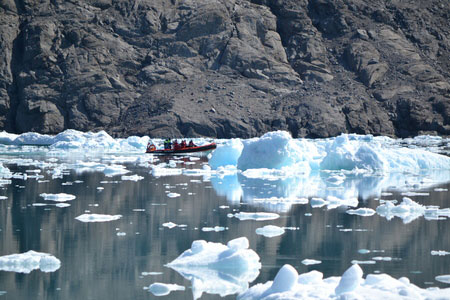 Lying between the North Atlantic and Arctic oceans, much of Greenland's surface is covered in ice, with its sparse populace nestled on the ice-free, fjord-lined coast to the southwest. Situated largely above the Arctic Circle, the island offers stunning landscapes and natural phenomena such as the Aurora Borealis and summer's midnight sun. [ReadMoreMob]
The old saying goes, "When you've seen the world, there's always Greenland," but there are many reasons to make the trip much sooner. Greenland may be remote, but it's a natural masterpiece. Dramatic fjords, imposing mountains and majestic icebergs are a feature of the unspolit landscapes here, providing a haven for an amazing array of wildlife such as whales, seabirds, seals and reindeer.
Greenland has one of the world's smallest capitals: cosmopolitan Nuuk. The city offers a mix of intriguing museums and more history can be found at the Viking ruins in Narsarsuaq and Qassiarsuk, and at Qaqortoq's small Inuit (Eskimo) Museum. [ReadMoreDesk]
The unique blend of Inuit and Danish ancestry has produced a Greenlandic culture all of its own. The ancient and modern is seen in some surprising combinations, be that dogsledding with Carlsberg or kaffemiks. A cruise to Greenland is something special and time in each destination should be taken to unwind and witness some of this land's most dazzling natural experiences.
Top Experiences
Tasiilaq, Greenland
Flower Valley
Experience the local wildlife and stunning scenery of Greenland in the Flower Valley, which grows arctic thyme, arctic bluebells,arctic dandelions and the national flower, willow herbs. Here you will also see the impressive Kiattut Glacier.
Glaciers
Greenland is famed for its icebergs and glaciers, and what better way to see them than on a boat tour around the east of the island, where you may also spot some whales.
Cruises to Greenland
Departs: Dover • Sat 14 Aug 2021
28 nights • Bolette • T2121
Take advantage of a rare opportunity to witness the eerie Midnight Sun in Norway and search for a glimmer of the awe-inspiring Aurora Borealis in Iceland.
Be mesmerised by small ship scenic cruising, including a glide along glorious Prins Christiansund; an up-close view of the astonishing Tuna Glacier; and a glimpse of volcanic Jan Mayen Island.
Make memories ashore, with chances to explore the Qooroq Ice Fjord; see Longyearbyen's wild landscapes; tour Iceland's Golden Circle; and much more.
From £4,499pp
Fares Explained
|
What's Included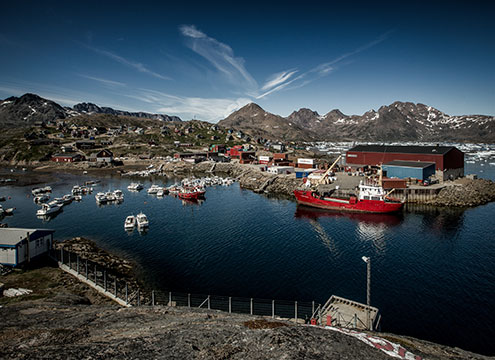 Departs: Liverpool • Sat 14 Aug 2021
14 nights • Borealis • S2119
Astonishing waterways, spectacular landscapes and enchanting settlements await, as Borealis diverts off the well-beaten tourist routes to bring you the wonders of Greenland's most remote regions.
You'll experience scenic cruising of awe-inspiring Prins Christiansund, and can tour to the remarkable Qooroq Ice Fjord to stimulate your senses with the sight and sounds of magnificent icebergs.
Explore Qaqortoq and Nanortalik's for a taste of local history, culture and traditions too; and enjoy two days in Iceland, uncovering world-famous natural wonders.
From £2,599pp
Fares Explained
|
What's Included