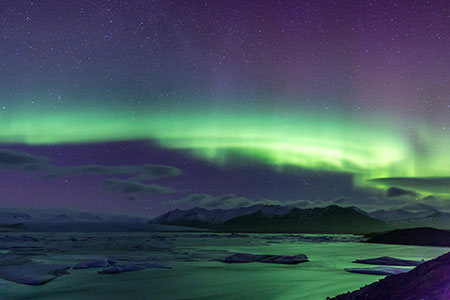 The remote Arctic, the northernmost region of the Earth centred on the North Pole, is characterised by its distinctive polar features of landscape, climate, plant and animal life. It's a region blessed with natural beauty: from boiling mud pools and spurting geysers to glorious glaciers and stunning waterfalls. [ReadMoreMob]
Derived from the Greek, Arktos, referring to the northern constellation of the Bear, the Arctic is a region only recently fully-charted by bold explorers and navigators from the last century. Going beyond the Arctic Circle delivers a region of outstanding natural beauty and a mystical remoteness that many find beguiling.
Arctic cruises offer an eclectic mix of experiences: from the awe-inspiring blue icebergs of Qaqortoq to walking in the footsteps of Erik the Red from the village of Narsarsuaq. Any passion for scenery, natural beauty and wildlife is easily satiated in breathtaking landscapes witnessed on an Arctic voyage. The opportunity to catch a glimpse of whales, manatees, seals or a multitude of bird life adds to the Arctic's distinct personality. [ReadMoreDesk]
Of course, all of this can eclipsed by experiencing two extraordinary natural phenomena unique to the region: continuous days beneath the enigmatic midnight sun, or a dazzling encounter with the elusive Northern Lights.