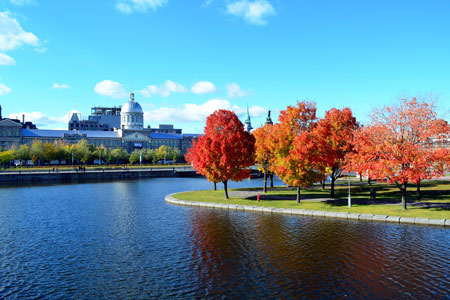 Canada, the planet's second largest country, stretches 5,500km from the Atlantic to the Gulf of Alaska. The country is far more than its Rockies, great lakes and craggy coasts: the extraordinary harbour cities, captivating culture, pioneering history and sensational cuisine make up a full-on North American experience. [ReadMoreMob]
Canada's diverse range of cosmopolitan cities include the bilingual Montreal, with its compact, European feel, and bustling Vancouver, which is surrounded by ocean and mountains and is a true outdoor city. The country's unique terrain is built for adventure. Good times abound on Whistler's mountains, in Nova Scotia's swells, the trails in the Northwest Territories and Prince Edward Island's pristine beaches.
Dining across the country presents a number of local Canadian specialities: the wild salmon in British Columbia, Québec's poutine, and lobster in any number of maritime ports. Canadian world-class food is matched by its extraordinary range of red and white wines that hail from the country's vine-covered valleys. [ReadMoreDesk]
Canada's remarkable history, particularly along its eastern seaboard, is evident in its architecture, museums and the spirit of its people, while music and art are also integral parts of the nation's cultural landscape. Whatever discoveries await on a Canadian cruise, one thing for certain is the warmth of the welcome afforded any visitor to these lands.
Reviews
Interested in booking one of our cruises? Why not have a look at our latest Feefo trusted reviews for this destination and see what other guests have said about their experience.
Canada in the Fall (W1821)
Trusted Customer
(21/11/2018)
Canada in the Fall (W1821)
Canada in the Fall (W1821)
Canada in the Fall (W1821)
Canada in the Fall (W1821)
Trusted Customer
(13/11/2018)
Canada in the Fall (W1821)
Canada in the Fall (W1821)
Trusted Customer
(13/11/2018)
Canada in the Fall (W1821)
Canada in the Fall (W1821)
Canada in the Fall (W1821)
Mandy and Mike
(11/11/2018)