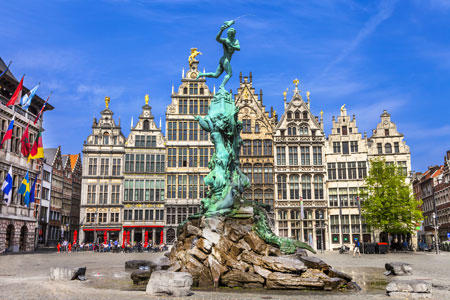 Nestling in the heart of Western Europe, Belgium's compact beauty blends historic intrigue with a modern twist. Its medieval castles and towers give way to contemporary art museums and trendy cafés. And there's all the country's indulgent food: chocolate, waffles, moules frites, all washed down with Belgium's famously-delicious beer. [ReadMoreMob]
For lovers of the great outdoor lovers, scenic forests, rivers and coastline offer some great walking. For cultural treats, there are the narrow cobbled streets of the UNESCO- listed Bruges. This devastatingly beautiful city, which hosts one of Europe's very best Christmas markets, is the highlight of any Belgian cruise.
Other Belgian cities, like Brussels and Antwerp, present delightful restaurants, fine antique shops, chic boutiques and exclusive chocolate outlets and, of course, exciting nightlife. But Belgium also has a more sombre side; its cities, and poignant locations such as Flanders Fields, bear the scars of centuries of invasion, siege and conquest. [ReadMoreDesk]
All in all, a cruise to Belgium, its cities, countryside and historic sites offers an insight into one of the most beautiful and unspoilt areas of Europe.