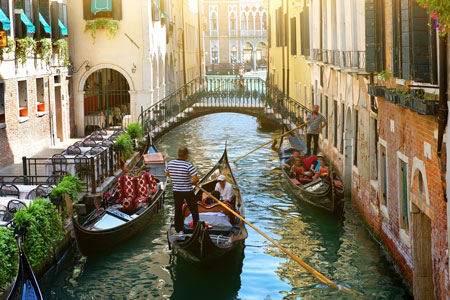 Venice, the capital of northern Italy's Veneto region, remains a city unrivalled in its marriage of serenity and spectacle, legend and romance. With tranquil waters that stretch along 150 canals and audacious historic architecture, it's no surprise that the city of Venice is lauded as one of the must-see global destinations.

With no cars, Venice is a gondola-ride into the past through its web of narrow cobbled streets and under 500 ancient bridges that entangle the city centre. The fittingly-named Grand Canal epitomises the grandeur of this magnificent city: stunning Venetian architecture reflects on its surface, while at one end, the magnificent Palazzo Ducale and Basilica di San Marco offer a jaw-dropping finish to any trip along this majestic canal.

Away from the water, neighbourhood churches are lined with Veroneses and priceless marbles, and the great piazza San Marco – the place Napoleon once referred to as the 'drawing room of Europe' – is a total showstopper. From the lavish 14th century Doge's Palace, to the stunning mosaic-decorated interior of the famous basilica, the square boasts some of the city's best sights. All of which glistens in the shadow of the impressive clock tower, Torre dell'Orologio.

This lagoon-based city produces wining and dining specialities all of its own: a sunny morning spritz in a campi (square); a seafood lunch in a bacaro (bar); a happy hour selection of cicheti (Venetian tapas); or a traditional Venetian meal at a canal side restaurant with a glass of the city's beloved Prosecco – all are truly unforgettable experiences.

Venice is a city of trendsetters. From controversial artwork in the Punta della Dogana to showrooms of local artisans and the radical new art at the Biennale, an unconventional, creative vibe can be found everywhere in this magical place.