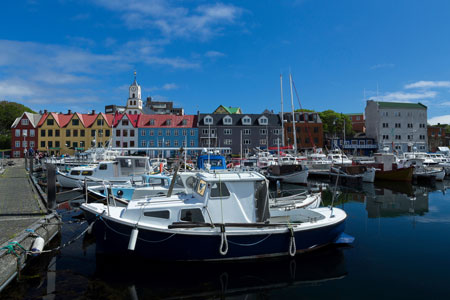 Tórshavn, on Streymoy Island, is the capital city of the Faroe Islands. It's known for its Old Town, Tinganes, and its curious wooden turf-roofed houses dotted across the small, rocky peninsula. Vikings discovered the islands over a thousand years ago, and established the main harbour at Tórshavn. With forts in place to protect it from pirates, it soon became a major trading centre. Many of the city's ancient buildings are still standing and open to the public.[ReadMoreMob]
The Reynagarður Vicarage, built in the mid-1600s and Munkastovan, part of the medieval fort that was built to protect Tórshavn from pirate invasion, await discovery. The striking Tórshavn Cathedral, rebuilt in the 19th century, is another of the city's must-visit attractions.
Today, Tórshavn is a picturesque town of flagstone streets, elegant buildings, informative museums, theatres and parks. Local boutiques dot the main shopping strip, Niels Finsens Gøta, while the Nordic House cultural centre offers theatre, dance and music performances in a contemporary space.
Top Experiences
Nordic History
Torshavn is a Viking settlement, named after the Viking God of Thunder, Thor (Thor's Harbour). There are reminders of Torshavn's Viking history throughout the town. Wander through Tinganes, the old town, where you will see wooden houses and the historic parliament building, one of the oldest in the world. You can also see Skansin Fortress, built to protect the town from pirates. Then finally, there's Kirkjubøur, a historic site dating back to the late 13th century. It was the cultural centre of the Faroes in the Middle Ages.
Vestmanna Sea Cliffs
About 40 minutes' drive from Torshavn, you will find the magnificent Vestmanna Sea Cliffs. Take a boat tour around the 1500ft high bird cliffs and through the grottos, and look out for the thousands of sea birds nesting on the cliffs.
Religious Buildings
Tórshavn Cathedral is located in the historic area of Tinganes. This small but beautiful building is the second oldest received church in the Faroe Islands. Originally built in 1788, the cathedral is painted white with a slate roof and can be reached via a pleasant walk across town.