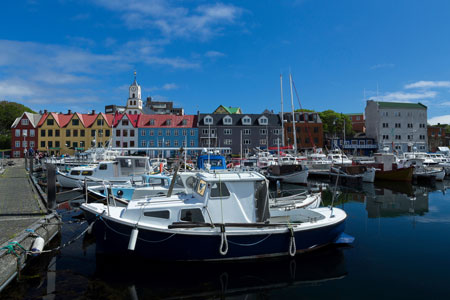 Tórshavn, on Streymoy Island, is the capital city of the Faroe Islands. It's known for its Old Town, Tinganes, and its curious wooden turf-roofed houses dotted across the small, rocky peninsula.
Vikings discovered the islands over a thousand years ago, and established the main harbour at Tórshavn. With forts in place to protect it from pirates, it soon became a major trading centre. Many of the city's ancient buildings are still standing and open to the public.
The Reynagarður Vicarage, built in the mid-1600s and Munkastovan, part of the medieval fort that was built to protect Tórshavn from pirate invasion, await discovery. The striking Tórshavn Cathedral, rebuilt in the 19th century, is also worthy of a visit.
Today, Tórshavn is a picturesque town of flagstone streets, elegant buildings, informative museums, theatres and parks. Local boutiques dot the main shopping strip, Niels Finsens Gøta, while the Nordic House cultural centre offers theatre, dance and music performances in a contemporary space.