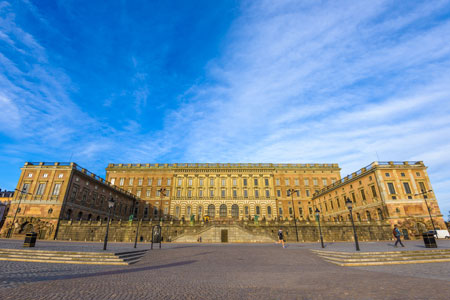 Sweden's beautiful capital owes much of its appeal to its unique location. Spread across 14 islands at the head of a vast archipelago that stretches out into the Baltic, Stockholm's swathe of parks, gardens and canals are a joy to discover via the city's large network of bridges.
Founded over 700 years ago, the city's harbour is the epitome of elegance and Stockholm's history is writ large across its wide boulevards. Gamla Stan, Stockholm's charming Old Town district, is home to historic, ochre-coloured buildings and monuments.[ReadMoreMob] Dating back to the 13th century, the island is surrounded by water and offers beautiful waterfront views. Along its divine cobbled streets, the 13th century Storkyrkan Cathedral, the gorgeous Riddarholm Church and the Nobel Prize Museum can all be found and appreciated. [ReadMore]
The choice of museums is extensive and includes the Vasa Maritime Museum, the unique Skansen Open Air Museum and of course, the ABBA Museum. The stunning Royal Palace and the Drottningholm Palace are also well worth seeing.
The vibrant Norrmalm and Östermalm districts in the city centre are ideal for those looking for a more modern cultural experience. Here, an array of upmarket shops sell goods from globally-known brands, and there are trendy cafes next to the Science and Technology Museum. Stockholm's beauty and fashion sense are legendary, and its no-fuss functional, minimalistic approach to style provides the city with an unmistakable look.
Given its bountiful seas and farmland, Stockholm is a city of foodies and food trends. From açai breakfast bowls to truffle cheeseburgers, trying the cuisine is an exploration all of its own. Traditional Swedish cooking still holds its own, though: fried herring, meatballs and toast skagen remain menu classics.
Top Experiences
Gamla Stan
Stockholm's charming Old Town district is home to the city's finest historic buildings and monuments. Dating back to the 13th century, the island is surrounded by water and offers beautiful waterfront views, whilst amongst the lovely cobbled streets you will find Stockholm Cathedral, Royal Palace, Parliament buildings and beautiful Riddarholm Church.
Vasa Museum
Your call to Stockholm is not complete without a visit to the Vasa Museum – home to a preserved 17th century ship-wrecked warship, salvaged 50 years ago, which is 95 percent original. Today the Museum is one of the most visited in Scandinavia and boasts ten different exhibitions around the ship, which will give you an insight to what life was like on the ship back in the seventh century.
ABBA: The Museum
You don't need to be an ABBA fan to enjoy ABBA: The Museum – one of Stockholm's newest museums is where you can step back in time and dance your way around to the nonstop music. Admire the costumes, gold records, and original memorabilia which are all on show throughout the museum. Tickets give a time entry slot in order to avoid long lines, and give every visitor the ultimate experience.
Djurgarden
Many of the city's museums and attractions can be found in the Djurgarden district. It is also regarded as the greenest district, where the National City Park can be found; the perfect place to enjoy a leisurely stroll whatever the season. There is the opportunity to rent bicycles and canoes in the park, making it hard to believe that you are in the middle of a busy capital city.
Cruises to Stockholm
Departs: Newcastle • Thu 13 May 2021
14 nights • Balmoral • L2114
Combining visits to intoxicating destinations, including five capital cities, with spellbinding scenic cruising, this classic Baltic exploration will have you captivated from the moment you set sail.
Revel in the artistic, historic and cultural attractions of three Scandinavian capitals – Copenhagen, Oslo and Stockholm; and experience unforgettable navigations of the sprawling Stockholm archipelago.
You're sure to be left spellbound by the enchanting old towns of Riga and Tallinn, as well spectacular palaces, grandiose churches, iconic landmarks and quintessential Russian ballet in St Petersburg.
From £1,999pp
Fares Explained
|
What's Included
Departs: Rosyth (Edinburgh) • Thu 17 Jun 2021
14 nights • Balmoral • L2119
See, experience and fully immerse yourself in the grandeur of beautiful Baltic cities renowned for their remarkable architectural, cultural, historical and artistic delights.
Enjoy three days in spectacular St Petersburg, ample time to marvel at iconic landmarks such as Peterhof Palace and the Hermitage, and even feel the magic of the Russian ballet.
Uncover impressive palaces, castles and museums in the Scandinavian capitals of Copenhagen, Stockholm and Oslo; plus experience enchanting local life in Tallinn, Estonia and Helsinki, Finland.
From £1,999pp
Fares Explained
|
What's Included
Departs: Dover • Sat 11 Sep 2021
10 nights • Bolette • T2122
This Swedish showcase makes for a very special holiday, mixing the highlights of the culture-rich capital with the beauty of exquisite waterways.
Experience the sheer wonder of the idyllic fjords, waterways and the incredible Stockholm Archipelago; and enjoy an in-depth exploration of Stockholm, with its fantastic museums, monuments and palaces.
Copenhagen – home to some of Denmark's most iconic sights – adds Danish delights into the mix, while there are rare-visits to lesser known Lysekil and Trelleborg too.
From £1,399pp
Fares Explained
|
What's Included