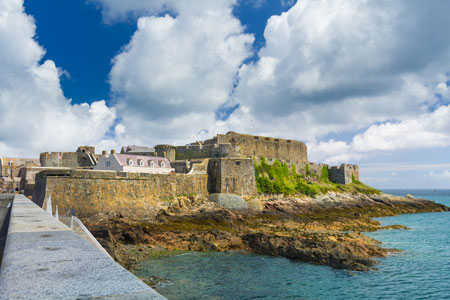 The picturesque capital of Guernsey, and the main port of the Channel Islands, St. Peter Port, is a bustling, historic town where Georgian and Regency architecture has been refined by French émigrés.
The result of these influences is a charming mix of styles, with tumbling terraces and tiered gardens, stylish boutiques and chic cafés that are an absolute joy to explore. Of course, many visitors tour the town on the hunt for a bargain in the low-tax stores.
The author of Les Misérables, Victor Hugo, was exiled in Guernsey, living in Hauteville House for 15 years. Now known as Victor Hugo House, it is a museum owned and operated by the Paris city government. Castle Cornet, the ancient harbour fortress, sits atop a rock outcrop reached along a bridge and breakwater, and houses several museums.
Destination Highlights
Castle Cornet
Castle Cornet is the ancient harbour fortress and the last Royalist stronghold to surrender in the English Civil War. Housing five museums, and the story of the stronghold itself, the castle has guarded the town for over 800 years and offers impressive views over the surrounding area.
Candie Gardens
Located above the town of St Peter Port you will find the award-winning, restored Victorian Candie Gardens. Because of the gardens' privileged position, not only can you discover rare examples of flowers from the late 19th century and the oldest heated glasshouses in the British Isles here, you can also admire some of the best views across St Peter Port harbour and the islands of Herm, Sark and Jethou.
Hauteville House
Victor Hugo, the legendary author of Les Miserables and Toilers of the Sea, was exiled in Guernsey, and lived in Hauteville House for 15 years. Now known as Victor Hugo House, it is museum owned and operated by the Paris city government. Hugo fell in love with the island of Guernsey and his home offers visitors the opportunity to see how the author lived and decorated himself and his lavish home, which has been preserved to its original state.
The Little Chapel
The Little Chapel, beautifully decorated with seashells, pebbles and pieces of broken china, is claimed to be the smallest chapel in the world and was designed by Brother Déodat who wanted to create a miniature version of the famous grotto and basilica at Lourdes in France.
La Vallette Military Museum
This military museum is housed within the complex of the tunnels built by the Germans as a fuel storage facility for U-Boats during the Second World War, and exhibits Guernsey's military history including its role during the 1st World War and the German Occupation of the island from 1940 to 1945.