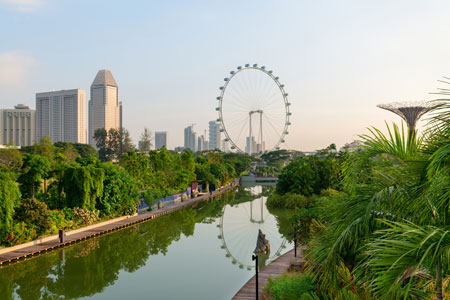 Located at the tip of the Malay Peninsula, this dynamic city-state is the perfect cocktail of culture, cruising, arts and architecture. This global financial centre with a tropical climate and multicultural population is passionately working towards its dream of a 'City in a Garden'.
Getting around Singapore is a fairly rapid affair, thanks to one of the world's most efficient and widespread public transport systems. Its colonial core centres on the Padang, a cricket field since the 1830s and now flanked by grand buildings such as City Hall, and its multitude of Corinthian columns. The 19th century red-and-gold Buddha Tooth Relic Temple in Chinatown, allegedly houses one of Buddha's teeth.
The concrete that once dominated the city skyline is slowly being replaced by 'green skyscrapers', which look more like living ecosystems than office buildings. Visitors stepping out of the centre will find walking trails, treetop bridges, indigenous wildlife and the city's green jewel, the UNESCO-listed World Heritage Singapore Botanic Gardens. [ReadMore]
A tantalizing selection of food sold from street markets is dotted around the city. Food is taken very seriously: from cheap street fare to Michelin-starred dining, Singaporean foodies will happily queue for it. Of course, for sheer elegance, nothing beats a Singapore Sling in the Raffles Hotel.
Singapore has always drawn visits from a variety of sea craft. Merchants of every race, colour and faith were quickly drawn to the island, and by 1911, Singapore's population comprised of 48 races, speaking 54 languages. Malay is now the official language.