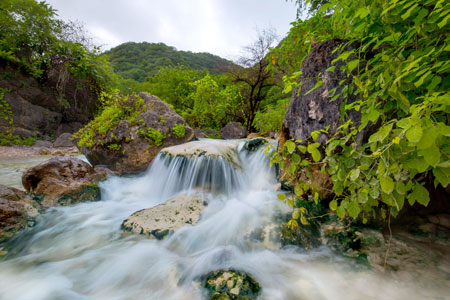 Capital of Oman's southern region, Salalah, known as the 'perfume city of Arabia', is famous for its trade in frankincense, banana plantations, Arabian Sea beaches and waters teeming with sea life. An annual monsoon, The Khareef, transforms the desert terrain into a lush, green landscape and the seasonal waterfalls it creates is a magical sight.
The city's must-see sights include the eye-catching Sultan Qaboos Palace and the Al-Husn Souk, which is a large outdoor market with dozens of shops and stalls selling gold and silver products, incense, perfumes and frankincense resin. The Frankincense Land Museum, part of the Al Balid Archaeological Site, recounts the city's maritime history and its role in the spice trade.
There is another market – the Haffa Souk, in the old city. This is the place to buy local hand-made wood and leather products as well as more frankincense resin.
Destination Highlights
Sultan Qaboos Mosque
Inaugurated in 2009, the Sultan Qaboos Grand Mosque, named after the sultan of Oman, is one of the icons of Salalah and a must-see for anyone visiting here. The mosque, which is the largest in Salalah, measures 40,419 square metres and can accommodate 3,000 worshippers at one time.
Al Baleed Archaeological Site
Al Baleed Archaeological Park openair archaeological site sits across the Arabian Sea and next to Al Husn Palace and renowned Haffa Souq. This site is a UNESCO World Heritage site and an interesting place to visit in Salalah.