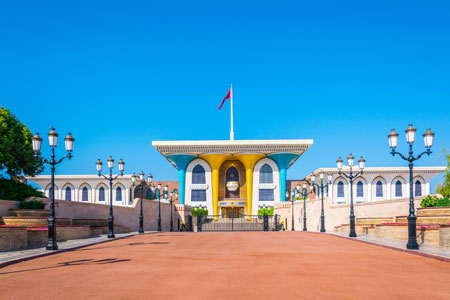 Muscat, Oman's port capital, offers plenty of history, an air of tradition, and a distinctly exotic location – all crammed between the mountains, the sea and the desert.
Muscat means 'safe anchorage', and the sea plays a key role sustaining the fishing industry and providing the chance to swim along sandy beaches or dive with turtles in nearby lagoons. With history dating back to ancient times, Muscat mixes modern architecture and fashionable shopping malls with souks, Royal Palaces and landmarks like its 16th century Portuguese forts, Al Jalali and Mirani that keep watch over the harbour.
The ornate marble-clad Sultan Qaboos Grand Mosque, with its 50m dome, can accommodate 20,000 people. This most modern of Islamic buildings is also home to the world's second largest hand-woven carpet, which took four years to thread and is made from various vibrant vegetable dyes.
The opening of the Royal Opera House in 2011, and the splendid National Museum which opened six years later, offer additional culture highlights that give the city a personality all of its own.