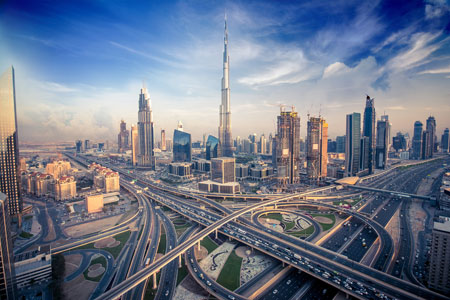 To the south of the Arabian Peninsula, Dubai uniquely blends traditional Arabia with the lure of an ultramodern city. The emirate is a relatively new tourist destination that has gained popularity through its luxury shopping and stunning architecture. It is a world of sharp contrasts: from the contemporary malls, hotels and theme parks to the historic culture of Dubai's Shindagha and Bastakiya districts.

Experience the soaring Burj Khalifa Tower, the world's tallest building, visit the man-made Atlantis Palm Island or take a drive through the Arabian Desert, where the sand dunes display a spectacular sight at sunrise.[ReadMoreMob] The beaches stretch as far as the eye can see – the water sports on Kite Beach are a particular attraction – and limitless culinary delights await in award-winning Michelin star restaurants. The city is alive 24/7, and the nightlife is famously upbeat. Some tranquillity, however, can be found at the Al-Mamzar Park.

Dynamic Dubai is constantly developing and evolving, including what can be picked up in the traditional Souks. From the usual spices and delicious local treats to more extravagant items including gold, silver, precious stones and perfumes, the atmospheric lanes of old Dubai are piled high with aromatic and glittering surprises.
Top Experiences
Burj Khalifa
The stunning Burj Khalifa has amazed and astounded the world since its completion in 2009. Reaching heights of 2722 feet, it is currently the tallest structure in the world and can be seen from 60 miles away. Breathtaking sights of Dubai can be savoured from the observation deck on the 120th floor, with cladding shining so brightly under the Arabian sun, it almost seems to be made of ivory.
Burj Al Arab
Completed in 1999, the Burj Al Arab was the first hotel in the world to be awarded a 7-star rating. This unique hotel is shaped like a sail and sits on its own man-made island, and is described as a 'theatre of opulence', The hotel features 24k gold leaf interiors, a helipad, 24k gold iPads for guests to use, signature cocktails and exceptional gourmet food. The hotel is also home to the highest Atrium in the world, cascading fountain and a built in fire display.
Arabian Desert
The desert surrounding Dubai unfolds as an undulating canvas of sweeping dunes and shifting sands, traditional Bedouin tents and camel camps. A journey over the rolling dunes in a 4x4 vehicle is about as authentically Arabian as it gets.