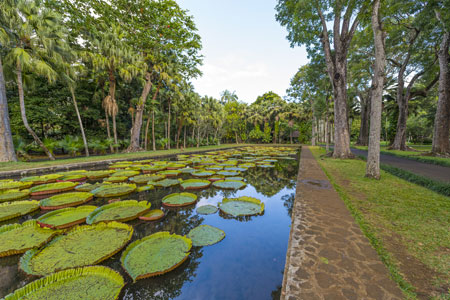 Port Louis, capital of Mauritius capital and its busiest city, delivers a huge slice of everyday Mauritian life. Sat in the azure waters of the Indian Ocean, the port is known for its French colonial architecture and the 19th century Champ de Mars horse-racing track.
To see a colourful snapshot of this paradise, a visit to the lively Central Market, which contrasts with the sparkling new Caudan Waterfront and shopping precinct, is recommended for local produce and handicrafts.
The Blue Penny Museum offers a taste of the island's colonial and maritime history and culture. Port Louis' famous Pamplemousses Botanical Gardens, with its giant Victoria Water Lilies, demands discovery, as does the nearby 3,000-acre Domaine des Pailles Nature Park. [ReadMore]
Tea is a big deal in Mauritius, with 58 varieties produced on the island. Many take the opportunity to visit the manufacturers' factories and view the picturesque colonial houses en route. Alternatively, many simply choose to relax beside a fabulous Indian Ocean Beach.
Destination Highlights
Pamplemousses Botanical Garden
Mauritius boasts a number of natural wonders, and one of its main attractions is the SSR Botanical Garden. Also known as Pamplemousses Botanical Garden, it was originally established as a private garden by French Governor Mahé de Labourdonnais in the 18th century, making it the oldest botanical garden in the Southern Hemisphere. Considered one of the world's best botanic gardens, Pamplemousses is home to a range of plants, a variety of palms and – most famously – a pond filled with giant water lilies.
Ile des Deux Cocos
Iles des Deux Cocos is a deserted private island located in the Blue Bay Marine Park on the south east coast of Mauritius, and is well worth exploring during your time here. This beautiful destination boasts white sandy beaches and inviting crystal clear waters, as well as a villa built over 100 years ago by Sir Hesketh Bell, a British Governor.
Chamarel
The village of Chamarel is located on the west coast of Mauritius and is renowned for its scenic attractions. The area is home to the Seven Coloured Earth, one of the top attractions in Mauritius, which is an area of sand dunes of seven different colours – red, brown, yellow, green, purple, blue and violet. Nearby is the Chamarel Waterfall – the highest in Mauritius – which cascades 95 metres (311 feet) down a cliff.
Port Louis Lions
During calls at Port Louis, Mauritus on a Fred. Olsen cruise it is possible to visit Casela Park and get closer to big cats than ever before. Under the supervision of expert handlers, visitors to the park can observe, walk with and even touch magnificent lions - a once-in-a-lifetime experience. Casela Park's array of wildlife also includes Java deer, wild boar, zebras, ostriches, fruit bats and much more.