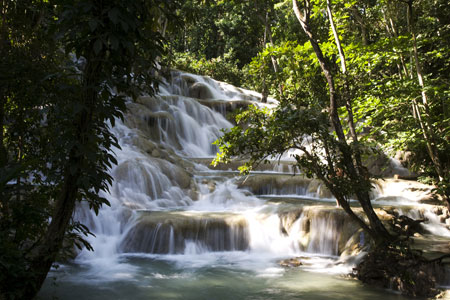 Ocho Rios, Spanish for "Eight Rivers", is a former fishing village in the parish of Saint Ann on the north coast of Jamaica. Just outside the city is Columbus Park, where the Italian explorer purportedly first landed, and exhibits many maritime artefacts and Spanish colonial buildings.
Ocho Rios has some of Jamaica's best waterfalls on its doorstep, and the town makes an excellent base for exploring the north coast around the bay. Dunn's River Falls is spectacular – great to swim under and wonderful to climb – while Eden Falls is also well worth seeing. For a nice stroll away from the sea, the Fern Gully is a deep valley which twists its way inland towards the mountainous centre of the island. The tropical ferns are so deep in parts that sunlight hardly reaches the ground and the temperature is noticeably cooler.
The town has a relaxed vibe with a good mix of restaurants and cafés and several shopping malls.
Destination Highlights
Bob Marley
Jamaican singer, musician and songwriter Bob Marley served as a world ambassador for reggae music and was the first international superstar to emerge from the so-called Third World. He was born and later buried in his hometown of Nine Mile, situated in the parish of Saint Ann, the same parish where Ocho Rios is located.
Dunns River Falls
Described as a living and growing phenomenon, Dunn's River Falls is one of Jamaica's national treasures. It continuously regenerates itself from deposits of travertine rock, the result of precipitation of calcium carbonate from the river, as it flows over the falls. The small dome-shaped cataracts are usually associated with thermal spring activity found in limestone caves.
Blue and John Crow Mountains National Park
Declared a World Heritage Site in 2005, the Blue and John Crow Mountains National Park is a nature-lovers paradise and is known for its biodiversity and relevance to the history of Jamaican Maroons. The mountains are covered with dense tropical, montane rainforest and a wide variety of endangered and/or endemic plant, frogs, and bird species reside here. The mountains peaks over 3,000 feet and remains one of the last known two habitats, which are home to the giant swallowtail butterfly, which is the largest butterfly in the Western Hemisphere.