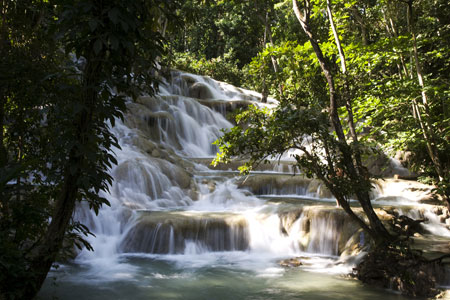 Ocho Rios, Spanish for "Eight Rivers", is a former fishing village in the parish of Saint Ann on the north coast of Jamaica. Just outside the city is Columbus Park, where the Italian explorer purportedly first landed, and exhibits many maritime artefacts and Spanish colonial buildings.
Ocho Rios has some of Jamaica's best waterfalls on its doorstep, and the town makes an excellent base for exploring the north coast around the bay. Dunn's River Falls is spectacular – great to swim under and wonderful to climb – while Eden Falls is also well worth seeing. For a nice stroll away from the sea, the Fern Gully is a deep valley which twists its way inland towards the mountainous centre of the island. The tropical ferns are so deep in parts that sunlight hardly reaches the ground and the temperature is noticeably cooler.
The town has a relaxed vibe with a good mix of restaurants and cafés and several shopping malls.