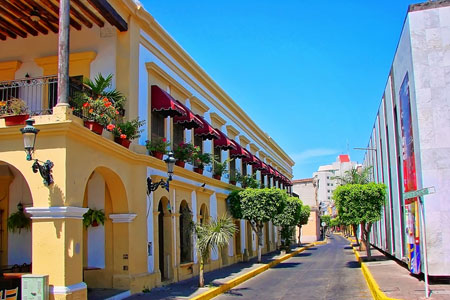 Sat lazily on the Pacific west coast, Mazatlán is one of Mexico's most alluring holiday destinations, boasting 11 miles of sun-soaked sandy beaches along its malecón (boardwalk), and a fine reputation for big-game fishing.
The friendly, charming Old Town cries out to be explored, and the historic Machado Square is home to high-end stores, restaurants and pavement cafés that nestle amongst classic Spanish-style structures.
The city's modern district - Zona Dorada (Golden Zone) - attracts sun-seekers from the rest of Mexico and beyond. Zona Dorada is home to a number of fantastic bars and restaurants scattered along the beachfront serving locally caught seafood and other local delicacies. The boardwalk - the largest in Latin America - is ideal for taking a relaxing stroll in the sunshine.
Destination Highlights
Banda Sinaloense
Banda music – a style focusing mainly on brass and percussion – started in Mazatlán. The history of this style has its roots in the arrival of piston metal instruments in Mexico. Communities began by imitating military bands, and the style evolved from there. Banda Sinaloense is now one of the most popular music genres in Mexico.
Angela Peralta Theatre
A luxurious opera house named for one of Mexico's most beloved singers. After its glory days, the theatre saw service as a film theatre, a boxing arena and eventually sat abandoned, falling into ruin before being restored to its former glory and re-opened in 1992.