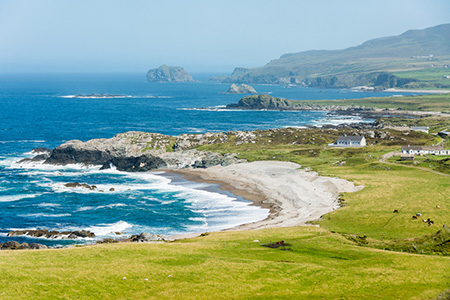 The welcoming, picturesque Irish town of Killybegs is a great place to pass the hours watching fishing boats and net menders, or catching a glimpse of the seals in the harbour. Home to Ireland's premier fishing port, Killybegs is a town with a deep maritime history and a fine harbour.
Located within the rolling hills of the Wild Atlantic Way – a 2,500km tourist trail that stretches from County Donegal to County Cork – Killybegs offers links to some of Ireland's most popular attractions including Malin Head, The Shannon Estuary, which is home to bottlenose dolphins, and Claire Island Lighthouse. In town, Killybegs' International Carpet Making & Fishing Centre and the Maritime and Heritage Centre are both worth visiting to get an understanding of the history of this small, yet important, Irish town. On the outskirts, two areas of superb natural beauty – the unspoilt grasslands of Saint John's Point and the blue flag Fintra Beach – provide fantastic views of Donegal Bay and Benbulben Mountain.
Destination Highlights
Donegal
Steeped in history, the town of Donegal and its jagged coastline extends over 80 kilometres (50 miles). Offering spectacular views of rugged mountains and stunning landscapes.
Tapestries & Carpets
Killybegs is famous for its tapestries and carpets, some of which were produced on the world's biggest carpet loom at the Donegal Carpet Factory. At its peak, the factory
employed 80 workers making Turkish-style, hand-knotted carpets known as 'Donegals' for prestigious buildings around the world including
Fishing Industry
Ireland's largest fishing port. Killybegs is still a leading fishing and fish-processing hub. Freezer ships full of processed fish such as mackerel, herring, scad, and blue whiting are exported from Killybegs to markets in Africa, the Middle East and Europe.
Colourful Houses (Jellybean Row)
St John's is known for the vibrantly coloured row houses that help give the city its distinctive character. The houses in St John's are well maintained and their bright colours are a symbol of the town. It's widely thought that the practice of this tradition, harks back to a time when houses were brightly painted to make them visible to fishermen in foggy weather.