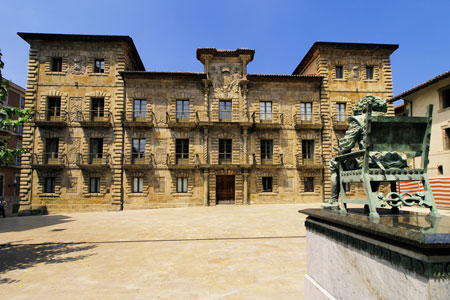 The Spanish city of Aviles in the north-western province of Asturias, is steeped in history and architectural gems just waiting to be discovered. A former maritime and farming town, the scenic city of Aviles is now one of the country's most important industrial centres. [ReadMoreMob]
The city centre remains stylish and easy to navigate, with plenty of high street stores, pretty cafes and a number of museums and galleries to visit, while the Old Town quarter is Aviles' finest feature.
Largely pedestrianised, the Old Town consists of several historic squares and plazas, interlinked by a series of pretty boulevards from centuries past. The collection of stunning historic buildings includes the Camposagrado Palace, the Palacio de Valdecarzana - Aviles' sole example of civil medieval architecture – plus a number of outstanding Gothic churches such as San Nicolás and San Francisco.
Destination Highlights
Traditional Asturias Cider
Sidra or cider is the traditional drink of Asturias, the province in which Avilés is located and is made from locally grown apples; it has been produced here since ancient times. Sidra is considered the regional 'wine' however; it is popular all over Spain. There are over 30 varieties of apples commercially grown in Asturias, but only some of the varieties are suitable for fermenting into sidra. Sidra Asturiana is a light, musty and tart, but slightly sweet beverage. Espichas or 'first tastings' are a tradition in Asturias where friends, family, and neighbours gather to taste the sidra while it is still fermenting in barrels. These espichas are a fun gathering where ham, sausage, bread and Cabrales cheese are served while everyone drinks some cider right from the barrel.
Civil & Religious Architecture
The historical centre of Avilés has been named Historic-Artistic-Monumental Site because of its medieval beauty and because of keeping so many impressive architectonic remains, both religious and civil ones. It is actually one of the best-preserved ones in the north of Spain.