Bars & Lounges on Braemar
From the Neptune Lounge, which hosts insightful lectures and spectacular live shows, and the Coral Club, with its resident bands and large dance floor, to the welcoming Morning Light Pub – your very own 'local' at sea – and The Observatory, offering breathtaking views and Traditional Afternoon Tea, there's a venue to suit every occasion and guest on board Braemar.
Every bar and lounge provides a spacious, comfortable and stylish place to enjoy a glass or two of your favourite tipple, as well as a range of fantastic entertainment, in the company of loved ones, new-found friends and hundreds, not thousands, of other guests.
Upgrade to All Inclusive
Fred. Olsen's All Inclusive Drinks Upgrade is another service offered to ensure your holiday is relaxing and enjoyable. By upgrading to All Inclusive, you can treat yourself to that extra glass or two of your favourite tipple, without having to worry about the bar bill at the end of your cruise – it's already covered.
More than half of Fred. Olsen's guests choose to take advantage of this fantastic upgrade, click below to find out more.
Neptune Lounge
The Neptune Lounge is the larger of Braemar's two main show theatres, although music and entertainment is on offer throughout the ship, and is the venue for a variety of shows, events and performances.
Thanks to extensive improvements made as part of Braemar's thorough refit in 2017, which included the fitting of brand new carpets, furnishings and extra seating, the Neptune Lounge is now an even more comfortable place to enjoy port talks, lectures and more throughout the day, and variety of glamourous entertainment, music, dance, comedy and costumes every evening.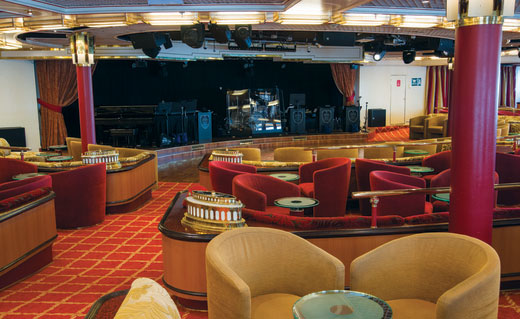 The Coral Club
This sophisticated lounge, seating 170 guests, is the venue for intimate evening shows, great music for dancing to resident live bands, as well as occasional late night cabarets.
It offers alternative shows to those in the Neptune Lounge, which are also given in two performances. It is also the location for the ever-popular on board Bingo. In the evenings here you may wish to enjoy to sample a fine selection of premium gins from our gin menu.
The Observatory
Located on Marquee Deck at the very top of Braemar, The Observatory boasts the most spectacular panoramic views and is a wonderful place to enjoy a pre-dinner drink. Sit by the bar, or perhaps take a seat by the lounge's large windows and lose yourself in the stunning sights while listening to the twinkling sounds of a grand piano.
The Observatory is also the venue for our premium Traditional Afternoon Tea service, which offers guests a selection of delicious sandwiches, cakes, pastries and scones accompanied by premium teas and unforgettable views.
The Bookmark Café
Life on the ocean waves doesn't mean having to sacrifice the regular 'caffeine fix' at your favourite coffee shop. The Bookmark Café serves a selection of delicious speciality coffees – espresso, cappuccino, mocha, iced lattes and more – along with quality tea blends.
Enjoy a quiet moment with a book or share the experience with good conversation. You're sure to be tempted by our heavenly fresh chocolates too. From pralines to Champagne truffles, these melt-in-the-mouth treats are too good to miss. Alternatively, the friendly Barista will be happy to fill your reusable cup with the beverage of your choice, to enjoy on a stroll around deck or as you explore ashore.
The popular Bookmark Bestseller, which includes seven quality beverages and a bag of luxurious truffles for £16.50 per person, can be booked before you cruise.
Marquee Bar
Situated on Marquee Deck, close to the ship's sun loungers, swimming pools and jacuzzis, the Marquee Bar is the perfect place to take a break from the sunshine to grab a refreshing drink or a light bite to eat, or simply enjoy some time in the cooling shade.
Featuring plenty of comfortable rattan furniture, the Marquee Bar is an ideal spot for meeting friends for an alfresco pre-dinner drink too, while in warmer climes it is also the venue for fantastic late-night deck parties.
Morning Light Pub
With its welcoming, friendly atmosphere and charming traditional style, Braemar's Morning Light Pub assumes the feel of your very own local at sea. Open throughout the day and the evening, it's the ideal place to relax and socialise with friends and fellow guests.
Perhaps enjoy a quick pint or a glass of wine at lunch before spending the afternoon ashore; stop by for a pre-dinner drink; or settle into a comfortable seat and relax long into the night while enjoying performances from live bands and comedians.