While each Fred. Olsen ship has its own distinctive personality, across the fleet you'll find a consistent approach to bar and lounge themes which help to create the familiar, home-from-home feel that our guests know – and love to enjoy time and time again.
With fewer people on board our smaller, more intimate fleet, it's easy to find live entertainment to enjoy, a bar stool to perch on as you chat with new-found friends or a quiet spot to relax in peace with a drink and a good book.
Each ship in our fleet feature a Neptune Lounge, the main entertainment venue; The Observatory, with a panoramic outlook; a Morning Light Pub; a Bookmark Café for coffee, fresh chocolates and more; and an al fresco bar.
In addition to this list, each ship also offers:
Bolette | The Oriental Tea Room, Ocean Bar, Lido Bar, The View Bar, Piano Bar & Auditorium
Borealis | The Oriental Tea Room, Ocean Bar, Lido Bar, The View Bar, Piano Bar & Auditorium
Balmoral | The Oriental Tea Room, Lido Lounge, Lido Bar & Neptune Bar
Braemar | The Coral Club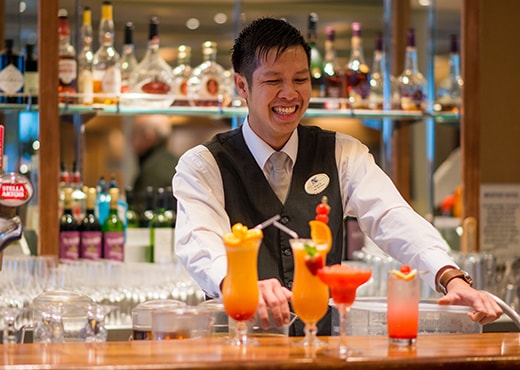 Neptune Lounge
When you've finished every last morsel of your sumptuous five course á la carte meal or tempting buffet, perhaps retire to the Neptune Lounge and settle into a comfortable chair to enjoy fantastic entertainment from a wide range of performers over a glass or two of your favourite tipple, served with a smile by our ever-friendly waiters.
There's ample space to sit back and relax in the Neptune Lounge and shows are performed after each dinner sitting every evening, so there's no reason to miss out on the feast of music, dance, comedy and costume.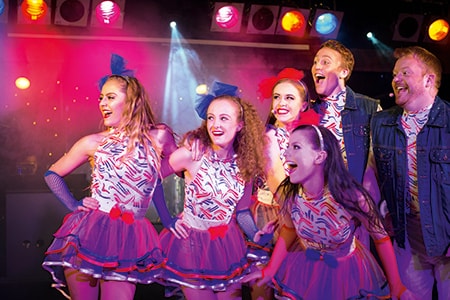 The Observatory
Located on upper decks towards the bow of our ships, The Observatory boasts spectacular panoramic views and is a wonderful place to enjoy a pre-dinner drink. Take a seat at the bar, or perhaps sit by one of the large windows, and listen to the twinkling sounds of a grand piano as stunning scenes come into view.
The Observatory is also the venue for our premium Traditional Afternoon Tea service, which offers guests a selection of delicious sandwiches, cakes, pastries and scones accompanied by top quality teas and unforgettable views. Such civilised indulgence – and all for only £11.99 per person*.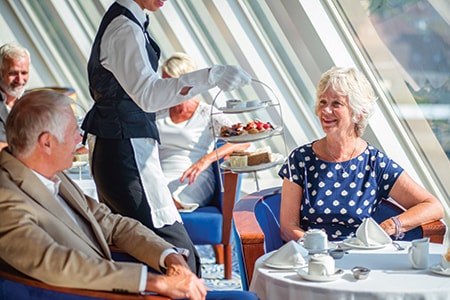 Morning Light Pub
The Morning Light Pub is your 'local' on board our ships, featuring soft, comfortable furniture, a large bar and friendly, attentive staff. Decorated to resemble a British Pub or Inn but with a Scandinavian twist, the Morning Light Pub has a welcoming atmosphere and charming traditional style.
Open throughout the day and the evening, this spacious venue is the perfect place to socialise with your friends and fellow guests. You could enjoy a quick pint or a glass of wine at lunch before spending the afternoon ashore; stop by for a pre-dinner drink; or settle into your seat and relax long into the night while live bands and musicians perform for your enjoyment.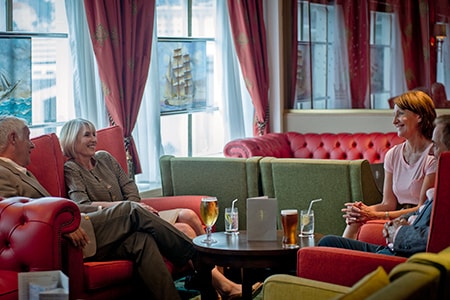 The Bookmark Café
The Bookmark Café is an indulgent delight that's not to be missed. You'll find an assortment of delectable chocolates to devour, alongside a tempting menu of hot drinks – choose from speciality coffees and a selection of Rare Tea Company teas such as earl grey and English breakfast. The popular Bookmark Bestseller, which includes seven quality beverages and a bag of luxurious truffles for just £18.55 per card, can be booked before you cruise.
You could take a seat in the café's comfortable chairs and relax with your drink as the ship's picture windows provide fantastic views; or perhaps stop-by and grab a drink to takeaway. The friendly Barista will be happy to fill your reusable cup with the beverage of your choice, to enjoy on a stroll around deck or as you explore ashore.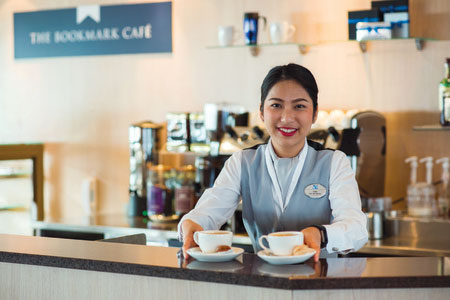 Marquee Bar
The Marquee Bar is the ideal place to take a break from relaxing in the sunshine next to the nearby pool. Find shade under the awning at the bar, where you could chat to your hearts content with the friendly staff; or perhaps grab a table with friends and watch the world sail by over a glass of your favourite tipple.
Enjoy a cold beer, a fruity wine, exotic cocktail or even treat yourself to premium gins such as The Botanist Islay or Adnams Copper House, perfectly complemented by Fevertree tonic water.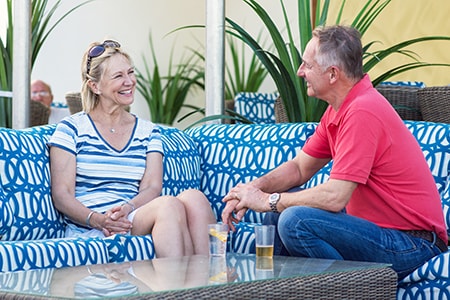 The Oriental Tea Room
Elegant and opulent, with its exotic décor and stylish furnishings, and offering a menu of finest quality teas and herbal infusions, The Oriental Tea Room provides guests with an authentic Far Eastern experience.
Enjoy a selection of oolong, black, green and white teas from China, Japan and Taiwan, as well as a few favourite blends from back home, such as Earl Grey and English Chamomile. Or for something cold and refreshing, the choice of tea cocktails and delicious bottled beer, including Tiger and Tsingtao, are sure to tempt too.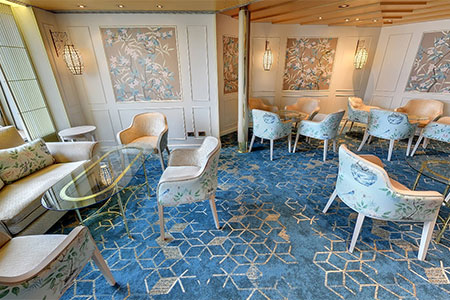 Ocean Bar
The inviting, spacious and sociable Ocean Bar is situated close to the Neptune Balcony on Lounge Deck 5, and so is the perfect place in which to enjoy a drink or two before taking in the evening show.
It is a great post-show venue too; the Ocean Bar really comes to life in late evening when the resident band or DJ provides the music, and ushers you to the floor to dance into the night.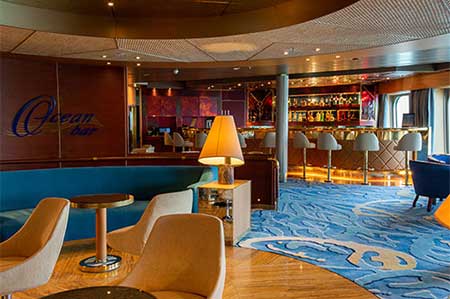 The Auditorium
The Auditorium is spacious and stylish multi-use venue, specially-designed to host a wide range of events and occasions on board. Everything from cooking demonstrations and guest lectures to presentations and cinema evenings are hosted here, and there is plenty of comfortable seating in which guests can sit back, relax with a drink in hand and enjoy.