United Arab Emirate Cruises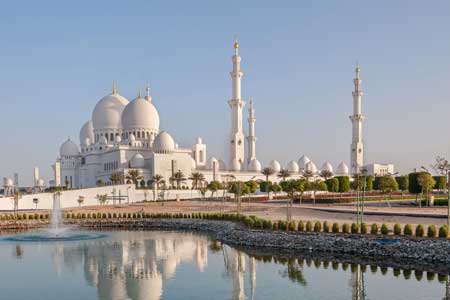 Sun, sand, shopping and crystal clear waters pretty much sum up what you'll find on your cruise to the United Arab Emirates. But it also throws in a couple of surprises. For starters, if you visit Fujairah you'll find a mountainous landscape with some wonderful nature walks. The city also has plenty of souks to explore. [ReadMoreMob]
The other Emirates, such as Dubai and Abu Dhabi are more desert-like and tend to be associated with opulence. And for good reason, as both house a number of stylish hotels and shopping malls. You can spend hours browsing the well-known designer brands and then relax on the exquisite beaches.
As for food, you'll never go hungry, as there are restaurants offering just about any cuisine you can think of, as well as the local dishes of hummus, shawama and falafel.
Despite its reputation for high-end shops and restaurants and jaw-dropping skyscrapers, a cruise holiday to the Unite Arab Emirates will see you fall in love with this beautiful country and its blend of Islamic culture and modernity.
Top Experiences
Dubai, United Arab Emirates
Burj Khalifa
The stunning Burj Khalifa has amazed and astounded the world since its completion in 2009. This $1.5 billion socio-political statement towers above Dubai, its cladding shining so bright under the Arabian sun that it almost seems to be made of ivory.
Burj Al Arab
Described as a 'theatre of opulence', the sail-shaped Burj Al Arab is a monument to the city's wealth and one of the most luxurious hotels in the world. High tea can be enjoyed among the gold leaf interiors; other features include a 990,000-litre fish tank.
Arabian Desert
The desert surrounding Dubai unfolds as an undulating canvas of sweeping dunes and shifting sands, traditional Bedouin tents and camel camps. A journey over the rolling dunes in a 4x4 vehicle is about as authentically Arabian as it gets.
Cruises to United Arab Emirates
Departs: Dover • Mon 18 Oct 2021
152 nights • Boudicca • D21GV
This around the world voyage is an unforgettable discovery of spectacular islands, iconic cities, famous historical, cultural and spiritual sites, amazing wildlife and more.
Taste Cuban life in Havana; indulge in the paradise of South Pacific Islands; learn of New Zealand's Maori culture; and see Sydney's icons, meet Koalas and celebrate New Year's in Hobart.
Encounter Bornean orangutans; delve into Vietnamese war history; explore Singapore and bustling Mumbai; seek-out Egyptian wonders; and even walk hallowed ground in Jerusalem and Bethlehem.
From £14,999pp
Fares Explained
|
What's Included
Departs: Benoa • Tue 18 Jan 2022
45 nights • Boudicca • D220103
Experience an insight into Asia's diversity at Far-Eastern and Indian destinations, and uncover some of the world's greatest historic and holy sites in the Middle East.
You could encounter Bornean orangutans; explore Vietnamese war history; see Asia at its most modern in Singapore; and immerse yourself in bustling Mumbai.
After visiting spiritual Porbandar, you have chances to discover Egypt's Valley of the Kings and Great Pyramids; explore the 'lost city' of Petra; and walk hallowed ground in Jerusalem and Bethlehem.
From £6,599pp
Fares Explained
|
What's Included
Departs: Phuket • Wed 02 Feb 2022
30 nights • Boudicca • D220203
Unravel centuries of fascinating history and spirituality, and discover an abundance of iconic sites and authentic experiences, at inspirational Indian and ancient Middle Eastern destinations.
See famous Chinese cantilever fishing nets, and sample traditional flavours in Kochi; explore Goa's rich European heritage; and immerse yourself in Mumbai's legendary hustle and bustle.
Seek-out some of the world's great ancient sites in Egypt and Jordan, including the Great Pyramids of Giza; and take chances to visit holy Jerusalem and Bethlehem in Israel.
From £4,449pp
Fares Explained
|
What's Included