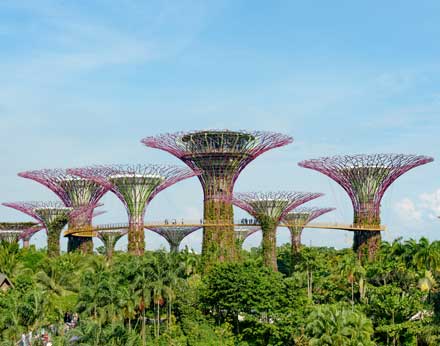 Located at the tip of the Malay Peninsula, this dynamic city-state is the perfect cocktail of culture, cruising, arts and architecture. Try the tantalizing selection of food sold from street markets dotted around the city, explore the beautiful botanical gardens, and sip on a Singapore Sling in the Raffles Hotel. [ReadMoreMob]
Singapore has always drawn visits from a variety of sea craft. Merchants of every race, colour and faith were quickly drawn to the island, and by 1911, Singapore had a population of 250,000 people, comprising 48 races, speaking 54 languages! Malay is now awarded the status of "the national language".
There is nowhere else on earth like Singapore. Ultra-modern skyscrapers, tropical rainforest, a few reminders of its colonial past and a rich assortment of colourful cultures collide to create a country that's dynamic, bustling and energetic. You'll also be struck by how scrupulously clean it is. If you love the bright lights and city life-style, then a cruise to Singapore is ideal. Significant investment in its tourism industry has seen the development of Marina Bay Sands and Resorts World, which offer casinos, a theme park, museums, fantastic shopping restaurants and bars.
Memories of your cruise to Singapore will remain with your forever. It really does have the wow factor: bright lights, great food and a very warm welcome.