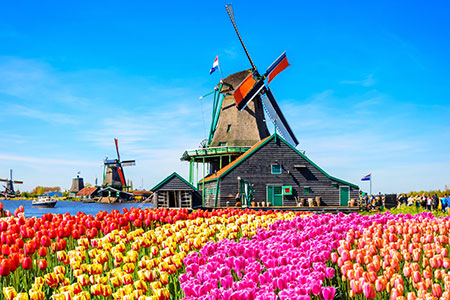 What is the Netherlands famous for?
It's a cliché, but a true one; a cruise to the Netherlands takes you to the land of windmills, tulips and canals. It might be small, but the Netherlands more than makes up for that with its rural beauty, traditional values and vibrant culture. Plus, the flat landscape makes it a mecca for cyclists. [ReadMoreMob]
Discover Amsterdam
Away from the countryside, Amsterdam offers a wealth of culture, canals and coffee shops. Famously laid-back and liberal in its views, Amsterdam boasts 17th century buildings, art galleries celebrating Van Gogh and Rembrandt, and museums by the shed load. With a thriving café culture, Amsterdam is a great place to sample the wholesome and hearty cuisine including stamppot and herrings. As for a tipple or two, you can't go to the Netherlands without having an Amstel or Heineken.
Discover more of Europe
With so many sites to see and places to visit, our Netherlands cruises will leave you wanting to come back for more.Once you have checked out the Netherlands, why not explore our other European Cruises for more great holidays on our comfortable and fully-stocked cruise ships.
Top Experiences
Amsterdam, Netherlands
Anne Frank House
No visit to Amsterdam is complete without a visit to Anne Frank House, to see where she and her family lived in hiding for more than two years during World War II. Anne's original diary and other notebooks can be found on display in the museum.
Amsterdam Canals
Amsterdam is a stunning city with a perfect backdrop to enjoy a canal cruise. There are hop-on-hop-off cruises, evening sailings, candle-lit tours plus many more options, providing a memorable and magical way to discover Amsterdam's many highlights.