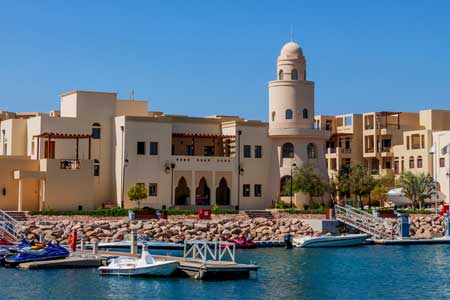 As a cruise holiday destination, Jordan is one of the most awe-inspiring. The backdrop to many biblical scenes, it offers you a glimpse into the past with numerous ruined Roman cities, Crusader castles, and desert citadels. Natural wonders such as the red desert sands of Wadi Rum, the lifeless Dead Sea and coral-filled Gulf of Aqaba act as an enticing lure for you. Of course other enticements come from the delicious Middle Eastern cuisine such as meze, hummus, mensaf (stewed lamb in a yoghurt sauce) and baklava. [ReadMoreMob]
Your Jordan cruise will open up a diverse nation where ancient wonders meet the modern world, where you can relax and enjoy the natural beauty of the crystal clear seas, explore its modern side, or follow in the footsteps of explorers and visit the countries many ancient archaeological sites.
Whatever you decide to do, one thing is certain, you'll be back for more.
Top Experiences
Aqaba, Jordan
Lost City of Petra
Petra is a historic and archaeological city in Southern Jordan. It was established, possibly as early as the 4th century BC as the capital city of the Nabataean Kingdom. The city is famous for its rock-cut architecture and water conduit system. Another name for Petra is the Rose City due to the colour of the stone out of which it is carved. It has been a UNESCO World Heritage Site since 1985. UNESCO has described it as "one of the most precious cultural properties of man's cultural heritage". Petra is one of the new seven wonders of the world.
Dead Sea
The Dead Sea is a salt lake bordered by Jordan to the east, Israel, and Palestine to the west. Its surface and shores are 430.5 metres below sea level, while the Dead Sea is 304 metres deep. With a salinity of 342g, or 34.2%, it is 9.6 times as salty as the ocean and one of the saltiest bodies of water in the world. This salinity makes for a harsh environment in which plants and animals cannot flourish, hence its name. The Dead Sea is 50 kilometres (31 miles) long and 15 kilometres (9 miles) wide, and has a density of 4.24kg/litre. Those who choose to take a refreshing dip will find that they can float effortlessly on the buoyant, mineral-rich waters, which are more than four times denser than fresh water.
Wadi Rum
Wadi Rum, also known as The Valley of the Moon, is a valley cut into the sandstone and granite rock in Southern Jordan. Wadi Rum is Arabic for 'Sand Valley' as Rum means sand, especially light sand that can be carried by the wind. Its lunar-like landscape crevice-riddled cliffs and ever evolving light inspire unbridled awe. The days are as dramatic as they are dusty and due to the harsh climate, the only permanent inhabitants are several thousand Bedouin nomads and villagers. Desert scenes from Lawrence of Arabia were filmed among the fiery orange landscapes. Elsewhere, there are temple ruins, petroglyphs, rock formations and more.