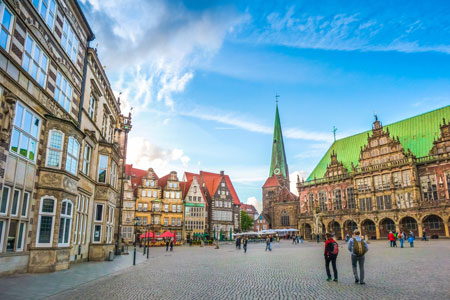 With over 2,000 years of history, Germany is a country that fills the soul. Dramatic scenery and rousing culture gives way to handsome metropolises and romantic palaces. It is a landscape of forests, rivers, Bavarian mountain ranges and North Sea beaches, and at its heart is the cutting-edge capital, Berlin. [ReadMoreMob]
Germany's personality lives in its big cities. Berlin, home to dramatic history, art and a fabulous nightlife scene; the Oktoberfest of Munich and Frankfurt's skyscrapers; the Christmas markets and canals of the 'Venice of the North', Hamburg; Bremen's mix of Hanseatic splendour and hi-tech wonder; and the Gothic lure of Rostock.
From Jasmund National Park to the fairy tale castles of the Rhine, Germany has something around every turn. Its cultural spectrum is beyond comparison: imposing art museums and high-brow opera sit comfortably next to risqué cabaret and enigmatic underground clubs. [ReadMoreDesk]
Beyond the cliché of sausage and bratwurst, Germany's modern gastronomy has moved on. Regional and seasonal food sensations include white asparagus in springtime and venison in autumn. The much underrated Riesling is just one world-class German wine that is favoured above the ubiquitous beer.
Destination Highlights
Bremen Gothic Architecture
You cannot leave Bremen without a visit to the Marktplatz – a hive of activity and an absolute must-see when in Bremen. Bremen is home to the Town Hall, a beautiful gothic structure originally built between 1405 and 1410; and the Roland Statue – in 2004, these features received World Heritage status, making the Marktplatz a UNESCO World Heritage Site.
Bremen Schnoor
The Schnoor Quarter is the oldest part of Bremen and is where you can admire pretty, little timber houses built between narrow lanes. Not only can you marvel at its beauty, it is also home to arts, crafts and handmade gold jewellery and is the perfect place to buy a souvenir to take home.
Nazi Germany
Before the war, Hamburg had the largest Jewish community in Germany and this community suffered the same fate as elsewhere in Germany under the Nazi regime. The Constitution of Hamburg was suppressed and Hamburg's large Jewish population was deported and murdered almost entirely. Today, the many Stolpersteine (commemorative cobblestones) around the city are reminders of the victims of the Nazi oppression. Some buildings preserved from the concentration camp that was based at Neuengamme now serve as a memorial.