From the world's largest model railway to a dazzling new concert hall with a breathtaking €789m price tag, an abundance of attractions awaits you in the Hanseatic jewel of Hamburg. You could easily spend a week sampling the famous Hamburg restaurants that serve the city's 2 million citizens with cuisine from all around the world. Or in the run-up to the festive season, there's the world-famous Hamburg Christmas market, which pretty much formed the template for the European markets that bring Germanic cheer to cities from Stockholm to Sydney.
The Fred. Olsen Way is often about discovering the things that aren't necessarily world-famous, those surprise attractions that bring character and memories to a destination. So here are our five favourite things to do in Hamburg that don't (necessarily) involve food or frosty festivities.
"Welcome to one of the coolest cities on Earth"
Alster Lakes
Comprising two separate artificial lakes created in medieval times when the Alster River was dammed, this peaceful setting provides a welcome break from hectic city life. The Außenalster (Outer Alster) and the Binnenalster (Inner Alster) are bordered by waterside pathways, green parks, historic buildings and exclusive residential areas.
It's the perfect spot to unwind in fine weather, while a boat tour provides unique views of Hamburg's attractive skyline. It's where the locals indulge in water sports, cycling and walking, and in early summer the Japanese community enjoys a traditional cherry blossom festival.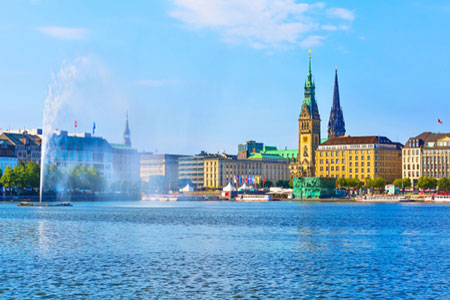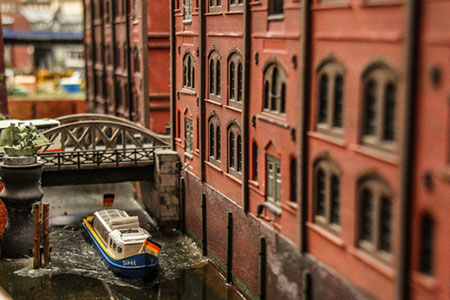 Miniatur Wunderland
This "wunderful" attraction is much more than the world's largest model railway. The Lilliputian world features themed areas designed on a tiny scale, with over 14 km of track, 1,000 trains, 130,000 trees, 260,000 figures and 4,110 buildings.
Along with a miniature version of Hamburg itself, you can admire the Austrian Alps, the canals of Venice, the city lights of Vegas and many more global highlights. There's even a working airport and busy streets teeming with computer-controlled vehicles, but the most wonderful phenomenon is perhaps the day/night cycle, which takes 15 minutes [ReadMore]and changes the character from sunlit detail to enchanting nocturnal scenes.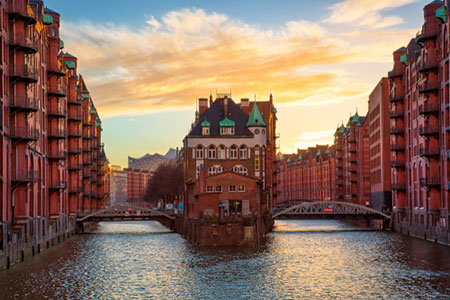 Hafencity
This newly developed urban quarter perfectly blends historic sites with modern masterpieces, including the canals and red brick buildings of the 19th-century warehouse district, Speicherstadt. It's all about future urban living and sustainability, and we'd urge you to book a guided tour or the complex to see what exciting developments are going on.
In contrast, the new Elbphilharmonie Concert Hall, with its glass façade and wave-shaped rooftop, is the area's most innovative and eye-catching landmark. If you've got an hour or two to spend, [ReadMore]why not take in a symphony or listen to a string quartet?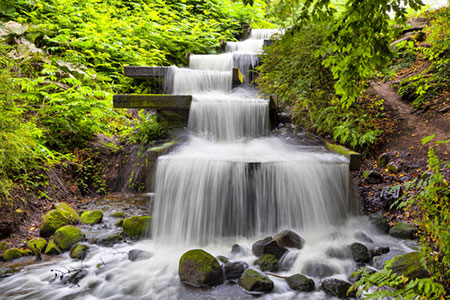 Planten Un Blomen
Planten un Blomen means "Plants and Flowers" in English, and that might give you a clue as to why it's such a great place to relax and take in the greener side of Hamburg.
There are several gardens with themes ranging from apothecary to roses. You can even witness a classic tea ceremony in the Japanese garden. In the summer evenings, the park hosts a magical water and light show, accompanied by the rhythmic tunes of classical music. Best of all, it's free to explore, making it a welcoming and vivacious spot that you won't believe is surrounded by Germany's second city.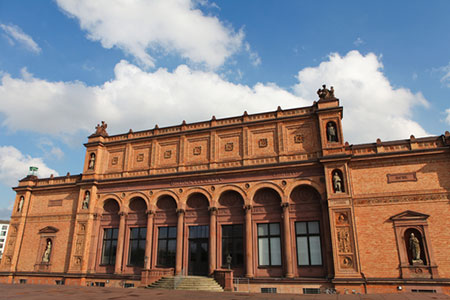 Museum Mile
The weather in Hamburg will be familiar to anyone who lives in the UK, so if it's not an outdoorsy day, head over to Hamburg's mile of art which encompasses five renowned museums, all within walking distance of each other.
Highlights include the Museum of Arts and Crafts with its impressive collection of ancient artefacts, and Hamburger Kunsthalle, one of the best art museums in Germany with works by legends such as Munch, Rembrandt and Van Gogh. The other three are Deichtorhallen (contemporary art and photography), Bucerius Kunst Forum (a private gallery [ReadMore]with seasonal displays) and Kunstverein (contemporary art). You can buy a single ticket that grants you access to all five, once each, over a year, which might be good value if you plan on coming back.
Explore Hamburg with Fred. Olsen.
Put Hamburg on your itinerary and travel there in luxury on a Fred. Olsen cruise. Whatever time of year you go, you'll discover a thrilling, fun and cultured city on the River Elbe. It's just one of the must-see destinations offered in our German cruises collection.