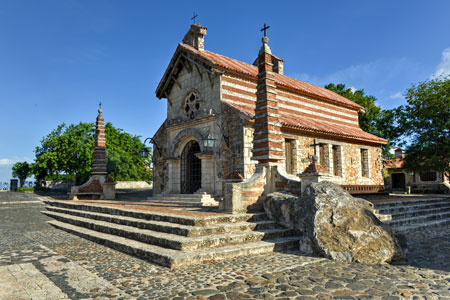 Discover the Dominican Republic on a Caribbean cruise
Lapped to the north by the Atlantic Ocean, the Dominican Republic is everything a Caribbean island should be: white, golden and black sandy beaches studded with tropical palms, lush rainforests, alpine ranges, mangrove swamps and desert expanses. [ReadMoreMob]
Coastline & Culture
The people of the Dominican Republic offer a warm welcome to all those who visit their shores. The country is defined by hundreds of kilometres of coastline:[ReadMoreDesk] from quaint fishing villages with boats moored along the shores to sparkling playgrounds of sapphire water, the sea is the lifeblood of the community.
Things to See and Do
The capital, and popular cruise port of Santo Domingo is a wonderful sight of whitewashed and pastel-coloured buildings, stunning monasteries and cobbled streets. The friendliest restaurants serve the freshest fish, while a vibrant nightlife blasts from its colmados (combined corner stores and bars). A Dominican Republic cruise opens up a feast of tropical beaches and an adventurous spirit of hiking and diving in its renowned ecosystems.
Cruises to Dominican Republic