"Live if you were to die tomorrow. Learn as if you were to live forever"
Mahatma Gandhi
Mumbai
India's largest city by population and wealth was a cluster of seven islands camouflaged by thick forests during the Portuguese rule of the 16th century. It is not like that today! Mumbai (formally Bombay) is densely populated and has oodles of character.
Your first taste of India is bound to surprise you. No matter how much research you've done, it does not prepare you for this experience of a lifetime. It's a place so difficult to succinctly describe. The phrase 'an assault on the senses' may be a cliché but it's certainly true. All senses are overwhelmed from the moment you arrive.
My first moments in Mumbai were chaotic. I didn't know where to look first. Towards the honking horns of the Tuk Tuks whizzing by? At the tall imposing buildings? At the sea of faces passing me by? Or at the myriad of colours from the beautiful shimmering saris?
My guide and I arrived very early on a humid morning to see the market awaken. Mumbai was starting to come alive with a gentle buzz of activity. We walked past the newspaper sorting. The enormous piles of papers are strapped to the back of bikes, towering over the men who deliver them, looking like an accident waiting to happen. A short distance away we arrived at the market, where I was instantly engulfed by the heavy fragrances from the flowers that suddenly surrounded me. The stallholders were still setting up, unloading their trucks, passing massive buckets of beautiful flowers, shouting orders at one another. There is a saying – 'nothing happens in India without flowers' – and by the kaleidoscope of colour in front of me I could believe it.
As we went in deeper we spied all the fruit and vegetable stalls. Everything looked so vibrant, fresh, and intensely colourful. Continuing on we reached the fish market – not quite as pleasant on the nostrils as the flower section, but incredible to see. The women in their stunning saris had sorted the daily catch and laid it out on plastic crates and tarpaulin. Already people were bartering for the best price.
After leaving the market we stopped for chai (incredibly sweet, spiced, milky tea) and paratha (fried flatbread), a traditional Indian breakfast. We then watched the dabbawalas prepare for their working day at their meeting point on a busy street nearby.
Dabbawala, from Hindi, means 'one who carries a box'. But they're not just boxes. Inside are 'tiffins' (packed lunches) typically prepared by wives and mothers for their loved ones. They are collected by the dabbawalas in the early morning, and delivered safely by lunchtime. Empty tiffin boxes are delivered back at the end of the day, ready for the process to start over. It's no mean feat. The dabbawalas carry up to 40 tiffins on their bicycles, negotiating very busy roads and streets, clambering on and off heaving trains in all weather conditions. From monsoons to intense heatwaves the dabbawalas deliver. Somehow – who knows how – the right lunch gets to the right person every time. From humble beginnings back in 1890, today 5,000 dabbawalas serve 200,000 hungry workers in Mumbai, earning around £100 a month. This was an incredible aspect of daily life to watch, especially to see how hard these people work.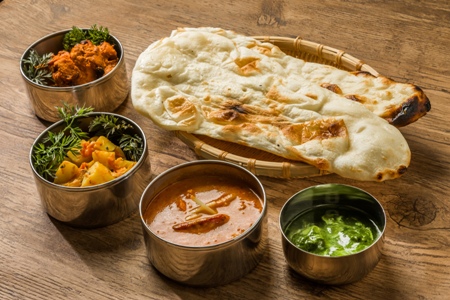 Next stop was Dhobi Ghat, the world's largest open-air laundry, built during the British Raj in 1890. I learned that it actually made the Guinness World Records in March 2011 for the largest number of people hand washing clothes at the same time in the same location. It's one of those places where photography cannot capture the sheer magnitude. We glimpsed an unforgettable snapshot of the vast hive of busy workers, a human-powered washing machine that covers 40,000 square feet. Though with all the neat, freshly washed and pressed clothing, sheets and other garments, it seemed even bigger.
Before I move on, I'd like to let you in on an architectural journey I experienced in this amazing city. As much as the Portuguese have influenced the region of Goa (which you'll read about later on), Mumbai's most iconic architectural landmarks have been shaped by or named after sites in Britain. The legacy of the British Empire.
I'd better start off with the Chhatrapati Shivaji Maharaj Terminus as it quite simply took my breath away. Then there was the iconic Gateway of India, erected to commemorate the 1911 royal visit of King George V, though it wasn't actually finished until 1924, missing the deadline somewhat. What a vibrant spot for people watching too. Moving onwards, I reached the Rajabai Clock Tower – and it didn't take long to see the similarities with Big Ben. Where better to round it all off than the beautifully situated Oval Maidan recreation ground? It's regularly listed as a 'must-see', especially if there's a game of cricket or football going on, and – even after my brief visit – I would agree.
Porbandar
Porbandar is a spiritual Indian coastal city most famous for being the birthplace of Mohandas Karamchand Gandhi and Sudama (devotee and loyal friend of Lord Krishna). It's a pilgrimage for Hindus across the world to visit the sacred temples and museums dedicated to the 'Father of India', Mahatma Gandhi. Mahatma in the ancient Indian language Sanskrit means 'Great Soul'. It's used in a similar way to how the British use Saint.
Accompanied by my guide, my first stop was Kirti Mandir, the ancestral home of the Gandhi family, where Mahatma Gandhi was born in October 1869. We headed for the small doorway and respectfully removed our shoes as these are considered sacred grounds. The area had a calming atmosphere – the opposite of the bustling streets outside – and local people milling around seemed happy to greet us. They're extremely proud of their tribute to the 'Father of India'. Within the Kirti Mandir complex is a memorial for Gandhi in the form of a multi-religious temple 79 feet high – a foot for every year of his life. It was completed in 1950, two years after his death. I took in the two large oil paintings adjacent
to each other in the central part of Kirti Mandir: one of Gandhi and one of Kasturba, his wife. Inscribed underneath these beautiful paintings are the words 'the truth' and 'non-violence', some of the values Gandhi lived by and imparted to the world, they formed much of his own moral code.
If I only had one day to experience India, I would choose to spend it in Porbandar. The spirituality, the crumbling facades of the once decadent British buildings, the beaming smiles of the local people, and the air of calm – this city won my heart and soul.
Goa
Goa is much more than sandy beaches, all night hippy parties and sleepy fishing villages. It's the one place on my visit to India I'd refer to as 'mindboggling'. During my time there I set about delving into the fascinating Portuguese influence on the state. After all, it represents some 450-odd years of history.
I first took a transfer to Old Goa and decided to just let my mind run free as I uncovered the UNESCO-listed architectural remains. Though the facades are still mightily impressive, I soon learned they are solemn reminders of a history of oppression through religion, whereby the ruling Portuguese forced locals to convert their faith. Those who did not comply were either killed, or heavily taxed to fund the building of the churches, cathedrals, chapels and convents, most of which remain today – an eye-opening legacy. Wandering through I found it hard to imagine the existence of the much bigger population that once inhabited this former capital of Portuguese India.
Next on my list was Panjim, the state's capital. More specifically, the Latin Quarter was my destination. In the former living area of the Portuguese, I was overwhelmed by an array of 18th and 19th century houses – painted in pale yellow, green or blue. The traditional roofs are adorned with either a soldier, to support Indian independence, or a rooster, to support remaining under Portuguese rule.
India is famous for many things, but my visit wouldn't have felt complete had I missed the Tropical Spice Plantation as my last stop in Goa. A true feast for all the senses, it really has to be seen to be believed. The chance to see, touch and smell the variety of spices that are grown organically at the plantation was invigorating.
Vizhinjam
Like all good things, my journey had to come to an end at some point, and I chose to conclude in Kerala State at the southern tip of India. For a suitably quaint finale, I ventured to the thriving fishing port of Vizhinjam. My attention was immediately drawn to the colourful boats and old Portuguese church in the harbour area – certainly an excuse to use the camera. The best way to explore Vizhinjam is to just roam free and embrace the treasures that lie within. Just a small distance away I found two mosques, and the remains of a ninth century fort. Said to be the oldest in Kerala it originally covered 800 square metres. I rounded everything off by venturing into the surrounding area, which is well known for its beach resorts. A short but worthwhile stop was made at picturesque Kovalam, overlooked by Kovalam Lighthouse and home to swathes of exotic coconut trees.
Visit India on a Fred. Olsen cruise - 4th October 2018 - Authentic India - D1821.