Just off the coast of Tanzania, Unguja (more commonly known as Zanzibar Island) is the largest of the Zanzibar archipelago. Travellers are enticed by the paradise beaches, clear azure waters and tropical marine life, although no visit would be complete without exploring the capital's historic Stone Town area.
While many of Stone Town's buildings are dishevelled with age, they are a magnificent relic of the town's past and make it worthy of its UNESCO World Heritage status. The jumble of alleyways allude to the eclectic mix of cultures that have settled here over the years, from elaborate Indian-inspired doors and balconies to the simpler style of Swahili houses. The weathered Sultan's Palaces and Arabian merchant mansions are a nod to the town's prosperous spice trading heritage. While trading has tailed off since its peak in the 19th century, locally grown spices are still an intrinsic part of everyday life. The island's history has a more harrowing side however, in that Zanzibar played a significant role in slave trade. Today the Anglican Cathedral and a commemorative sculpture lie on the site of the former slave market.
Zanzibar for...
...food fanatics
From cloves to coconuts, an incredible array of produce grows on the island. Visit a spice plantation to find out how it's cultivated and used by locals. In the evening, head to Forodhani Gardens where stalls sell sugarcane juice, seafood and Zanzibar Pizza (stuffed chapatti-style dough).
...sun seekers
Although Prison Island doesn't sound much like paradise, take the short boat ride from Stone Town and you'll be surrounded by beautiful soft sands, clear waters and coral reefs. Venture a little further afield and you'll find some of the best beaches on the east coast, namely at Pongwe.
...wildlife lovers
Take a trip into the island's interior to Jozani Forest; it's home to the rare Red Colobus Monkey, bush babies and a variety of bird and butterfly species. A guide will be able to highlight the variety of flora and fauna, including mangrove trees.
...culture buffs
Stone Town's cultural influences are displayed at every twist and turn, from Arabic dhows and local handicrafts to African-inspired fabrics. The wealth of interesting sites includes the ruins of the fortress and the Palace Museum.
Top things to see in Stone Town
The Palace Museum
This 19th century building was once the home of an Omani Sultan. Now a museum, it features some of the original furniture, artwork and historical artefacts.
The Old Dispensary
The restored architecture of this grand, ocean-front building is a must-see in Stone Town. Its decorative walls housed medicines during colonial times.
Darajani Market
Locals from around the island gather here to sell produce, from spices and fruit to meat and fish – a true insight into Zanzibari life.
Anglican Cathedral (& former slave market site)
Built on the site of the slave market, the Cathedral's altar allegedly marks where the 'whipping tree' once stood. Outside, a sculpture of chained slaves is a moving reminder of what once occurred here.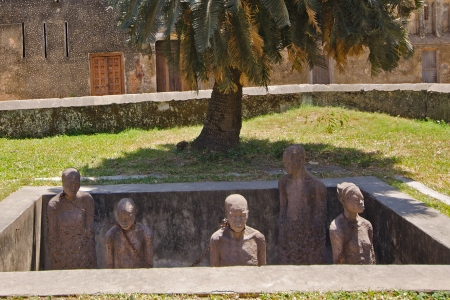 Spices
Used in cooking, cosmetics, medicines and essential oils, highly prized spices have been fought over for centuries. Although originating in the Far East, the qualities and benefits of spice are relished around the world today, due to the age-old spice trading industry. Here are just some of the most popular spices:
Nutmeg
Nutmeg is actually a seed found inside the fruit of the Nutmeg tree. The outer covering of the seed produces a second, lesser-known spice called Mace. Often used in winter dishes and drinks, Nutmeg has become one of the scents of Christmas.
Cloves
Either ground or used whole, cloves have a strong sweet and spicy flavour that's ideal in curries or with meats. These dried flower buds contain high amounts of vitamin A and are also known for producing eugenol oil, which has anti-inflammatory and antiseptic qualities.
Cinnamon
Cinnamon is taken from the inner bark of the cassia tree and naturally takes a stick-like shape when dried. Its deliciously sweet aroma is great for baking or adding to drinks, especially around the festive season. It's also said to aid digestion and has antibacterial properties.
Cardamom
Popular in Scandinavia, these seeds are one of the most expensive spices. Fortunately just a small amount will add a lot of flavour. A relative of the ginger plant, Cardamom seeds are contained in small pods. And are great when paired with cinnamon and honey.
Pepper
This household item is a versatile seasoning. Pepper will add a kick to any savoury meal. The dried berries – known as peppercorn – can be white, black or red, depending on when they are harvested.
Vanilla
Produced by the only fruit-bearing orchid, Vanilla pods are expensive due to the time and care taken into cultivating them. The delicate, sweet taste is well worth it though and noticeably different from the imitation flavours that are more widely used. Vanilla can be used as an extract or by scraping the seeds out of the pod.
Ginger
Pickled, powdered, crystallised, dried or fresh, Ginger comes in various forms. Unlike most spices, ginger is the root of the plant. It can help digestion, circulation and nausea. Warming and versatile it's used in everything from a multitude of Asian cuisines to sweet treats, like Jamaican ginger cake, gingerbread and even drinks.