The Golden Gate Bridge
No trip to San Francisco would be complete without the 1.7-mile hike or bicycle ride across the Golden Gate Bridge. It's quite possibly the city's most famous and breathtaking landmark. From the bridge's Eastern side walkway – the only side pedestrians are allowed on – you can take in the impressive skyline and the bay islands. Look west for views of the Marin Headlands' wild hills and the glittering Pacific Ocean.
Pier 39
While at Fisherman's wharf, why not pay a visit to bustling PIER 39? This festive waterfront marketplace is one of the city's most popular attractions. Amid the carnival of shops, eateries and attractions is a large colony of Californian sea lions. Stroll down to the end of K-dock to watch these playful, barking pinnipeds relaxing in the sun.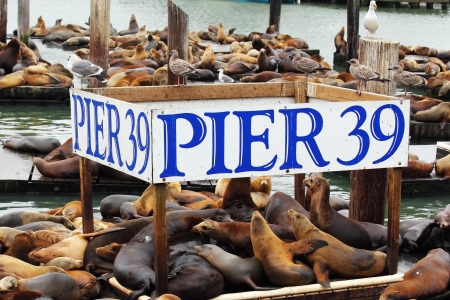 Palace of Fine Arts
The iconic Palace of Fine Arts has featured in numerous television shows and films though the years, has become a San Franciscan treasure, beloved by visitors and residents alike. The Greek-style colonnades and soaring central rotunda make for gorgeous views, accented by sight of swans that glide across the peaceful lagoon.
Alcatraz
Regarded as America's most notorious prison, Alcatraz is a must-see for all travellers to the city. Known around the bay area simply as 'the rock', this former prison contained some of the nation's most infamous criminals. Recorded cell-house tours are available, allowing visitors to learn about the prison as they explore the buildings and grounds.
Cable Cars
One of the most thrilling ways to explore the streets of San Francisco is via the city's iconic cable car system. Be sure to flag down a Powell-Hyde car along Powell Street and hold on as you rattle up mansiontopped Nob Hill. Then enjoy the descent to Fisherman's Wharf as you take in the fantastic sights of the stunning bay below.