In 2019, East Anglian Daily Times reporter Paul Geater joined, accompanied by his wife Judy, Boudicca for a memorable journey to the islands of Madeira and the Canaries. As first time cruisers, a brand new holiday experience awaited Paul and Judy when they joined the ship in Dover - here Paul tells us why they decided to finally set sail with Fred. Olsen, and what he thought of the time spent on board and ashore...
The perfect time to cruise...
We've never been on a cruise before, but when Judy and I were offered the chance to spend seven days on Fred. Olsen's Boudicca, sailing from Dover to Tenerife, we simply couldn't resist. The 2,000-mile voyage included stops at La Coruna in northern Spain and Madeira before we reached the Canaries, from where we would fly back home to the UK.
We'd always shied away from cruises before, partly because we like to get out and about on holiday and we were nervous about being cooped up in a ship for ages, and partly because the image of cruisers are of those rather more mature than us. But having turned 60 this year I thought it was time to give it a try – and that was a great decision. Because actually when your only real experience of ships has been a Channel or North Sea ferry you soon discover how different a cruise ship is.
Home-from-home for a week...
As we arrived to join the Boudicca at Dover it was moored near a larger cruise ship from another line, but as we sailed it became clear that it was the perfect size for a relaxing cruise.
Boudicca really is a high-quality hotel afloat (as are Fred. Olsen's other cruise ships: Braemar, Balmoral, and Black Watch). The cabins are comfortable, most have windows although there are some that are inside with no natural light, and the staff are fantastically attentive and can't do enough to make you comfortable.
On board, it was a very relaxed experience. There are several restaurants and bars across the ship. You can eat where you like for most meals, and the food and drink is of the highest quality. We had been advised to bring smart clothes for the captain's reception. While some people did dress up in smart tuxedos and evening gowns, we did not feel out of place in a lounge suit and cocktail dress. During the day people wore appropriate casual clothes (my shorts got a last airing of the year) and "smart casual" for dinner covered just about anything short of ripped jeans or scrotty vests!
Our first cruise journey...
Our journey was the first stage of a "Grand Tour". The ship left Dover in October and did not return until March. We would be sailing south to Madeira and the Canaries, with a stop at the Spanish maritime city of La Coruna en route, which offered a great mix of destination exploration and time at sea.
We found ocean cruising is perfect for relaxation; as Boudicca rode the Atlantic waves toward Madeira and the Canaries, there was ample time to just enjoy the ocean views and sea breeze, get to know the other guests on board, or simply enjoy some time alone if we wished - one of the small ship benefits is that you don't ever feel overcrowded and unable to 'escape' when you want to.
Discovering Madeira & the Canaries...
At Madeira we went on an excursion in a cable car up to the Monte Tropical Botanic Garden half way up the mountain by the island's capital Funchal. It was a spectacular ride to a spectacular garden, well worth experiencing before we had a few hours to explore Funchal itself.
This visit was probably the highlight of the cruise for us. Funchal is such a friendly place with stunning scenery. Our light lunch was a local speciality from a small bakery in a side street. We were impressed by how green everything was despite the wonderfully warm climate.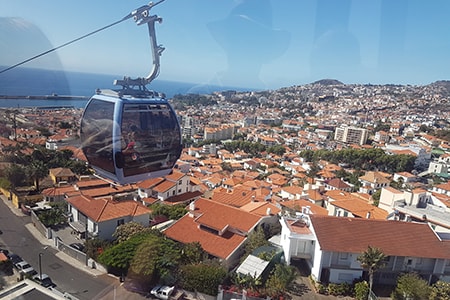 We discovered later that the day after we visited it had received one of the frequent Atlantic drenchings that make it so verdant! And for football fans, it is impossible to ignore the fact that Cristiano Ronaldo hails from the island - a museum and statue to him awaits as you get off the ship, just so you don't forget who the island's favourite son is!
At Santa Cruz de Tenerife we decided against taking a tour, and instead spent the day exploring the city and buying souvenirs. It too has a fascinating history, including a notorious role in the Spanish Civil War as the place where Franco began his ultimately successful battle against the Republican government. Today it is a bustling, modern city with attractive shops, squares and a market that is a must-visit for anyone calling there.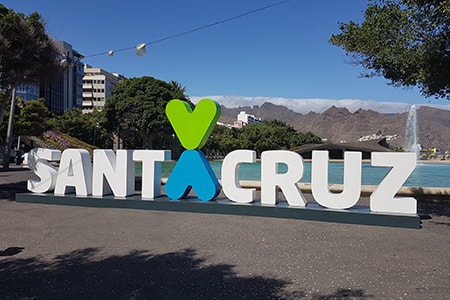 On the final day, when we sadly had to disembark Boudicca, the sun shone for us and we enjoyed a wonderful day in the Canarian warmth before flying back to a typically autumnal day back in the UK!
After we disembarked new passengers arrived and Boudicca sailed on to Cape Verde, St Helena, South Africa, the Seychelles, around India, around Australia before doubling back and returning to other ports in Thailand, Indonesia and India before visiting Dubai and returning to Britain via the Red Sea, the Suez Canal, and the Mediterranean.
We would have loved to stay on board for what we're sure was an epic adventure for those guests lucky enough to be booked for the full 'Grand Voyage'! But, unfortunately, it was time to say bye to Boudicca for now. Maybe next time...