See Sydney's New Year's Eve fireworks, lift yourself above the jungle canopy in Costa Rica and marvel at Komodo Dragons in their natural habitat… our late 2018 World Cruise will deliver you to each new destination in comfort and style, relaxed and ready for your next adventure. Read on for some of the fascinating sights you'll be guaranteed to see.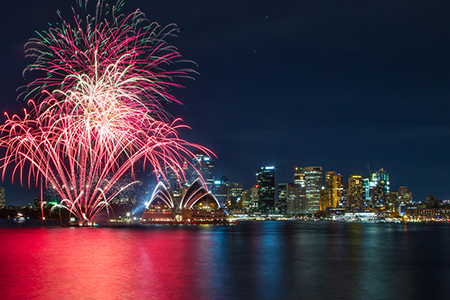 Floral Portugal & Classic Caribbean
Emerald Pool
The UNESCO-listed Morne Trois Pitons National Park is a real joy to behold when on the 'nature island', Dominica. The variety of hiking trails unveils lakes, fumaroles, waterfalls, hot springs and forest, too. The pièce de résistance, however, is the Emerald Pool; within its inviting waters, you can swim right up to the iconic waterfall.
Antigua's beaches
The transatlantic crossing from Madeira is sure to build with excitement as you draw closer to the 365 beaches awaiting in Antigua. There's one for each day of the year, so the locals say. Top hotspots include Valley Church Beach, Turner's Beach and Darkwood Beach – which in comparison remains relatively undiscovered.
Cabo Girão, Madeira
Among the almost endless list of awe-inspiring sights you'll encounter on your itinerary, Cabo Girão is sure to be one of the most unique. Not only will you experience unrivalled views out over the sea, but the cliff's glassbottomed skywalk – reminiscent of the one above the Grand Canyon – offers a different sensation altogether.

Sintra
Nestled in the hills north of Lisbon, Sintra looks like something out of a fairytale. True to form, your experience will be nothing short of magical. Admiring the Romantic Pena Palace, the Moorish Palace of Sintra, and a multi-coloured historical core, you're sure to leave with memories to cherish.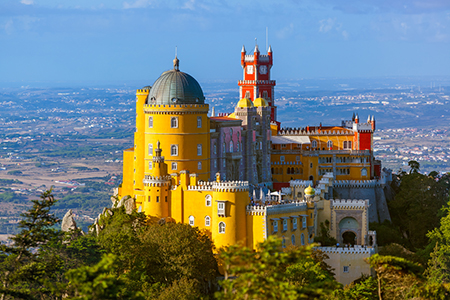 Further highlights include:
Experience true indulgence on a tropical sunset cruise with champagne and Caribbean cuisine
Go in search of friendly Sea Turtles in Barbados
Stroll the invigorating gardens of Madeira
Sample one of Lisbon's famous custard tarts at Pasteis de Belém – the secret recipe has remained unchanged for nearly 200 years
Hispanic Highlights & Paradise Islands
Panama Canal
You won't forget the Panama Canal in a hurry. This incredible feat of engineering has been a vital shortcut for vessels for over a century and is widely dubbed the 'Eighth Wonder of the World'. An approximate eight-hour transit will allow you to relax and appreciate the impressive manmade construction while taking in the lush surrounding scenery.
Bora Bora
We've all dreamt of drifting away to a paradise idyll, where our worries are replaced by waves gently lapping the shore – on Bora Bora you can indulge all these fantasies and more. The crystal-clear lagoon here is matchless, while Matira Beach is one of the world's most beautiful. A pre-Christmas treat of the highest order.
Mystery Island
Barely a kilometre long, surrounded by brilliant blue waters and coral reefs flourishing with colourful flora, the intriguingly titled Mystery Island is an uninhabited tropical paradise. Snorkelling and swimming are both popular, or you may prefer to drift among the palm trees to recharge the batteries ahead of Australia.
Cartagena de Indias
Cartagena de Indias combines cool Caribbean vibes with an engrossing Hispanic history. The walled Old Town – a mix of cobbled alleys, churches and bougainvillea-bedecked balconies – is complemented by atmospheric open-air cafés and glorious beaches. It's all ready to be explored, perhaps even by horse-drawn carriage.
Further highlights include:
Take an exciting aerial tram ride through the treetops in Costa Rica
Enjoy the perfect Christmas Day relaxing at sea – complete with all the trimmings
Seek out the hidden Taipivai Valley on the island of Nuku Hiva – it inspired Herman Melville's famous novel, Typee
Witness nature in action on Tonga as the Mapu'a 'a Vaea Blowholes spurt skyward
Delights of Down Under
New Year's Eve
Framed by the glittering cityscape and reflected by the sparkling harbour below, Sydney's annual pyrotechnics party is a once-in-a-lifetime experience. Rainfalls of fireworks explode off the Harbour Bridge lighting up the midnight sky in a New Year celebration like no other. Head to Bradfield Park for ultimate close-up views.
Bondi Beach
About half an hour from the heart of metro Sydney you'll find this well-known small crescent of sand. The spectacular vistas, glistening ocean and expansive golden beach make Bondi one of the most iconic beaches in the world. With a warm, temperate climate too, this magical spot is a year-round favourite.
Blue Mountains
This breathtaking World Heritage area, located just two hours out of Sydney, boasts a montage of natural delights. From plateaus to cliffs, valleys and waterfalls, the scenery is crawling with native critters and coated in dense eucalyptus forest. Exquisite panoramic views of the blue-hued valleys leave many visitors speechless.
Sydney Harbour Bridge
Positioned elegantly across the harbour and known by locals as the 'coathanger', this Sydney landmark is a spectacular feat of engineering and one of the city's most imposing structures.
Scale the bridge for an exhilarating experience that will reward you with stunning views of the harbour, Sydney Opera House and the city skyline.
Great Barrier Reef
Getting up close to the Great Barrier Reef is the epitome of a once-in-a-lifetime experience. A Wonder of the Natural World and the only living organism that's visible from space, this collection of over 2,900 reefs and over 900 islands is one of Earth's most revered sights. A scenic flight is an unforgettable way to take it all in.
Brisbane River
Immerse yourself in the culture of charming Brisbane as you glide along the winding Brisbane River via Mississippi-style paddleboat. On this inspiring journey, rewarding attractions such as Norman Park, Kangaroo Point, Story Bridge and the South Bank Parklands are complemented by a delicious three-course lunch.
Lone Pine Koala Sanctuary
Lone Pine, on the banks of the Brisbane River, is proud home to over 130 koalas. And among the 18 hectares of beautiful scenery you'll also find kangaroos, emus, Tasmanian devils and wombats. Regular talks, presentations and experiences take place throughout the day to reveal more about these fascinating native creatures.
Kuranda Scenic Railway
On the way to Kuranda aboard the Kuranda Scenic Railway, the mountains, waterfalls, ravines and tunnels of Barron Gorge National Park are simply breathtaking. Uncover vibrant culture and look out for local wildlife during your free time to explore, before the spectacular sights continue with a descent via the Skyrail Rainforest Cableway.
Further highlights include:
Admire rare exotic animals and native wildlife at award-winning Taronga Zoo
Take a stroll around the enchanting Royal Botanic Garden, a tranquil oasis on the edge of one of the world's great natural harbours
Explore cobbled laneways and cosy cafés in The Rocks district and get a sense of Sydney's colourful past
Spend a day in Australia's second-oldest city, Newcastle
Take a boat tour through the floodplains of the Adelaide River in search of jumping crocodiles
Savour panoramic views of Brisbane from the Mount Coot-tha lookout point
Experience authentic Aboriginal culture within the world's oldest rainforest
Exploring the Jewels of Asia
Komodo Dragons
A potential length of over three metres. A potential weight of over 70 kilograms. The world's largest lizards. Komodo Dragons make very fierce predators – and provide incredible photographs too. Keep your camera to hand to capture views of these utterly fascinating creatures as they roam around their natural habitat, Komodo National Park.
Singapore
An altogether different experience from the prehistoric creatures of Komodo, dizzying Singapore represents uninhibited discovery. Contrasting architecture competes for your attention – from traditional temples to soaring skyscrapers – while icons such as the Gardens by the Bay and Singapore Zoo entertain and inspire.
James Bond Island
Outstanding natural beauty awaits at Phang Nga Bay, where the hallmark limestone formations reach upwards from the sea. During a speedboat ride from Phuket to the bay you'll encounter a star from The Man with the Golden Gun, James Bond Island. There's also Ko Panyi, an exhilarating fishing village suspended on stilts above the water.
Taj Mahal
The merest glimpse of the Taj Mahal is enough to summon your inspiration. After all, a 17th century love story of epic proportions gave rise to its creation, which took 22 years and 20,000 workers. Get closer to what many believe is the world's most beautiful building during an overland tour from Kochi to Mumbai.
Further highlights include:
View the famous Chinese fishing nets and the British Commonwealth's oldest synagogue, in Kochi
Delve into India's European influence, displayed in the Portuguese architecture of Goa
Tick off highlights both traditional and modern during an overnight stay in Mumbai. The Gateway of India and the unique Dhobi Ghat laundry, to name just two.
Lost Cities of Arabia & the Med
Petra
The almighty sandstone tombs, archways and temples of Petra laid seemingly forgotten for nearly 12 centuries. From Al-Khazneh (The Treasury), of Indiana Jones fame, to the dramatic 3,000-seat Roman Amphitheatre, you'll be running out of superlatives to describe the ancient treasures you uncover.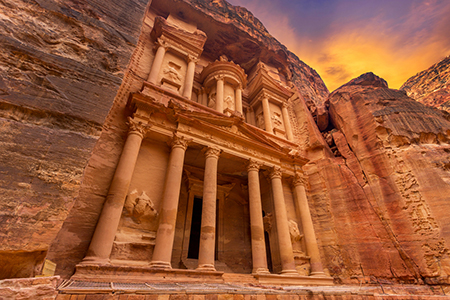 Ubar
Opinions are divided on whether the site of Shisr in Oman is in fact the fabled frankincense city of Ubar, a mysterious settlement mentioned in the Qur'an. You're sure to have your own theories, though, as you unearth the remains of an octagonal fortress that was found by Sir Ranulph Fiennes, among others, in the early 1990s.
Pompeii
Once a holiday hideaway for rich Romans, Pompeii was devastated by Mount Vesuvius in 79AD. Today you can view the ruins of ancient shops, have been miraculously restored over hundreds of years. Pompeii is arguably the most famous lost city of them all, and just a short trip away from Naples.
Ephesus
Kusadasi is your gateway to astonishing history at Ephesus. Wonder at the Library of Celsus and the Temple of Hadrian, before heading on to the ruins of the Temple of Artemis. This Wonder of the Ancient World, reduced to a column and a few fragments on the ground, leaves plenty to ponder about the fascinating events of centuries past.
Further highlights include:
Transit the Suez Canal, one of the world's most impressive man-made waterways
Journey through the turquoise waters of the Musandam Fjords aboard a traditional Dhow boat
Unearth the Sultan Qaboos Grand Mosque, a fine example of modern Arabian architecture
Take a tour to the glorious Santiago de Compostela Cathedral, from La Coruña