After a comfortable British Airways flight from Heathrow to Zurich, we boarded a coach for a relaxing transfer journey through Switzerland to our departure port in Germany to meet Brabant, taking in some beautiful countryside scenery en route.
Once we arrived in Mannheim; we boarded the ship for our 3-night stay and were greeted straight away by the warm, welcoming staff. After visiting the bar for some refreshments, and attending the short compulsory fire drill demonstration, we stopped at Reception where we were issued with a cabin key and a code for complimentary use of the ship's WiFi throughout our stay.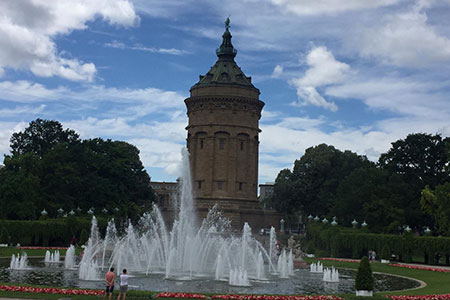 It was soon time for dinner, which was promptly served to guests at 7pm by staff who once again were always smiling, eager to please and very efficient – nothing was too much trouble for them!
We had pre-booked the dining drinks upgrade, and with that were offered red or white wine at lunch and dinner each day, or the option of beer or soft drinks. The wine choice was different every day, and we found each one delicious! Drinks were topped up regularly, so we never had an empty glass, and water was readily available too.
As for the food, four courses were on offer each evening and every dish was outstanding! For my first dinner on board, I opted for the Caesar salad, vegetable soup and seabass, followed by cheese and biscuits – there is the option to have tea or coffee after, but I stuck with the wine! The menu also includes a selection of dishes such as roasted chicken breast with chips, for those who prefer to keep it simple on occasion.
After dinner, it was back to the Panorama Bar for a few more drinks before we turned in for the night, retiring to the comfort of our cabins for a well-deserved rest.
I stayed in a Juliette Balcony Room situated on Mozart Deck (Deck 3). The cabin offered twin beds, which could be pushed together to make a double if preferred, floor-to-ceiling sliding glass doors, an en-suite bathroom with shower and toilet, plenty of wardrobe space, a flat screen tv, telephone, hairdryer, tea/coffee facilities and a safe. Bottled water, both still and sparkling, is provided in your cabin and replenished daily, free of charge – which I thought was a nice extra touch.
The next day began in the best way possible… with a delicious breakfast – the perfect way to prepare for our first opportunity to head ashore and explore. Breakfast can be enjoyed either in a buffet style at the Panorama Bar, or with a choice of buffet or waiter service in the main restaurant. A wide variety of breakfast favourites is on offer from a full English breakfast to a continental pastry selection, fruit and yoghurts. I highly recommend the pancakes with maple syrup and blueberries – they are fantastic! Waiters offer tea and coffee at your table, while you can also help yourself to a selection of juices.
In Strasbourg, our first port of call, a complimentary shuttle bus was provided to transport guests from Brabant into the city centre, which was only a 10-minute transfer away. We opted to walk to the Petite France quarter, a very pretty area with colourful, flower-covered houses and charming cobbled streets. You can stroll around the area with ease and take in highlights such as the Pont Couverts, a striking set of bridges and towers that feature highly on Strasbourg's 'must-visit' list.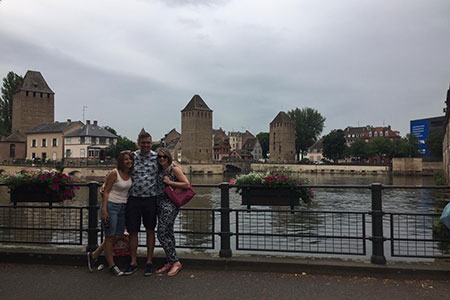 For lunch, it was back to Brabant, where on board there was plenty more sumptuous food on offer! I chose a seafood rice dish for my main course, which was really tasty, followed by an amazing hazelnut choux pastry for dessert.
In preparation for our organised excursion in the afternoon, a 'Quiet Box' had been left in our cabin to take on tour. This radio device allows you to hear the tour guide even if you're at the back of a large group – a great idea, especially for older guests and those who are hard of hearing.
After lunch, it was time for our afternoon tour. We boarded the coach and were greeted by Therri, our extremely knowledgeable (and hilarious!) tour guide. As we drove through the area of Alsace, Therri pointed out the local Alsace Storks in the trees, with their very large nests – we later saw Alsace soft toys on sale everywhere in the town centre too. We visited the very grand Cathedral de Notre Dame, which – with its beautiful astronomical clock – makes for an unmissable sight in the heart of the city. We also had free time to walk around the shops and patisseries, have a drink in a local bar and generally soak up the lively, friendly atmosphere!
Overall, a big tick for the port of Strasbourg – I would definitely like to visit again someday!
After the tour, we returned to Brabant to refresh and indulge with another wonderful dinner on board, before relaxing with drinks in the Panorama Bar and enjoying some dancing for a great end to the evening.
The next morning we woke up to a new port – Speyer in Germany. Here we were able to simply hop off the ship and enjoy a short, very pretty walk into town with lots to see en route. Within the town centre, we briefly visited the enchanting Cathedral Basilica, before wandering through the quaint historic heart. The town has many small shops and restaurants to breeze in and out of, while we also stopped for a coffee and to watch the world go by in the sunshine.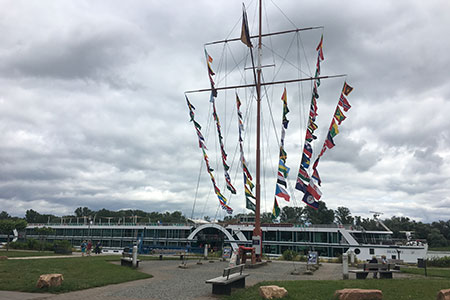 Elsewhere in Speyer, some of our ship's guests enjoyed a shore tour to the Technik Museum. They reported that the museum was fascinating, an incredible collection of planes, cars, submarines, spaceships and trains from various decades, highlighting how technology has developed so rapidly over the years. If you love your history and your tech, this is the excursion for you!
By the afternoon, it was back to Brabant for yet another welcome feed as we set sail to our next destination on the Rhine, Mannheim. We arrived at 2pm, and very quickly were able to take the complimentary shuttle bus into the city. Once dropped off at the impressive Mannheimer Wasserturm (Water Tower) within the beautiful Luisen Park, we had time to see the stunning gardens and water features whilst basking in the sunshine. From here, it was a short walk to the main shopping area, which was very busy! After some retail therapy, we enjoyed an ice cream before taking the shuttle bus back to the ship.
Back at the ship, Afternoon Tea was being served, so while we weren't particularly hungry after a couple of days of indulgence, we still decided to take a look. And of course, we ended up having a very enjoyable piece of cake a cuppa – it would be rude not to really! There were also sandwiches available and a variety of hot drinks, served in the Panorama Bar.
In the evening, it was time for another very enjoyable meal. This time I order the Chateaubriand – a choice I was very happy with, as even the first mouthful confirmed it was the finest beef I'd ever tasted! The red wine on offer in the Dining Drinks package was the perfect complement too.
After our meal, we decided to try our hand at the Shuffleboard game on the top deck. This was a fun way to socialise with some of our fellow guests on board, while it also provided us with an opportunity to watch a glorious sunset. Back inside, we saw out the evening in the bar, enjoying a few drinks and listening to the local entertainment, provided on this occasion by a very talented violinist.
Sailing onward to Koblenz, those – like me – who were up early enough could witness the beautiful scenery of the River Rhine at daybreak. The views were more than worth enduring the slightly cold and windy start to the day!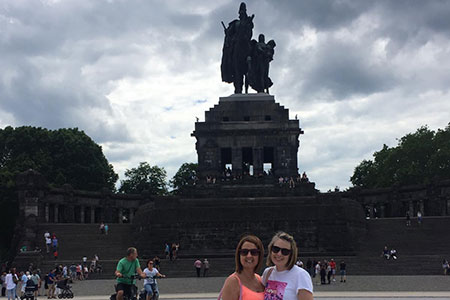 Once in Koblenz, we were coach transferred to Koningswinter, a German town on the Rhine near the city of Bonn, for our tour of Drachenfel's Castle. The castle really was like something from a fairy-tale, a very impressive building with an interesting history behind it. The paintings, high ceilings, secret doors and dark furniture make this castle a place you could only imagine in a book. It is a must visit!
Overall, the cruise was very relaxing, yet with lots to see and do – fabulous food and drink, attentive staff, stunning scenery, local destinations seconds from the ship and great value for money – a great holiday all round!