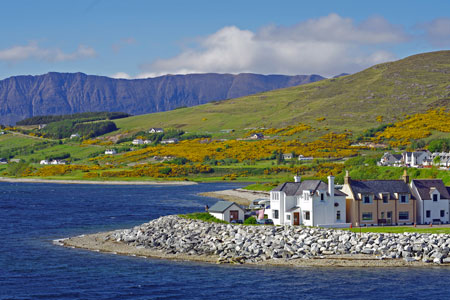 The port of Ullapool on the shores of Loch Broom is a quaint, bustling settlement in Western Ross and one of the most alluring spots in the Scottish Highlands. A gateway to the Western Isles, the town has grown into a popular holiday centre in recent years.
Founded by the British Fisheries Society in 1788, Ullapool's row of whitewashed harbour cottages are most visitors' first impression.[ReadMoreMob] The town offers fishing in the sea and the loch, deer stalking, golf, boat hire as well as an art gallery, An Talla Solais.
The award-winning Ullapool Museum is in a former church: a Grade-A building designed by Thomas Telford. It was built in 1829 following a parliamentary initiative to provide places of worship throughout the Highlands, hence it was called a "Parliamentary Church" before it closed.
The town clock is claimed to be the most photographed in Scotland. Each of its four cast-iron, pediment faces are decorated with crowns and the urn on top carries a weathervane. Just outside Ullapool is Rhue, a four-acre Bronze-Age settlement, with the remains of ancient roundhouses.
Top Experiences
Corrieshalloch Gorge
The Corrieshalloch Gorge is a spectacular mile-long gorge and is said to be one of the finest examples of a box canyon in Britain. The Gorge which is 60 metres deep and ten metres across was created shortly before the glaciers left the area and today the river which is carved through the gorge leads to the spectacular Falls of Measach – a truly magnificent site.
Knockan Crag
The Knockan Crag National Nature Reserve is one of both Scotland's and Europe's oldest landscapes and is renowned internationally due to the important geological feature called 'Moine Thrust' and its 3,000 million years of history recorded on its rocks.
Eas a' Chual Aluinn
Eas a' Chual Aluinn, around 45 minutes' drive from Ullapool, is Britain's highest waterfall. At 658 feet (200 metres), it is three times the height of Niagara Falls, falling in a sheer drop to Loch Glencoul below.