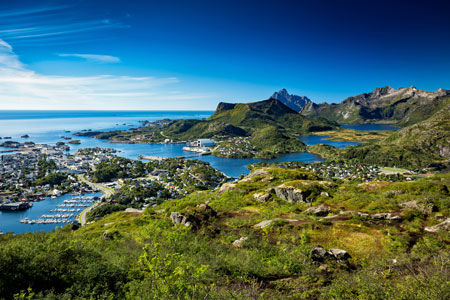 Svolvær, the de facto capital of Norway's rugged Lofoten archipelago, is a small, yet vibrant town situated on the picturesque southern coast of Austvågøya Island.
With its pretty harbour, overlooking the beautiful Vestfjord, and spectacular scenes of steep mountains, gorgeous beaches and sheltered bays, Svolvær is a haven for visitors seeking exciting hiking and climbing adventures, as well as artists attracted to the town's picture-perfect location.[ReadMoreMob]
The town itself, which plays a major role in the success of Lofoten's thriving fishing industry, is developing at a rapid rate. In contrast to the unspoilt landscapes surrounding the town, the centre of Svolvær is a jumble of modern buildings and attractions. There are plenty of shops, trendy cafés, restaurants and a collection of interesting museums including the Lofoten War Museum, and galleries such as the Foto Galleri and Nordnorsk Kunstnersenter, that exhibit works from artists inspired by the scenic delights of Svolvær and Lofoten.
Top Experiences
Trollfjord
This 2km-long branch of the Raftsund strait has an entrance only 100m wide and is overlooked by mountains which tower up to 1100m over the waters. The fjord also features a beautiful waterfall.
Fishing
The Lofoten Islands were built on fishing and cod fishing remains important, especially in winter. The world cod fishing championships are, in fact, held in Svolvær every March.
Svolværgeita
This huge granite pillar overlooks the town impressively, taking its name ('geita' = 'goat') from the two 'horns' at its crest. Experienced climbers often make the 'leap of faith' between the two.
Skrova
Skrova is a little, scenic island group inhabited by fewer than 200 people, just off the coast of Svolvær. The island group has been dubbed 'Lofoten's Little Hawaii' because throughout the year it enjoys the least rain and most sun in the Lofoten Islands.
Cruises to Svolvær
Departs: Liverpool • Thu 03 Jun 2021
12 nights • Borealis • S2112
With chances to uncover rugged waterways and archipelagos, and experience the magic of the Midnight Sun, immerse yourself in Northern Norway's unrivalled drama and beauty.
Enjoy unforgettable scenic cruising into spectacular Sortlandsundet and by beautiful Reine; and explore ashore amongst Lofoten and Vesterålen's astonishing scenery.
Take in the attractions of Tromsø, including the iconic Arctic Cathedral and Mount Storsteinen; visit breathtaking Harstad and enjoy a rare opportunity to explore colourful Hammerfest.
From £1,899pp
Fares Explained
|
What's Included