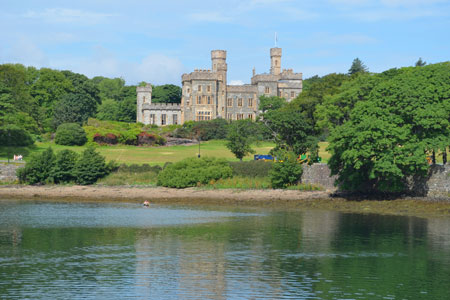 Thanks to its sheltered location, Stornoway, on the island of Lewis and Harris, is the largest town of the Outer Hebrides islands of Scotland. The port offers a warm welcome to those visiting Lewis as part of their exploration of one of the UK's remotest locations.
A stroll along the quay reveals local fishermen on traditional fleets landing the catch of the day, before shipping it to one the island's amazing eateries. There is an unmistakeable odour of peat in the air as the smokehouses turn the seafood into island specialities.
Historic Lews Castle and the adjoining museum are key cultural centre for the islands' heritage. An Lanntair Art Centre samples local arts and a good programme of art events, while a unique shopping experience awaits at the Harris Tweed Hebrides Outlet and Lewis Loom Centre, where traditional weaving methods can be discovered. Alternatively, a wander through the surrounding woods and a visit to the Woodland Centre can while away a pleasant hour or two.
Cruises to Stornoway
Departs: Dover • Sun 11 Jul 2021
13 nights • Boudicca • D2118
Discover and explore some of the British Isles most beautiful and remote islands, with smaller-sized Boudicca as your guide.
You'll get to wonder at the best of British nature, from the landscapes of the Sound of Mull and intriguing Fingal's Cave to the iconic ponies of the Shetland Islands.
Immerse yourself in rich history of the Orkney's, Isle of Bute and Isle of Lewis; explore Belfast, Northern Ireland's capital; and visit the Isle of Man, Guernsey and Isles of Scilly.
From £1,999pp
Fares Explained
|
What's Included
Departs: Liverpool • Thu 29 Jul 2021
8 nights • Black Watch • W2117
Create memories that last a lifetime as you sail Scottish Lochs on a smaller ship – the best way to experience the beauty and tranquility of this astonishing part of the world.
See mighty Ben Nevis in Loch Linnhe and Beinn Ghobhlach towering over Little Loch Broom; Loch Fyne; Fingal Cave's basalt columns and more.
Ashore, your call at Fort William could coincide with the annual Lochaber Highland Games, while legendary historic sites, from castles to Neolithic treasures, await you too.
From £1,349pp
Fares Explained
|
What's Included
Departs: Liverpool • Sat 28 Aug 2021
5 nights • Black Watch • W2120
Discover enchanting waterways and remote islands on board Black Watch and experience a memorable snapshot of Scotland's gorgeous summertime scenery.
Relax during hours of daytime scenic cruising, taking in historic Duart Castle and the picturesque Sound of Mull, the intriguing Dutchman's Cap and astonishing Fingal's Cave.
Step ashore in the Shetlands and at the Isle of Lewis, to go in search of many more of Scotland's most famous highlights, such as pretty Lews Castle and iconic Shetland ponies.
From £799pp
Fares Explained
|
What's Included