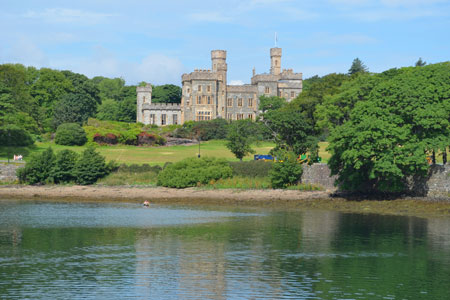 Thanks to its sheltered location, Stornoway, on the island of Lewis and Harris, is the largest town of the Outer Hebrides islands of Scotland. The port offers a warm welcome to those visiting Lewis as part of their exploration of one of the UK's remotest locations.
A stroll along the quay reveals local fishermen on traditional fleets landing the catch of the day, before shipping it to one the island's amazing eateries. There is an unmistakeable odour of peat in the air as the smokehouses turn the seafood into island specialities.
Historic Lews Castle and the adjoining museum are key cultural centre for the islands' heritage. An Lanntair Art Centre samples local arts and a good programme of art events, while a unique shopping experience awaits at the Harris Tweed Hebrides Outlet and Lewis Loom Centre, where traditional weaving methods can be discovered. Alternatively, a wander through the surrounding woods and a visit to the Woodland Centre can while away a pleasant hour or two.
Destination Highlights
Blackhouses
The blackhouses tell us a lot about what island life was like in the Western Isles in the past. There was no chimney and a peat fire was lit at all times in the centre of the kitchen and living area. In the village of Arnol Isle of Lewis blackhouses stand side by side with the more modern dwellings nicknamed 'whitehouses'. The blackhouses were dwellings which had straw-thatched roofs and included areas where the animals or livestock were housed. 'Whitehouses' really only came into existence later when legal pressures and health regulations started to demand that the livestock should be housed in separate dwellings.
Callanish Stones
The Callanish Standing Stones are an extraordinary crossshaped setting of stones erected 5,000 years ago. They predate England's famous Stonehenge monument, and were an important place for ritual activity for at least 2,000 years.