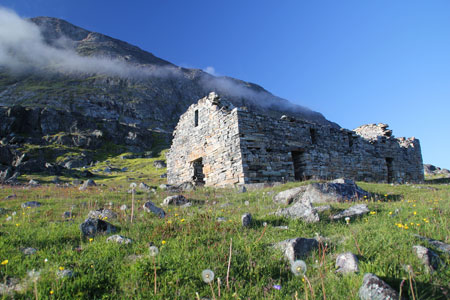 Founded by Norwegian traders in 1775, Qaqortoq is southern Greenland's largest town. Cradled between rolling steep hills dotted with brightly coloured houses, Qaqortoq is a melting pot of art, culture, and outdoor adventure. Featuring sculptures by some of Greenland and Scandinavia's most famous artists, Qaqortoq's compact colonial heart is centred around the country's oldest fountain. The challenging landscape and harsh climate here have ensured the preservation of Greenland's traditional cultures.
Top Experiences
Stone & Man
Situated around the town of Qaqortoq, you will find carved boulders and lichen covered rock faces with carvings of whales, faces and other traditional designs. Together these unique works of art are known as Stone & Man. The project is the work of local Qaqortoq artist Aka Hoegh, who endeavoured to turn his home town into a permanent open air art gallery. With the help of over a dozen artists hailing from other countries such as Norway, Iceland, Finland, Sweden, and of course Greenland itself, Hoegh oversaw the creation of 24 separate carvings and sculptures. You will find around 40 sculptures and carvings dotted across the town.
Qaqortoq Museum
Qaqortoq Museum does not look like a normal museum. Housed in a tar blackened building from 1804 that was once the colony manager's house, today its most unique features are up on the top floor where you will find that it has been beautifully restored. With churchlike décor and curious 1930s swing out sink stands, these were once the town's guestrooms.
Hvalsey Church Ruins
Take a 20-30-minute boat ride to the Havlsey Church ruins. The church was built around 1300 A.D by early settlers and is the best-preserved church of this age in Greenland. From here you can experience amazing views of the island.