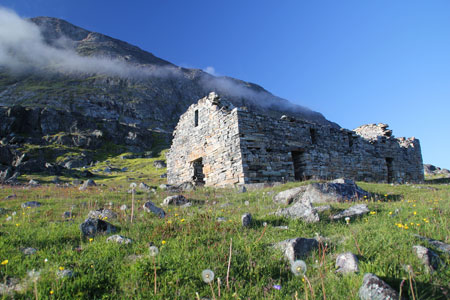 Frequently isolated by winter sea ice, the 'White Palace', Qaqortoq, is southern Greenland's largest town. Founded by Norwegian traders in 1775, Qaqortoq still retains some beautiful colonial buildings from that time. The challenging landscape and harsh climate have ensured the preservation of Greenland's traditional culture, and the many ancient Inuit skills of fishing, hunting and kayaking.
Qaqortoq is very proud of its ancient fountain – for many years the only one in Greenland – which has carvings of whales spouting water out of their blowholes, and the names of all of the town burghers in brass letters around its base. The Stone and Man project is also fascinating, featuring natural rock that's been carved by local artists into abstract shapes and figures. [ReadMore]
The charming Church of Our Saviour, dating from 1832, is found in the town centre, and the two local museums are also worth seeing. The ancient but well preserved Hvalsey Norse ruins are just outside the town. Hvalsey is mentioned in the Icelandic annals, the Flateyjarbók, and has extensive and substantial remains of dwellings dating back over a thousand years.