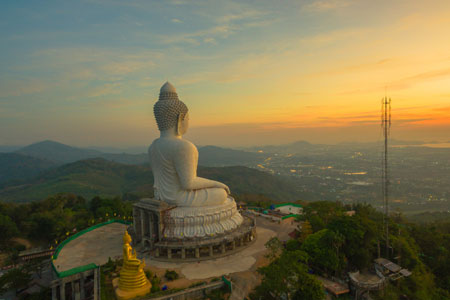 The rain-forested, mountainous island of Phuket in the Andaman Sea, has some of Thailand's most spectacular beaches situated along the clear blue waters of its western shore. This idyllic high-end island resort contrasts nicely with the culturally-rich capital, Phuket Town, which offers busy markets and fabulous food.
Thailand's largest island, Phuket, is connected to the southern tip of the country by a couple of short road bridges.[ReadMoreMob] The island has wonderful soft white beaches, fringed by shady palm trees and grass huts. Just offshore, many uninhabited outcrops of tall limestone crags rise straight out of the sea and cry out to be explored. Phuket is the ideal spot to truly relax and unwind with incredible views of the surrounding bays.
In Phuket Town, the Thalang National Museum has fascinating displays about the island's indigenous culture. There are a couple of Hindu Temples on the island, as well as a number of Buddhist shrines, including the Wat Chalong Temple, which is the centre for worship on Phuket. High in the Nakkerd Hills, northwest of Chalong Circle, the 45m-high Big Buddha sits in imposing fashion on the island's finest viewpoint.
Top Experiences
Phang Nga Bay
Just a short distance from Phuket lies Phang Nga Bay, famous for its spectacular scenery. One of the most beautiful bays in Thailand, Phang Nga is known for its rock formations, including Khao Phing Kan, also known as James Bond Island, which featured in the final sequence of The Man with the Golden Gun.
Longtail Boats
The longtail boat is an ever present sight on the beaches of Phuket. Somewhat grandiosely known as 'the gondolas of the south' by many Thais, these classic vessels come in various shapes and sizes. With their narrow profile and negligible draft, long-tail boats are ideal for navigating the shallow bays, creeks, caves and passageways of Phuket's picturesque marine environment. They play a major role in ferrying tourists and supplies, as well as carrying local fishermen to their daily fishing grounds.
Buddhist Sites
No less than 29 Buddhist temples can be found on Phuket, the largest and most revered being Wat Chalong where you can see a fragment of Buddha's bone. Elsewhere, the huge marble statue, Big Buddha, towers over the island, offering stunning views.