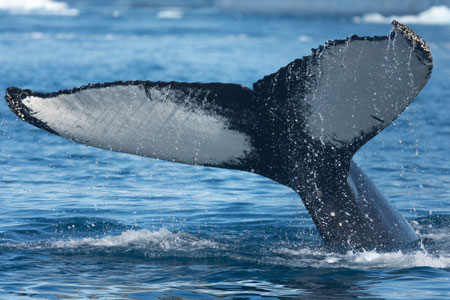 Nanortalik – Greenland's most southerly town – is unlike any other town in the country. Sat on a small island at the end of a wonderful fjord and surrounded by vast snow-topped mountains, the 'Place of Polar Bears' is truly unique.

The small woodlands and prairies against a spectacular backdrop make this is a nature lover's paradise. Polar bears live and hunt on the sea ice close to the town and are often seen from the shores of Nanortalik. Seals and whales can also be spotted in the surrounding waters. In the winter months, visitors are often lucky enough to capture the Aurora Borealis – Mother Nature's own spectacular display, with curtains of white, yellow and green flashes lighting up the sky.

The town has a well preserved historic quarter where there are cafés and an unusual wooden church. Brightly coloured houses line the streets, while the Nanortalik Museum has some fascinating exhibits including the oldest women's boat ever found, which dates back to 1440 and was found by polar explorer and artist, Eigil Knuth.


Destination Highlights
Open Air Museum
The museum consists of many buildings, an Inuit summer camp and Umiaq and kayak exhibition. It gives a broad picture of community development in Nanortalik dating
back to the Inuit time to the present day. Behind the museum, a summer hunting camp has been recreated to show what traditional life is like in the Arctic. Inuit in traditional clothing will demonstrate how they lived in days gone by.
Greenland Choir Recital
Greenlanders are renowned for their singing. Guests can sit back and admire the beautiful church as they listen to peaceful psalms and merry songs. The singers are dressed in Greenlandic national costumes.
Kayak Show and Umiaq Show
On the water in front of the summer hunting camp at the museum, a kayak show takes place with good photo opportunities from the beach. This is a very special opportunity to experience how the hunters of Greenland, by centuries of passing on knowledge, have mastered the various techniques, such as the Eskimo roll, to ensure they would survive capsizing during a storm.