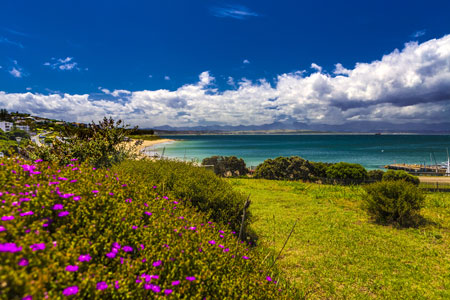 Mossel Bay is a beautiful harbour town on the Garden Route in South Africa's Western Cape Province. Originally claimed in 1488 by the Spanish explorer, Bartholomew Dias, it is now a favourite coastal and holiday destination offering plenty of unhurried hospitality.
Named after the plentiful supply of mussels found here, Mossel Bay's wide Santos Beach and the fabulous bay views from the 19th century Cape St. Blaize Lighthouse, both demand discovery. The Bartolomeu Dias Museum Complex includes the Maritime Museum, which is home to a full-size reproduction of Dias' ship. The Post Office Tree, an 800-year-old milkwood tree in the complex, has been used as a mail collection point since the 1500s.
Other places of interest include the wild flowers of the botanical gardens and the extraordinary Shell Museum. More active visitors have a choice of water-sports to choose from, or they can simply relax on any part of over 24km of white-sand beaches.
Destination Highlights
The Garden Route
The Garden Route is seen as South Africa's paradise and is named for its greenery and dense Tsitsikamma Forest. It stretches about 500km along the South Coast and is very popular with tourists. The stretch of road winds past towering mountains, sprawling wetlands and white sand beaches with picturesque towns. Signalling the start of the Garden Route, Mossel Bay offers a plethora of activities.
Oudtshoorn
Situated in Klein Karoo, Oudtshoorn – the ostrich capital of the world – has been inextricably connected with the growth of the ostrich feather industry from as early as 1860. Famed for its ostrich farms, the world's biggest bird is just one of many attractions in this area of exceptional contrasts and natural beauty. The region is also home to the spectacular Cango Caves, Africa's largest show cave system.
Great White Sharks
Populated with over 2500 cape fur seals, Seal Island – located within the bay – is a primary hunting ground for the respected predator of the ocean, the Great White Shark.